Although thousands of users favour Craigslist as their preferred online marketplace tool, several have recently expressed concern about Craigslist's future. However, many individuals choose to utilise Craigslist over similar marketplace apps like LetGo and OfferUp.
Is there a more cost-effective option than building a free Craigslist app? App creation is now seen as a lucrative industry. As a result, a lot of individuals look for marketplace apps online that are convenient. Employing a reputable mobile app development company is so imperative. You can read about it when you read newspapers and other media, find banners on websites, or hear about it because it has been a continuous issue since the creation of business and is relevant to the business area. Advertising encourages consumers to buy a product. Although technology has advanced throughout the years, advertising has a long history. However, attracting and marketing clients share the same goal. Strivemindz will introduce you to the fundamentals of the Classified app in the manner of Craiglist in this post.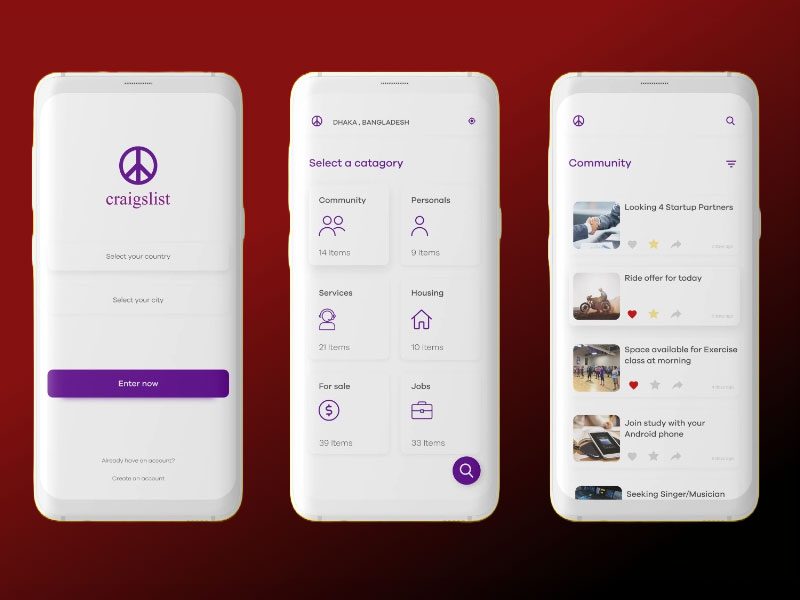 Classified: What are they?
A frequent kind of marketing is classified advertising, which may be seen in newspapers as well as other periodicals like magazines and newsletters. Additionally, some websites and search engines provide their customers with free or inexpensive classified advertising areas. Free classified ads in specific categories are typically included in neighborhood free newspapers supported by display advertisements. People no longer read newspapers, and several internet services have emerged that offer services like Craigslist that stand out. Online or offline classified ads may be put on these websites.
How was Craigslist created?
When Craigslist first launched in 1995, an email advertising two forthcoming events in San Francisco was sent to approximately 12 recipients. This was the beginning of the entire process of creating a classified website like Craigslist. Unexpectedly, the email was forwarded, and individuals started contacting back for details about upcoming activities. The creator of Craigslist, Craig Newman, frequently sent emails about events, selling, and purchasing. But as time passed, more people expressed an interest in signing up for the emails. Because of this, email sending became more difficult to sustain. In addition, just a handful of websites permitted adverts before Craigslist, and they all required payment. Giving people free access to online ad posting was the main goal behind the creation of Craigslist.
Working on Craigslist:
The Craigslist mechanism should be understood by anyone who wishes to build a classified website. You might find items there that are unavailable on paid classified websites, and it is free. You are welcome to use this free classifieds app. Nothing about the initial experience is difficult. The best example of a classified app is Craigslist, which shows how easy it is for a user to make a basic application.

What Are The Key Components Of A Craigslist-Like App?
There are many users of classified apps and websites worldwide; therefore, if you want to launch your own app, you should think about a few key aspects that practically all classified apps have and are vital to creating a classified app clone.
User Onboarding: With this function, users can register for an account to use by providing their social media ID, email address, or phone number. The user can access their accounts once the necessary verification and validation have been completed.
Ad Posting: Users post their classified ads on the app or website, complete with location tags, uploaded images, and ad-specific information.

Location Feature: Users can use it to look for or submit classified ads in a certain area. Users must choose the location before searching or generating a posting for an advertisement.

Searching: Users can search for the desired classified advertising according to their demands using this function, which is the most potent for any classified app and necessary for the greatest user experience. The user has three search options: location-based, category- and subcategory-based, and product-based.
Sorting Filters: You must pay attention to installing search criteria like Price, Most Recent, Popularity, and Nearest that make the search option powerful while designing this feature in your app. Craigslist, the most popular classifieds website in the world, includes filters like "search headline," "contains an image," "posted today," and others.
Wishlist: It enables users to bookmark their preferred posts for subsequent viewing and notifies them of their preferred adverts.
Ask Query: Users can inquire about a specific product listed on the portal.
Communication: It serves as a conduit for consumers and sellers who are linked by ad apps like Craigslist.
Add or View Images: Since visuals always have a strong psychological influence, especially when used as an advertisement, Craigslist provides a great function that allows users to browse or contribute photographs to listings.
Notifications: Users receive real-time updates about their activity on the app or classified website.
Social sharing feature: The specifics of the classified ad can be shared by a user on the social media network.
Multilingual Support: Given that it supports multiple languages, it is one of Craigslist's best features and is present in other apps with a similar function.
Paid and Free Listing: Users can submit free listings on platforms like Craigslist. Users must pay between $10 and $75 for job advertisements, depending on the region of the USA.
Social Signup: This functionality can be found in many apps that let users register on classified websites and apps. Instead of laborious forms and setting user IDs and passwords, signing up using a social media ID is quicker. The user will like it the best if you incorporate it into your app.
Push Notifications: It is currently necessary to inform the users in real-time communications so they may stay informed. This feature is included in most modern mobile apps; therefore, you should also include it in the classified app.
In-App Chat Feature: It would be advisable to incorporate it into your Craigslist app ripoff because good business is always enhanced by effective communication. This function will be very useful for both buyers and sellers. The user can navigate to a real person if necessary, but you can also incorporate chatbots for initial communication.
In-App Call: When customers or users may interact with service providers or purchasers for efficient communication, this feature will also enhance their experience. They can discuss a number of necessary topics, such as price negotiation or services, via an in-app call.
Contact Number Masking: Phone number masking, which also allows users and service providers to hide their contact information for privacy reasons, is a fantastic feature to offer in your app because it will inspire customers to trust it.
In-App Location Tracking: where people can track the delivery, it will be advantageous for both the user and the delivery person. However, delivery personnel can utilise it to determine the user's position. It is the same feature used by users of applications like UberEats. If you include it in your classified app like Craigslist, it will be a creative feature.
Geo Classified Listings: By using this function, users can view listings based on where they are concerning them. The app will retrieve location information to provide localised listings with users' consent.
Multi-Payment Gateway: Users can complete transactions via the multi-payment gateway according to their preferred channels.
CMS: The ability to use the content on the classified website and app is provided by the content management system. Consider the scenario where any service provider can easily use it to add a description.
How Much Would It Cost To Develop A Classified App Similar To Craigslist?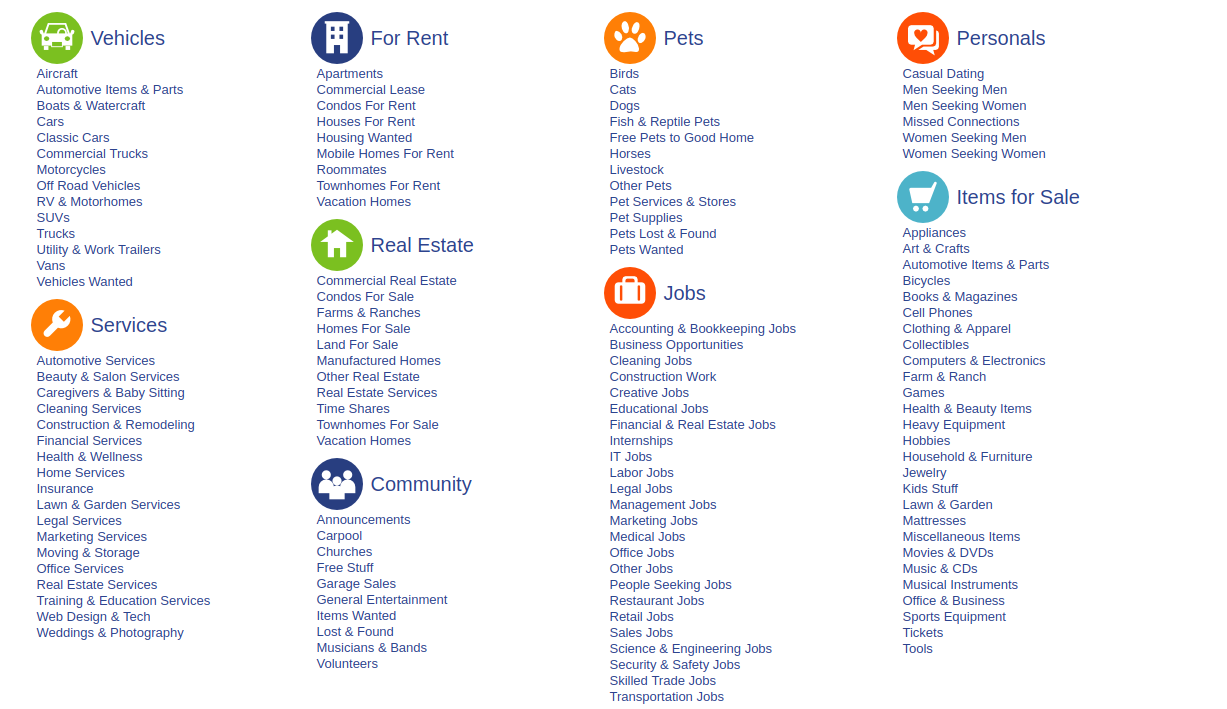 It costs between $15,000 and $20,000 to create the fundamental version of a classified website and app like Craigslist. That price will increase with extra features. The creation of classified apps is affected by the following variables.
Significantly, Android and iOS are the two mobile platforms that app developers concentrate on. Compared to other platforms, the percentage of iOS users in the USA is more than 51%. If you concentrate on creating the classified app, you must first engage specialized mobile app developers. These developers will bill you according to the platform you've selected to launch your app on. You should be aware that creating an iOS app is more expensive than creating an Android app.
For any programme, a user-friendly interface and an enjoyable experience are essential. Here, you are considering creating a popular classified app, so the UI/UX must be appropriate. Front-end and back-end development are the components that make up the cost of developing an app. Of course, the cost of an app can be impacted by the design's quality, but if users like it, it will be worthwhile for you.
If the app needs to be more complicated, the price will be more because it takes a lot of work for a mobile app development business to create complex software. The intricacy will lengthen the development process as well as raise costs.
The development of the classified site is influenced by another essential component of the technology stack. The platform framework and database that were used to create the Craigslist app clones largely determine this. For instance, the technical stack needed to introduce an iPhone Classified app will be slightly more expensive. However, you can see what foundation it was constructed on and how easily accessible it is. The same technology, when available, can be leveraged to construct your app more quickly.
The required features and app functioning will determine how many team members are required. Therefore, two developers and one designer are sufficient for the basic version, whereas a huge team size is required for creating applications like Craigslist.

Top-5 Best Craigslist-like App Alternatives:
The online marketplace of the social media behemoth was modified to become the best location for buyers. The two can contact one another through their Facebook profiles, where merchants offer their services, and potential customers can request them. The ability to search a spot 500 miles away is its most significant feature. On either iOS or Android smartphones, you may access this fantastic marketplace software.
It is a wonderful app that is accessible to iOS and Android users. By creating the request through the My Offers option for the desired product, they can haggle for a lower price. Additionally, purchasers may give sellers their star ratings through this app, which helps other customers determine which sellers to buy goods from.
eBay was initially introduced in Canada in 200; in 2007, it underwent a rebranding and became known as eBay Classified Group, where users may still post Classified Ads and browse listings in categories including funerals and travel. Users of this programme can align things within a category based on distance, price, location, or publishing date, which is one of its many benefits, similar to Craigslist. Users have given eBay Classifieds positive reviews for its user-friendly navigation.
This website is among the top options if you're looking for a house or apartment online. Similar to Craigslist, this marketplace enables users to look for apartments using keywords; these keywords typically include neighbourhood, price range, location, and other furnishing options. Based on the site's customised user preferences, 1.1 million apartments are shown as being available for rent. The website generates leases online and makes your responsibilities more accessible through simple online searches. In addition, landlords, roommates, etc., can post advertisements on this website to find potential tenants.
Like Craigslist, this app is used to buy and sell pre-owned apparel and accessories. This website also encourages customers to buy reasonably and practise environmental responsibility. The website has added several new categories for kids, pets, women, men, and home-related goods. This marketplace software makes it simple for customers to make rapid purchases and sell them thanks to its 200 million+ sale products and over 70 million community members. Additionally, they provide free pick-up and delivery services to users, making it simpler to upload a product or place an order through mobile apps.

Wrapping Up:
A great resource for developing classified websites is Craigslist. Despite its simplicity, it offers the most features compared to other classified websites and programmes. However, there are many different applications available, and each app's success depends on various variables.
With only basic features, Craigslist development costs range from $15,000 to $20,000, but you can create a unique product for a much higher price. Strivemindz is here to assist you in any manner if you require assistance with the creation of a Craig
slist-style classified app.
Frequently Asked Questions
How much does it cost to build a marketplace app?
The cost of building a marketplace app can vary depending on several factors such as the app's features, platform, development team, and location. A basic marketplace app with limited functionality, such as listing and browsing items, simple messaging, and user profiles, can cost between $10,000 and $50,000. It is essential to remember that these are just rough estimates, and the actual cost of developing a marketplace app may vary based on your specific requirements. Additionally, other factors such as ongoing maintenance costs, server hosting expenses, and marketing and promotion may also add to the total cost. It is best to consult with experienced developers to get a more accurate estimate of the cost for your project.
How long does it take to develop a marketplace app?
The average time it takes to build a marketplace app is 422 hours. The development of a marketplace app can take as little as 267 hours or as much as 667 hours. Depending on how complicated your app is, the timeline will vary. If you need highly customized designs, niche features, or non-standard release platforms, it will take longer.
How profitable are B2B marketplaces?
No matter how inefficient the product search is or how outdated the payment solution is, B2B marketplaces are generally more profitable than B2C alternatives.
Which open-source platform is most popular for building marketplaces?
Magento is Adobe Commerce's popular open-source eCommerce platform that offers a wide range of built-in features. For businesses that need specific functionality, Magento Marketplace offers over 3,000 free and paid extensions.