Introduction
One of the sectors that have bloomed after the COVID-19 pandemic is the tourism sector. During the pandemic, with lockdowns imposed in most nations, tourism took a massive hit. After the restrictions were lifted, travel enthusiasts regained their urge to visit new places, giving the tourism industry a new push.
The growth of the software industry has reshaped the way we go about every aspect of our lives. Today, mobile apps dominate our way of living. From purchasing groceries to booking a taxi – the mobile app industry has established its presence anywhere and everywhere. The travel and tourism sector is no different. From booking your flights to finding popular hotels and restaurants, everything can be done within the confines of your home through different tour and travel applications. The usefulness of tour and travel apps has resulted in the industry growing massively over the past years.
One of the major concerns while you are traveling is finding a suitable place to stay. Thankfully, tour and travel apps like Airbnb and Stellar have made it easy for travelers to find accommodation while traveling. Airbnb is, in fact, a very popular name among travelers. Their success goes on to show the financial possibilities offered by tour and travel apps in today's economy. If you're interested in finding out how to make an app similar to Stellar or Airbnb, keep reading
What is Airbnb, and how to use the app?
Airbnb is an application that allows users to book suitable accommodations in different localities around the world through their smartphones or other internet-enabled devices. They offer an online marketplace for homeowners who can list their properties on the app and start accepting reservations from travelers. The app allows both short-term vacation rental and home rental services. On top of homes and apartments, tourists can also book a suite, a yacht, or a houseboat through Airbnb.
Now the main question that you might be wondering is what makes Airbnb such a popular name among travellers? It must be noted that the success of Airbnb lies in the way this app has shaped the travel industry. Today, because of Airbnb, hotels and lodges are not the only options for accommodation. Tourists can book rooms, flats, or apartments from local families, and have a cosy homely experience. Living within a residential locality allows them to experience the local culture and taste the authentic local cuisine. Add to this the lucrative deals and offers they have, and the propositions offered by Airbnb are simply irresistible for users.
How to use Airbnb?
One of the major factors behind the success of Airbnb, and any other mobile app, is the ease of using these apps. Airbnb has two different interfaces: one for hosts and one for travelers. The host panel allows homeowners to register their property on Airbnb, which can be done by following the under-mentioned steps –
Register on the app:

Homeowners can register themselves on the app as hosts by using their phone number, email address, or their social media IDs.

List your property:

Once you have registered on the app as a host, you need to list your property. To do so, you need to provide the necessary details, such as the address, area specifications, type of apartment, and the maximum number of guests you can accept.

Upload property pictures:

You have to upload real pictures of your property through an Airbnb professional photographer.

Set up prices and start accepting guests:

Once all the information has been entered, you can set the cost of making a reservation and begin taking reservations from visitors.
The user panel is for travelers who can book accommodations for themselves on the Airbnb app. By following the under-mentioned simple steps, you can book a room for yourself on Airbnb –
Download and install the app:

You must first download and install the Airbnb app on your smartphone before you can use it. The Airbnb app is available for download from the Play Store or the App Store for iOS users.

Sign up / log in:

Once you have installed the app on your smartphone, you need to register yourself as a user. You can do so by using your phone number or email address.

Set up your profile:

Once you have registered yourself on the Airbnb app, you need to set up your profile. This includes providing necessary details such as your name, profile image, government identity proof, address, and so on.

Start booking:

Once you have filled out all the details, you can start booking rooms or apartments for yourself. You can pay for your reservation through UPI, credit cards, or debit cards. Once your reservation is confirmed, you will receive an SMS or email stating the same.
How do apps like Airbnb generate revenue?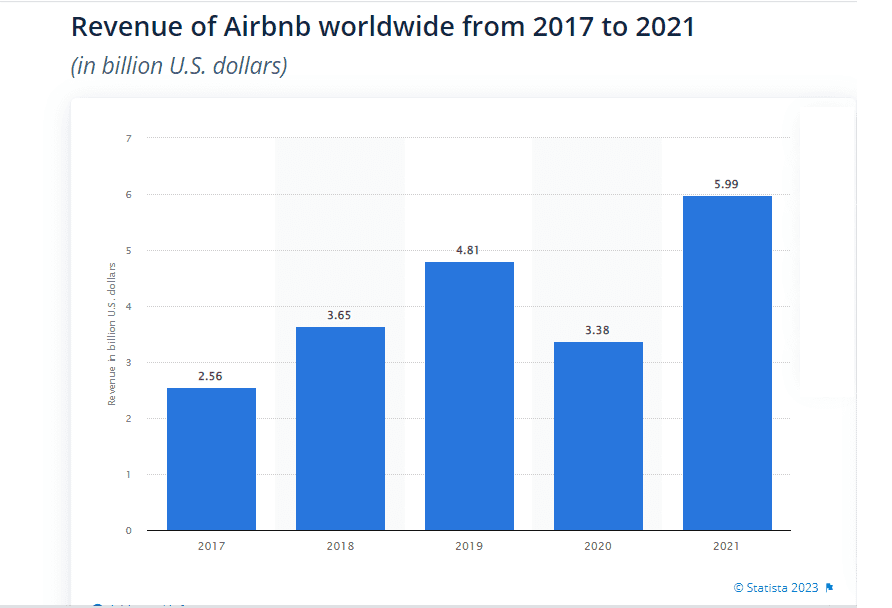 Airbnb has a business model which allows it to receive money through different fees and charges from both the hosts and the guests. The monetisation strategies of Airbnb are listed below –
Property listing and verification fee
Property photography charge
Transaction charges from travelers
Commissions from hosts
Promoted listings fee
In-app advertisements
Property listing and verification fee
Homeowners have to pay a certain amount of money to list their property on Airbnb. This is an easy and common way of generating revenue through tour and travel apps. Furthermore, you can charge a fee for property verification as well.
Property photography charge
Airbnb requires high-quality property pictures, and they hire professional photographers to take pictures of the property. The homeowners have to pay a fee for taking photographs of their properties.
Transaction charges from travelers
When tourists book a reservation for themselves on the Airbnb app, a certain percentage of the total transaction fee is levied on them. This is another common method of monetising your tour and travel app.
Commissions from hosts
A service fee is levied on the hosts as a commission for every completed booking. The service charge fixed by Airbnb is 3 per cent. 
Promoted listings fee
Hosts can choose to show their property at the top by using the promoted listings option. A certain amount is charged for these sponsored listings.
In-app advertisements
One common stream of revenue for mobile apps is in-app advertisements. You can sell digital space within your app to different brands for showing their digital ads.
Key features to include in a tour and travel app like Airbnb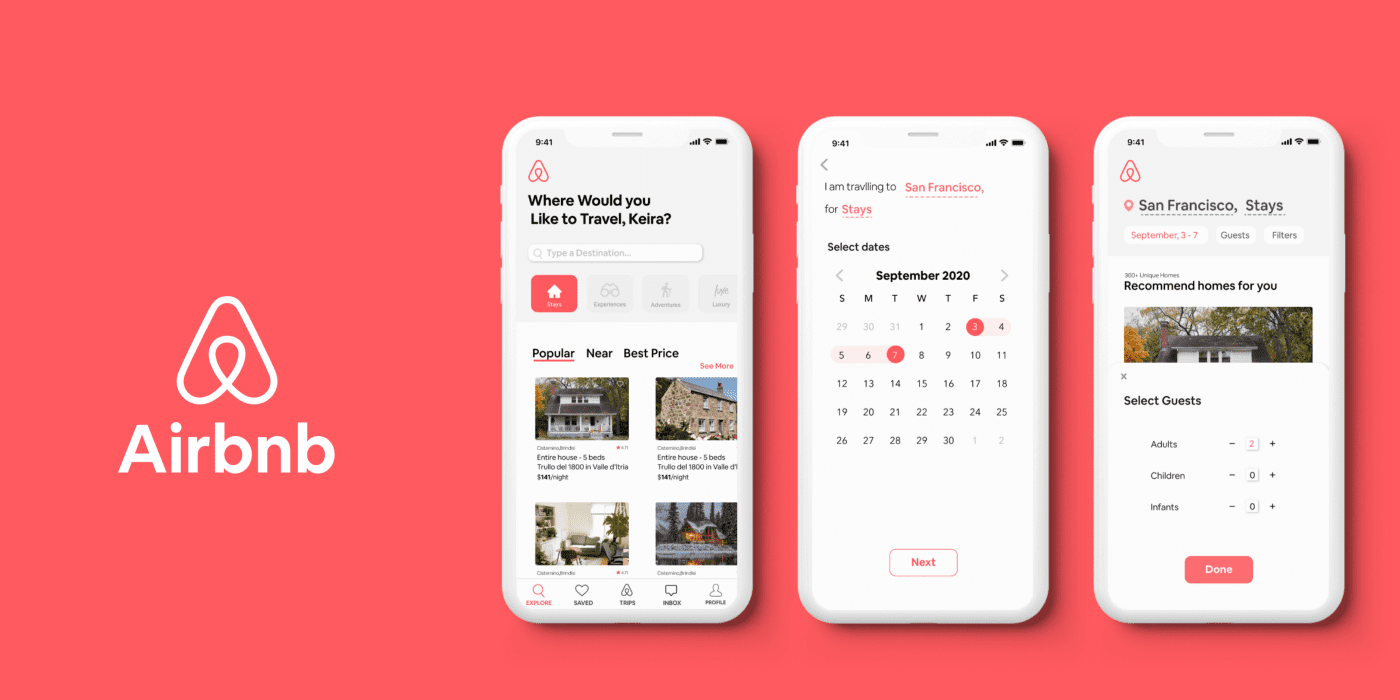 For a tour and travel app, there are three panels of features involved.
Host panel
Guest panel
Admin panel
Host panel
Include the following features to provide a satisfactory experience for the homeowners –
Host registration:

For accepting homeowners who want to register on your app as a host, you will require a host registration feature. Allow the hosts to register themselves by using their phone number, email address, or social media profiles.

Update profile:

The hosts need to be able to update their profiles and provide the necessary details. These details include their name, address, profile picture, and so on. They also need to be able to set up or change the password to access their profiles.

Listing properties:

Once the registration is completed and the profile is set, the hosts will need to list their properties to start accepting guests. They need to update the details on property location, documents, pictures, and amenities to list their properties. They also need to set the rate of booking their property and provide bank details.

Accept/deny requests:

The hosts can accept or deny booking requests depending on the availability of rooms. They can also deny reservation requests in case any other problem arises.

In-app texts or calls:

Hosts can receive and send texts to guests using the in-app texts feature. They can also receive calls if you integrate the in-app calling feature into your app. This helps the hosts and the guests to have an easy mode of communication regarding booking-related issues or queries.

Reviews:

The hosts can review the behaviour and attitude of the guests through the reviewing feature. They can also receive guest reviews and feedback, and adjust their services accordingly.
Guest panel
The guest panel of a tour and travel app will require the following features –
Sign up / log in:

Allow the guests to register themselves on your app before they start booking. They can use their phone number or email address to sign up for your app. They can also use their social media profiles for logging in seamlessly.

Set up an account:

The users need to be able to set up their personal profiles by providing the necessary details. They need to set up their profile by using their name, phone number, email address, date of birth, address, and a suitable profile picture. They also need to complete the identity verification by providing their government ID.

Search bar:

Using the search bar, travelers can find accommodations at their destination. They can also search for specific properties using this feature.

Filters:

Filters help users with finding the best place for staying from the long list of properties. These filters include location, home types, number of guests, booking charges, check-in and check-out dates, and more.

Favourites:

This feature enables users to create a list of their preferred properties, as implied by the name. They can check this list to find the properties they like without having to search for them separately.

In-app texts or calls:

As we have mentioned the same under the host panel features, the in-app texting and calling feature allows guests to converse with the hosts and get the answers to their queries.

Book a place:

Once users find desirable accommodations, they can place a booking request using this feature. They need to give details about their travel plans, which include their check-in and check-out dates, the number of guests, whether they will require meals (optional) and so on.

Payments:

Integrate multiple payment gateways in your app so that users can pay as they see fit. They will receive an online receipt and invoice for their booking upon the confirmation of their payment.

Coupon codes:

Offer discounts and coupon codes to your users to make their experience more attractive and affordable. 

Geolocation:

The geolocation feature allows users to view the accurate location of the properties that they have booked, or that they want to book. 

Feedback:

Guests can review the places that they have stayed in and provide their valuable feedback by using the feedback feature.

Push notifications:

Keep your users updated about different deals, discounts, availability of properties, and other news by sending push notifications.
Admin panel
The admin panel is used by the management to manage and run the app smoothly.
Admin log-in:

Allow the admin to log into the admin interface by entering their admin ID and password.

Dashboard:

The dashboard consists of the necessary functions that the admin needs to manage the app properly. Through this feature, the admin can control the operations and services on a single page.

Monitor hosts and properties:

This feature helps the admin with managing new and existing listings. They can accept, monitor, or remove listings by using this feature.

Analytics:

The Analytics tool allows the admin to collect data on the performance of their app and generate reports. This feature is crucial for handling the business side of a tour and travel app.
Tech stack required to build a tour and travel app like Airbnb
An app will only be successful if it has all the necessary technology to provide a satisfactory user experience. If you want to develop your own tour and travel app like Airbnb, then you have to hire a reliable mobile app development agency. The technology stack needed to construct your app will be better explained to you by your app development partner. Here we are listing the major components that you can find in your tech stack –
Front-end framework:

Ruby on Rails

Programming languages:

CSS3, JavaScript, HTML5, Kotlin, Swift, Ruby

JavaScript framework:

React JS, Node JS

Database:

PostgreSQL, MySQL, MSSQL, MongoDB, Azure, Cassandra

Cloud storage:

EBS, Amazon S3

Cloud hosting:

Amazon EC2

Communication and messages:

Twilio

Payment module:

Braintree, PayPal 
How much will it cost you for developing your own tour and travel app in 2023?
The time and money required to develop your own tour and travel apps like Airbnb and Stellar depend on multiple factors. These factors are –
Team size
Platforms
Features you want to integrate into your app
Location of development
Hiring a mobile application development company like Strivemindz will provide you with the necessary help for developing the project flawlessly. Strivemindz houses experienced and expert developers who can build your project from scratch and deliver it to you as soon as possible. The average estimated time required to develop your own tour and travel app is around 600 hours. 

Developers from different regions charge different fees, which will be a crucial factor while calculating the entire cost of the project. For example, USA and Canada-based developers have an hourly rate of $50 to $250, whereas India-based developers can charge $10 to $80 per hour. The average cost of developing your travel app will be around $30,000 to $150,000, depending on the factors we have mentioned already.
Conclusion
The tourism industry is growing, and along with it, the tour and travel apps industry is growing as well. Today, it is a unique and lucrative business proposition for you to invest in a tour and travel application. With years of experience in this industry, Strivemindz, a mobile application development company, can be the ideal partner for your project. For more information, visit our website, or contact us!