E-Learning Mobile App Development: Key Features and Cost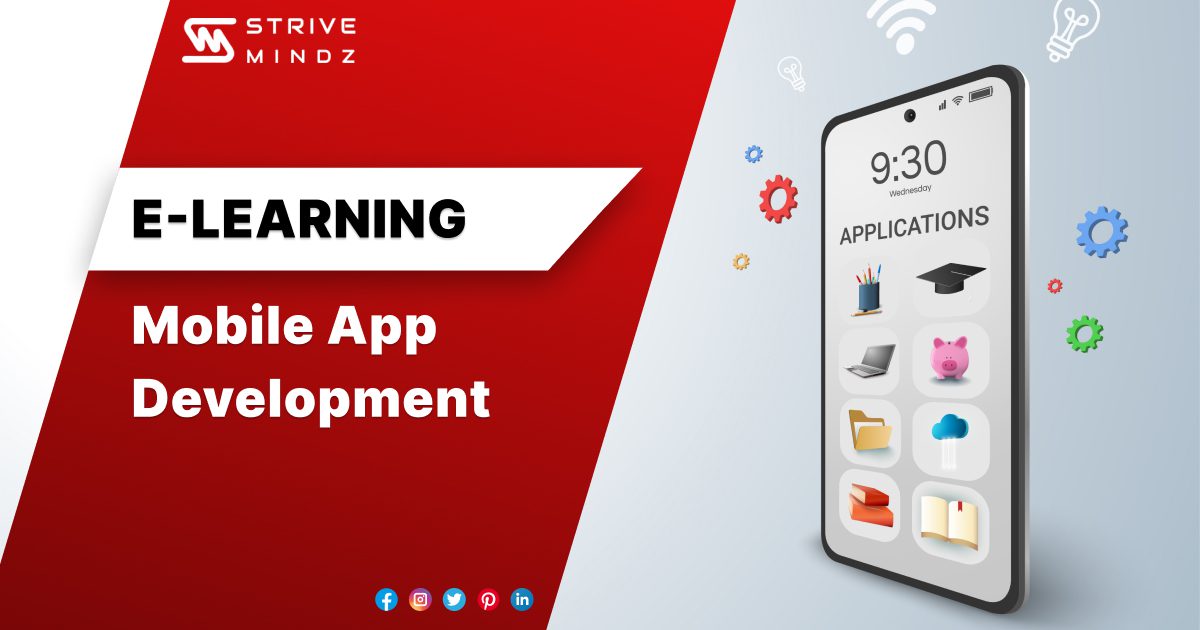 In today's intensely competitive industry, it is imperative to keep up with new abilities and the latest cutting-edge technology. E-learning mobile apps are among the most valuable of these resources. E-learning apps have become popular over the previous 4–5 years, and since their introduction, the landscape of education has shifted irrevocably. For the additional learning methods it offers, e-learning has won the admiration of parents and students from all over the world.
As a result, e-learning apps are snowballing in popularity across all age groups. Anyone can have affordable access to highly skilled educators using an online learning app. The creation of e-learning apps combines amusement with education to grab students' attention.
Mobile e-learning apps' central tenet is that all the academic information that students study in their classrooms at schools and in private tutoring centers is now available to them on their smartphones from the comfort of their homes. The Apple App Store and Google Play Store are saturated with mobile learning apps.
The choice of the preferred teaching method is left to the discretion of the students, who can select from a variety of e-learning programs with varied pedagogical philosophies. In this guide, Strivemindz will explain the cost and critical aspects of developing a Mobile E-learning app in recent years.
Why Embrace the Development of E-Learning Apps?
In 2022, online learning will grow at an accelerated rate, according to the following statistics. This is the ideal time to build an e-learning platform if you wish.
During the period between 2020 and 2025, virtual learning is expected to increase by 200%.
Due to online learning, 42% of US organizations have seen an increase in revenue.
The outbreak led to the implementation of distance learning in 90% of nations.
Corporate online learning is expected to grow by 15% and reach $50 billion in revenue by 2026.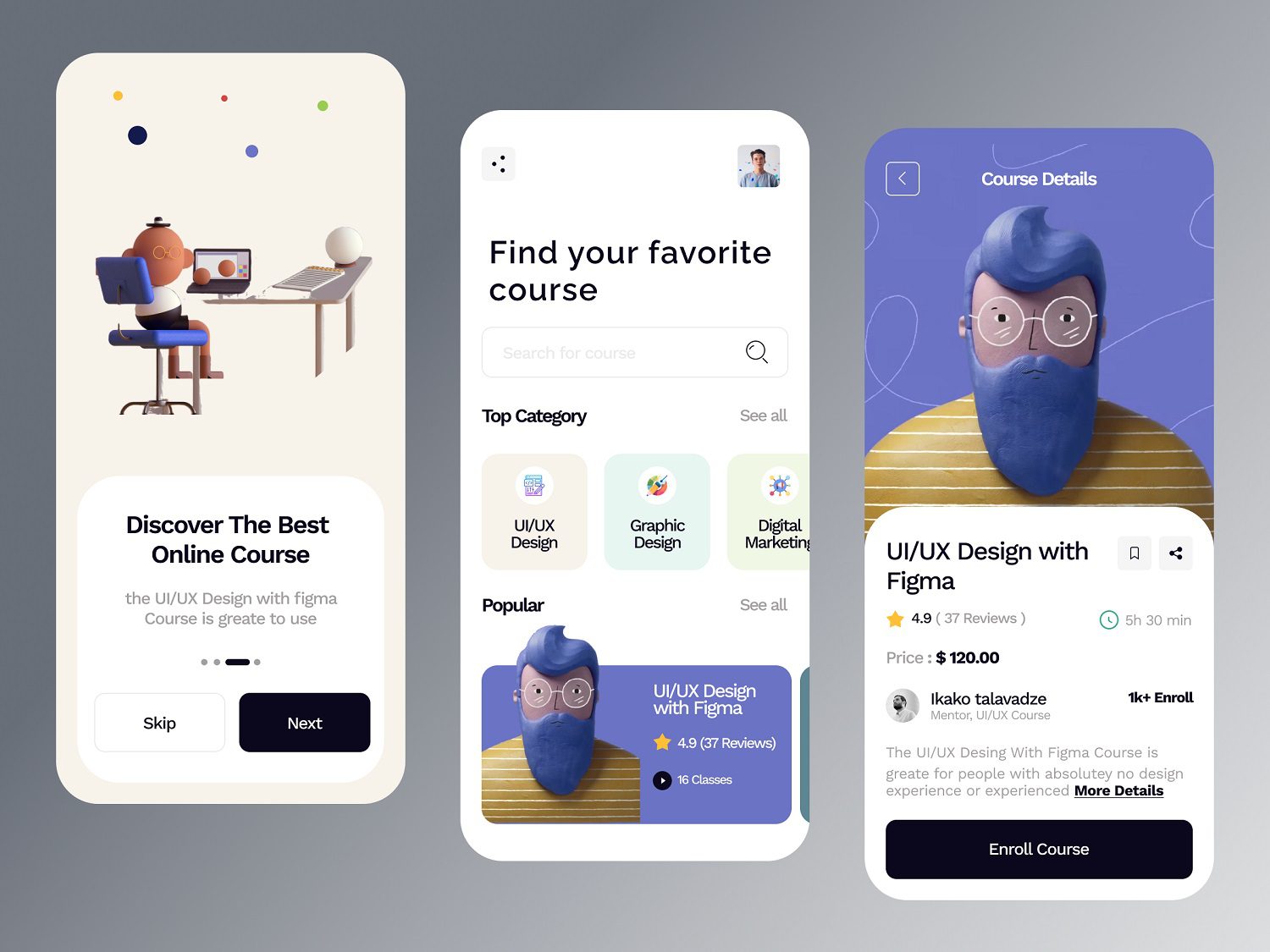 dribbble
Mobile E-Learning Apps' Advantages:
We are all aware that students' daily lives now frequently include cell phones, which also bring with them an infinite variety of entertainment platforms. Since these platforms take up a lot of students' valuable time, the introduction of e-learning apps has been warmly received by all of the students. The use of e-learning apps has changed their focus on studying vital information that will benefit them in both their further education and general well-being.
These apps provide higher retention and completion rates. They take pleasure in their clear presentation of the material. This allows students to finish one course fast and move on to the next.
Collaboration issues frequently affect how well a student studies. However, fostering collaborative learning through internal online communities is one of the fundamental tenets of modern e-learning systems.
Due to the fact that they give students a variety of learning options in the form of podcasts, videos, and other valuable approaches, these applications make the learning process reasonably flexible.
These apps place a lot of emphasis on finding ways to increase student engagement. They have put in a remarkable amount of effort to make the apps available to students at any time and from any location.
This framework includes parents as well because they are informed about their children's academic or extracurricular performance. In addition, these apps provide a report for the parents that contains information about time spent studying, grasp of concepts, and exam readiness.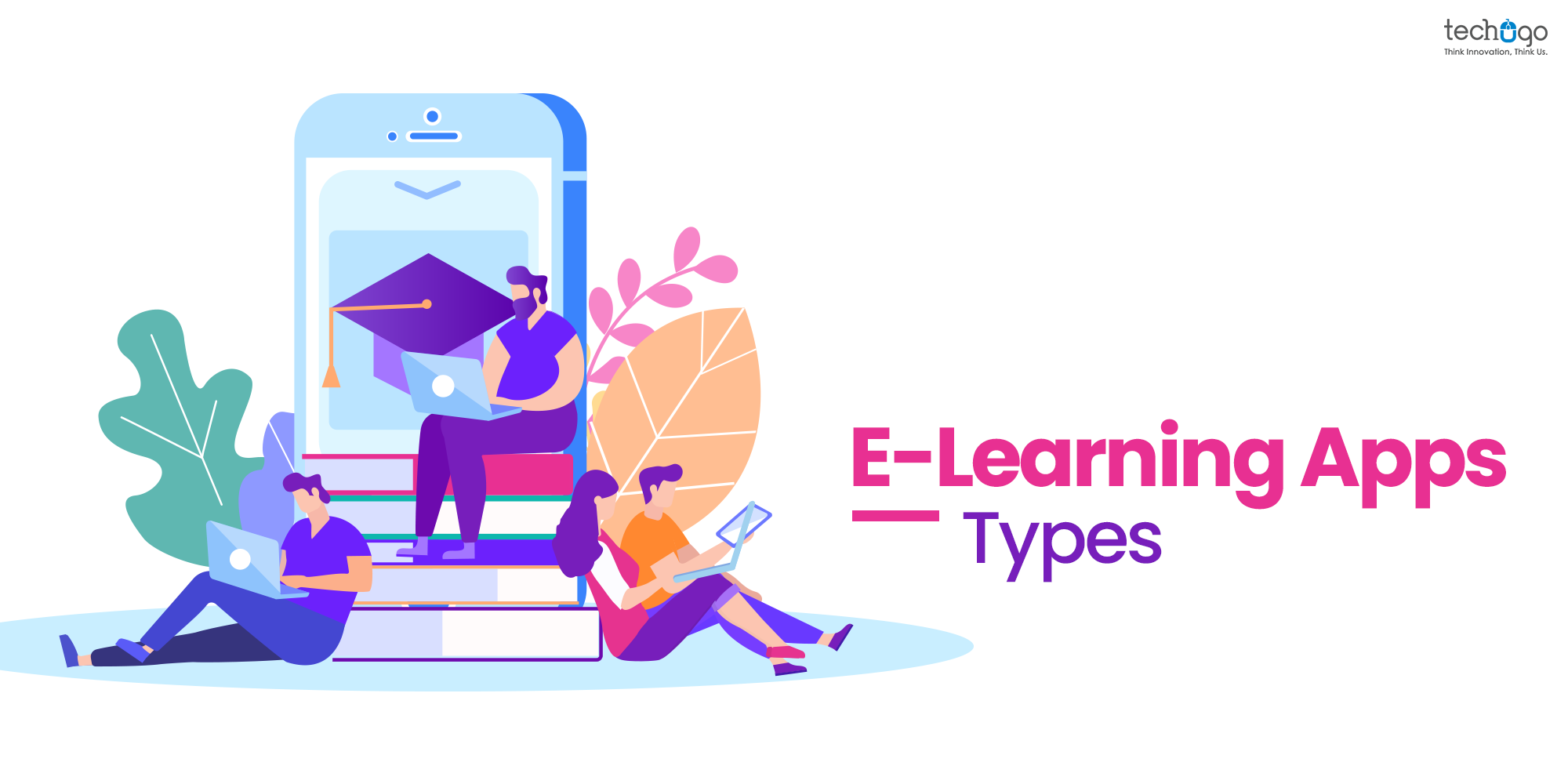 E-Learning Apps: Types
E2C e-learning – Education to Consumers
Typically, customers of this kind are students looking to advance their academic careers. High school, college, and university students from a range of institutions have all shown a strong interest in continuing their education through mobile e-learning apps. This inclination for e-learning apps now presents a business opportunity for app makers.
It is a difficult journey, though, so if you're a little perplexed, you might want to consider some of the fascinating alternatives to earning money in this field. Today, there are many various kinds of online courses that designers can use to make millions of dollars. They collaborate with prestigious colleges and universities to reach as many students as possible through their online courses. Thousands of students who want to further their education but lack the resources to do so have been helped in a remarkable way by them.
Business-to-Business e-Learning-Corporate Training Apps
Any company intending to integrate a new training programme into its operations might use e-learning to avoid laborious face-to-face or classroom instruction. Efficiency and growth are given a high priority by businesses nowadays. Because it enables them to save money, time, and effort, businesses employ e-learning to accomplish these objectives.
E2E – Education to Educators
Mobile e-learning apps also consider instructors' needs in addition to students' development. The tale is more complex than just the fact that e-learning has benefited students. These online learning resources have also been quite helpful to teachers. Due to the abandoning of traditional classroom settings and the acceptance of virtual online courses, teachers must make some small changes to their approach to teaching. E-learning apps have been quite beneficial for teachers who are trying to master new teaching methods.
E-learning App Examples Include
Google Classroom is a capable and user-friendly web application for efficiently managing students' everyday activities. Additionally, you can use this application from any location at any time to attend online classes, provide course materials, conduct tests, monitor students' progress, and send feedback, among other things.
A notable example of CML e-learning is Coursera. The learning materials (videos, texts) in each course on the platform are followed by a computer-checked quiz and peer-review tasks at the end of each module. This makes it a complete learning platform with various educational courses, success metrics, and student progress tracking.
Zoom is one of the top web applications for cloud video conferencing that helps you communicate with many students, share schedules, and tutor them. With outstanding capabilities like one-click document sharing, digital whiteboarding, etc., you can increase students' participation during distance learning.
With the help of the highly regarded educational tool ThingLink, instructors may design engaging lesson plans. It increases pupils' desire to learn new topics and broaden their knowledge. Furthermore, by enhancing the photographs, movies, virtual tours, music, and other elements, it is possible to give students virtual learning experiences.
WordPress is a fantastic platform for hosting eLearning content, and the mobile version significantly enhances those features. While maintaining all functionality (writing, editing, posting, commenting, stats, and reporting are all still available), the mobile version streamlines the site visually for a better user experience. It accomplishes everything an app version of a complete desktop website should achieve.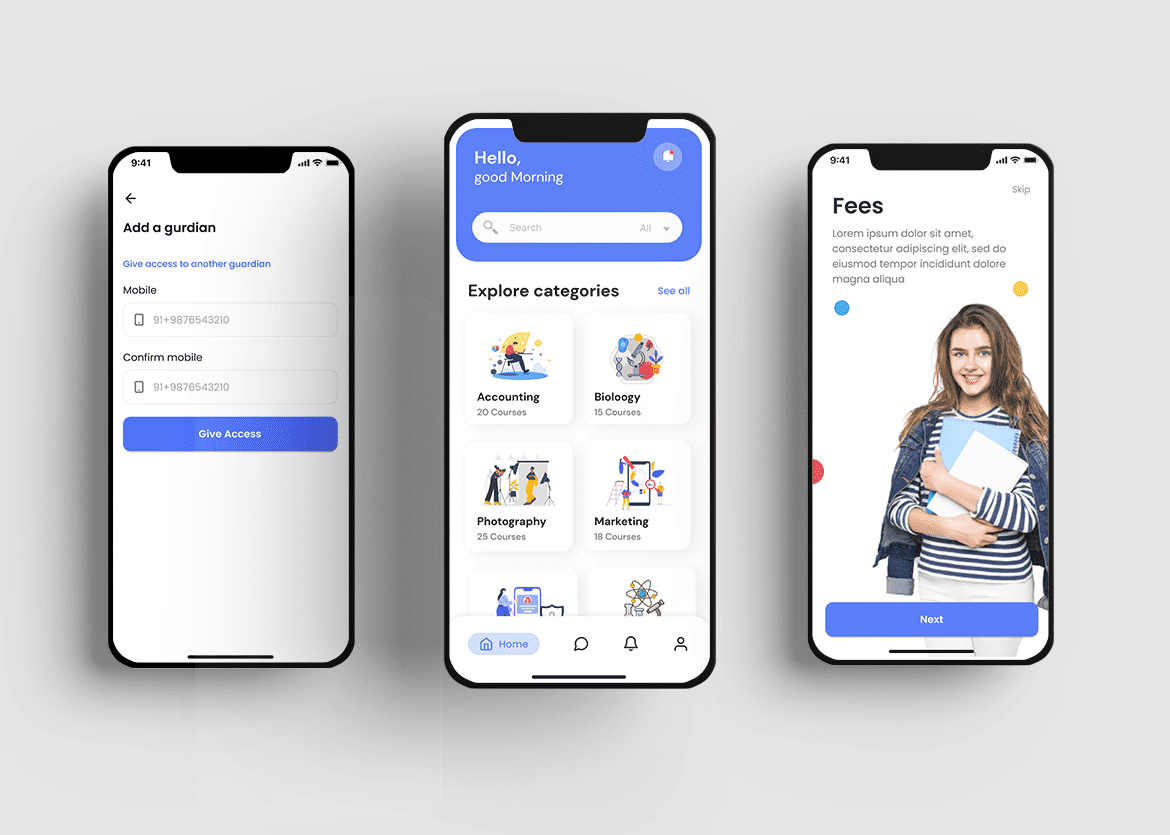 Characteristics Of The Top Online E-learning Apps
There are a tonne of opportunities for mobile E-learning. Consequently, the market for mobile distance E-learning apps is also flourishing. The initial step in application design is not to build the application itself. Instead, creating the problem is the first step. Designing a solution to that issue is the next stage. After that, you can decide how to construct it.
A virtual learning app's content distribution mechanism is a crucial component of the app. All of the data needed to deliver content is stored in a database used by apps. The information in the app is accessible through this database. The database may be kept on a machine, on the cloud, or in both locations.
Tests, Exercises, and Quizzes
Tests and quizzes are essential components of a top-notch online learning programme. If the student has grasped the material, the teachers can assess that. Additionally, it may encourage the learner to pursue further education. A distance learning app should offer exams at the conclusion of each lesson, regardless of how much or how little information the instructor covers.
It is not the goal of personalized learning to make people watch videos or listen to podcasts. Instead, the concept is that we may utilize software to customize the educational experience to fit how students learn and think.
Gamification is the application of game-like strategies to encourage participation in situations other than that of games. Gamification, which is more frequently referred to as game-based learning in education, can be employed there. Some gamification components are as follows:
Points and badges are textual and visual indicators of activity or progress within an app.
Actions like earning virtual cash, badges, points, or other rewards can be included in reward loops.

Push Notifications
The app uses push alerts to encourage students and increase their involvement in the learning process. App developers use push notifications to send messages to users outside the normal app delivery process. The notifications should be timely and specific, and they can be sent at any moment. Push notifications can be used, for instance, to remind students to turn in assignments on time, alert them to upcoming tests or quizzes, request feedback on past lessons, or encourage online discussions.
To motivate students to continue their studies, teachers can use in-application messaging to deliver them incentives, reminders, and prods. Using the mobile app, they could communicate with the student's mobile device(s) via messaging. You may enhance their mobile learning experience and aid in learner retention by doing so. Students can ask a question with only one press, thanks to an in-app chat. If the instructor chooses, they can both agree on a time for the instructor to respond, or they can wait until then. In either scenario, the student is notified when the instructor responds.
Payment channels can be helpful for developing a mobile app for online learning. For example, they can be utilized to establish a paywall or an in-app purchase fee. Payment channels also have several other benefits, such as speed and security.
The user's first encounter with your program is the login page. Users will become irritated if it takes too long for them to log in or if they have to enter personal information. Add a feature that allows users to log in using their Google account if you want to make login simple. By making use of their prefilled profiles, your users will be able to save time and effort.
A method for downloading content is present in the majority of distant learning apps. The "download" button that is found next to each lesson is one option. At the top of your course list, there is a button that says "download all," which is another choice.
This program can be used to plan and carry out life lessons as well as publish videos of the lectures. Through audio or video conversations for live classes, students gain from interacting with lecturers in real-time. For subsequent revision, they can go back and review the class recordings.
Answer queries from students
The capacity to address students' questions is the most crucial element of an online teaching tool for instructors. It's great that a course may be accessed at any time and from any location. But it's pointless if you can't communicate with your teacher. Because of this, the top educational apps for mobile devices have features that let teachers interact with students' questions and provide answers.
Interact with students via text, audio, or video
Applications for teachers using distance learning are created to help them with their daily work. For instance, they let professors produce text, audio, or video lessons that they may distribute to students' mobile devices via a web-based learning platform.
Post assignments and deadlines for students
You can assign a task and set a due date as a teacher. You can also organize a sequence of works. The pupils will send you their responses right away. Then, under the header of your primary topic, the students will publish responses to one another.
Virtual apps will not only make it simple for parents to monitor what their children are doing at school, but they will also enable you to see how they are doing in real-time. The app will mark your child's progress report with a yellow, orange, or red light if they are having trouble understanding a specific idea.
These apps allow parents to monitor their children's academic progress. They can also monitor their child's activities and academic progress. It enables the guardian to monitor their ward's grades, attendance, and exam schedule. They can also study learning materials like movies, PDFs, etc.
Each student's attendance information is available to the guardian online. Guardians can view the student's name, photo, class, and subject knowledge in addition to the student's name and attendance rate.
On the leaderboard, students are ranked. Parents can track their child's development and encourage them by sending them messages. Without speaking to the teacher, the news can be transmitted directly through the app. It is a straightforward approach for parents to support their children when they need it.
The Cost Of Creating A Mobile App For E-learning:
Consider starting by concentrating on the learner's perspective if you are developing an online application. Consider what would be enjoyable for them. Then consider how the instructor might facilitate the student's progress more quickly. More content can always be added later.
The first factor is how challenging the course material is. If there are many audio, video, text, or interactive exercises, the cost of developing an e-learning learning software will be higher. For instance, if you wanted to incorporate a feature in your app that could interact with and respond to queries from elementary school students, you would need to account for the cost of constructing a chatbot.
The platform you select for your solution is the second factor. For example, it will cost more to design an online education solution for iOS devices than for Android smartphones.
The cost of an app is influenced by the number of individuals who work on it. If you only require one developer, you will have to pay them less than if you need a whole team. Conversely, you will require more developers to complete your programme on schedule if it is exceedingly complex. The most accessible approach to make sure that all the app features are incorporated effortlessly is to hire an experienced developing team, like the one housed by Idea Usher, if you're establishing a full-fledged online learning app. The target audience, among other things, can affect your development cost. Your web-based educational app will cost more the bigger it is.
Wrapping Up
An e-learning mobile app's development takes time, money, and input from numerous parties. Many people believe that creating online learning apps is a complicated process. a pricey task with several difficulties they are unsure how to handle. With our cost-effective mobile app development solutions, Strivemindz will assist you in developing a virtual learning application. Web conferencing, online training courses, presentation slides and scripts, classroom simulations, teacher lectures, control systems, and other virtual management solutions are among the services we offer. One solution is provided at a competitive price.