Why You Need To Hire UI/UX Designers for Startup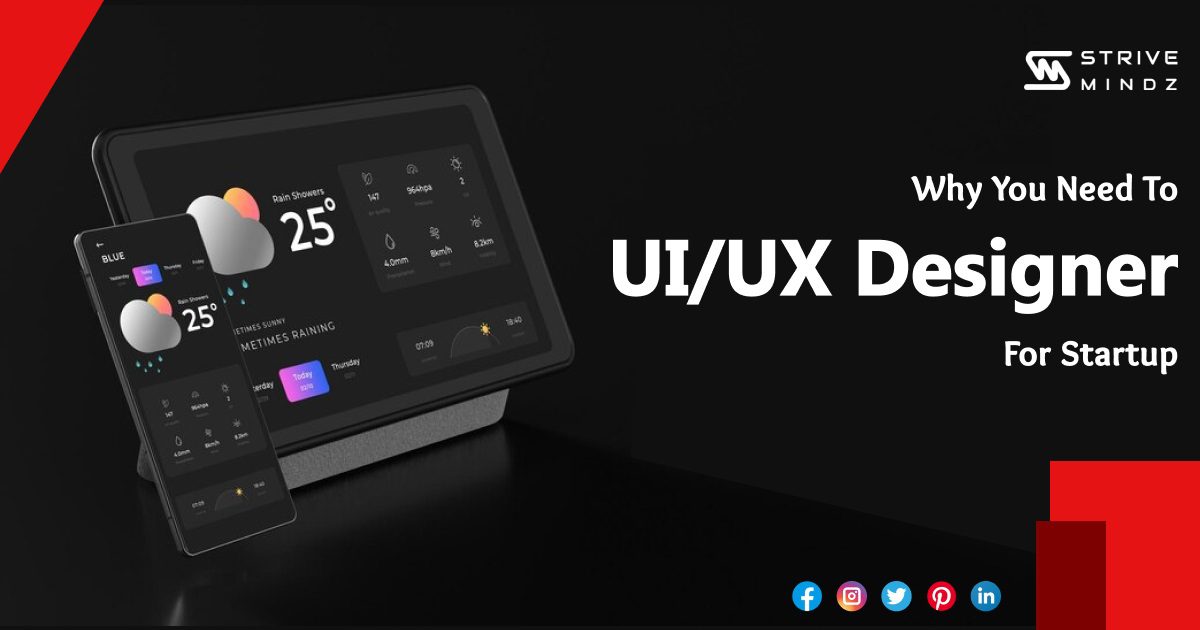 With business CEOs realizing the importance of UI/UX design for success, the demand for UX design has increased. In the absence of a good user experience, they are well aware of the risks they are going to face. UI/UX designers are now as important for an organization as the role of developers, and even more so in some cases.
Your business will benefit from hiring a UX designer by identifying your users, detecting their needs and problems, and developing better solutions to address their concerns. You will be able to enhance customer satisfaction and loyalty, which are both crucial for your business.
Startups and small businesses come with lots of challenges and competition. Keeping your users and customers engaged with your services and products requires you to provide them with an unmatched user experience. User experience is the key to driving engagement and exposure.
To fulfill the requirements of your end-users, you need a team of expert UI/UX designers, as designers play a key role in attracting your target audience and increasing your conversion rates.
What is UI/UX design?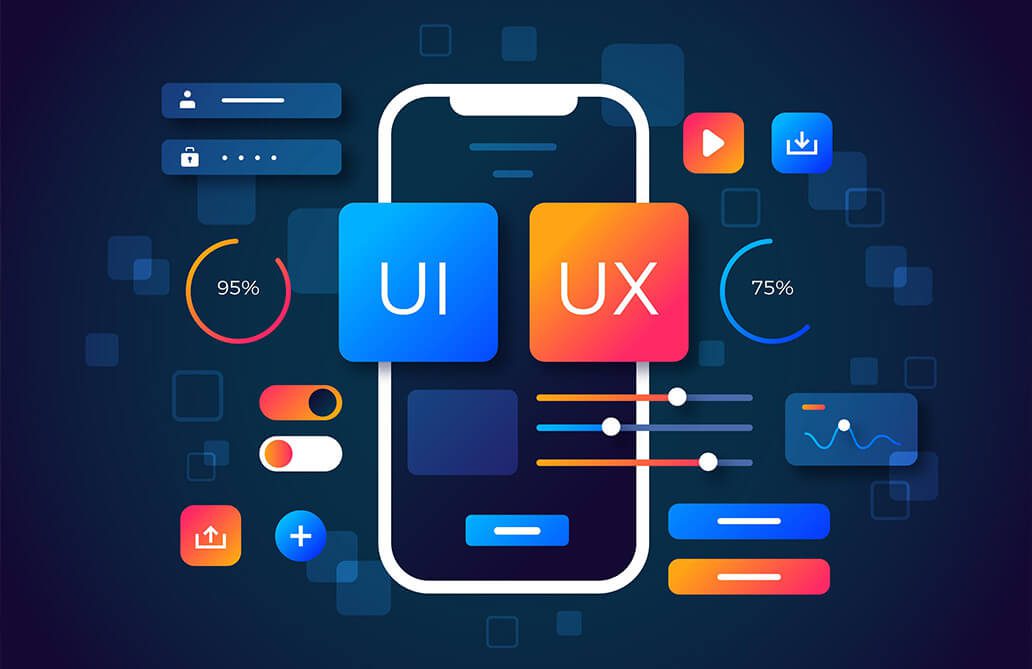 UX Design stands for User Experience Design, which is discovering the users' requirements based on user experience when they visit your website and enhancing users' overall experience, compelling them to visit your website again and again while looking for services or products you offer.
UI Design stands for User Interface Design related to the aesthetics, look and feel your website offers. Ease of navigation, themes, fonts, typography, animations, buttons, etc., all visual components that allow users to interact better and delight their eyes.
Both UI/UX designs greatly benefit your success; they are believed to deliver more traffic to your website or application and win your customer's confidence and trust.
Why You Need UI/UX Developers
To take your Startup or small business to the next level, you must be aware of the exact needs of your users. An aesthetically pleasing and attractive UI attracts the audience instantly and keeps them engaged. 
The following reasons might convince you to hire a UI/UX Designer.
People often use the website or application once and then forget about it. It creates a bad reputation among the users and directly affects the performance of your business because of its human tendency to not use services they didn't like at first use. In such scenarios, a UI/UX designer comes very handily.
They help you build user flow; it determines how users navigate your website or how they should navigate it based on market research. This process is done to attract more customers or users and is performed by UX Designers. You need to hire UI/UX designers to create the best-looking and easy-to-use website or application to satisfy your customers and have emerging sales.
Advantages of UI UX Designers
People often ignore or give less importance to UI/UX designs as they think the look and design of their website and application are not as important as its content, speed, or performance. But they are unaware that a professionally designed website performs much better than a website without any UI/UX design factors.
UI/UX designs deliver best-performing websites that attract more users, keep them engaged, and make them interact with your services. Many big companies' websites fail due to a lack of good design. Design is not just about looking and feeling; it's a development process that directly impacts conversions.
UI UX designers play a key role in the success of your online presence because they deliver the application or website with the best design to attract more users.
UI/UX designers will never design a website or application based on their likes, dislikes, and assumptions. They know their job is not to design a good-looking application or website but to design according to the needs and demands of your target audience and your industry to deliver an appealing and attractive website.
They will analyze data through your competitors and study the pattern; only then will they create the design for your application or website based on the data that will include various details like user expectations, user preferences, and many more.
Thus only a professional UI/UX designer will offer you a unique and appealing design that echoes your brand and depicts your brand story for your websites and applications to attract just the right audience which resonates with you.
UI and UX designs are proven to make your clients, users, and customers happy and satisfied. A good and balanced website in terms of design and performance will increase the customer satisfaction ratio for your Startup. Therefore you must invest in good and professional designers to succeed with happy clients.
Once you have clients or customers who love your services, your startup will start gaining more users gradually. A UI/UX designer will help you build a brand name for your startup that enhances the growth of your business.
For every business, you need to hire a UX designer, especially if you are an entrepreneur running a startup. Here are some details that you shall consider before hiring designers.
Nowadays, it isn't necessary to hire dedicated UX designers. Instead, startups are trying to hire freelance designers because it is a cheaper option, yet you will get the best results. Also, Startups need to hire the best designers. They will follow the instructions and trust their instincts to grow the startup by providing amazing designs for the application or website.
Before hiring designers, you have to ensure that they have a better scope for your website or application growth. In short, the UI/UX designers should have a better vision or scope to grow the startup. The designers should be able to create the best designs for websites and applications, plus they should have a scope to make designs that will attract more audiences.
Once you have shared the requirements for your application or website, you will have to wait until design is completed. If you have a startup with some products, then these products need to be designed perfectly to get exposure. Right designs for a startup's application or website will help improve the user experience and get the attention of other users.
Read more: How To Develop An App For Your Beauty Salon Business in 2023
How to Hire The Best UI/UX Designers?
Here are some factors you must consider before hiring UI/UX designers. Some reasons you may want to explore.
The designer's mindset is very important, and they should have a vision for growth because sometimes they will have to deal with an extreme workload. So in that situation, they also need to keep themselves composed and handle the situation and needs easily.
While hiring designers, you must ensure that they can provide project input and suggest solutions to the problems.
Designers must have good communication during client meetings, and designers must be able to understand the requirements and provide appealing designs and solutions to get more exposure.
Before hiring a UI/UX designer, please go through their previous work and take reviews from their clients. All these factors will allow you to make the right decision as it shows the mindset and capabilities of the designer.
Also, you can test them based on the use case or scenario-based interview to get a list of their ideas and solutions as a designer, to decide whether they are worthy. Only then should you hire the UI UX designer and implement them.
There is a saying that people learn a lot from their past experiences, and that's why you should hear the suggestion from the designers. If you find it good, then you can hire a designer.
While hiring UI/UX designers, you must hire experienced UI/UX professionals who have delivered the best solutions.
It would help if you gave preference to experience and skills during the interview, not only previous projects. The portfolio or the previous projects will only give you an overview of the designs, and it will be illogical if you want to check your UX skills. So experience should be preferred ahead of the portfolio and previously completed projects.
Conclusion
A good UI/UX designer will be an adaptive and creative thinker.  A good designer is hard to find but not impossible, so always search for the best UI/UX designers for your startup. When hiring UI/UX designers for your startup, you have to look for the qualities like experience level, mindset, and types of solutions they will deliver. UI/UX designers can help you grow your startup by identifying the audience and understanding the users' requirements.