7 Reasons to Hire a Magento Developer from Strivemindz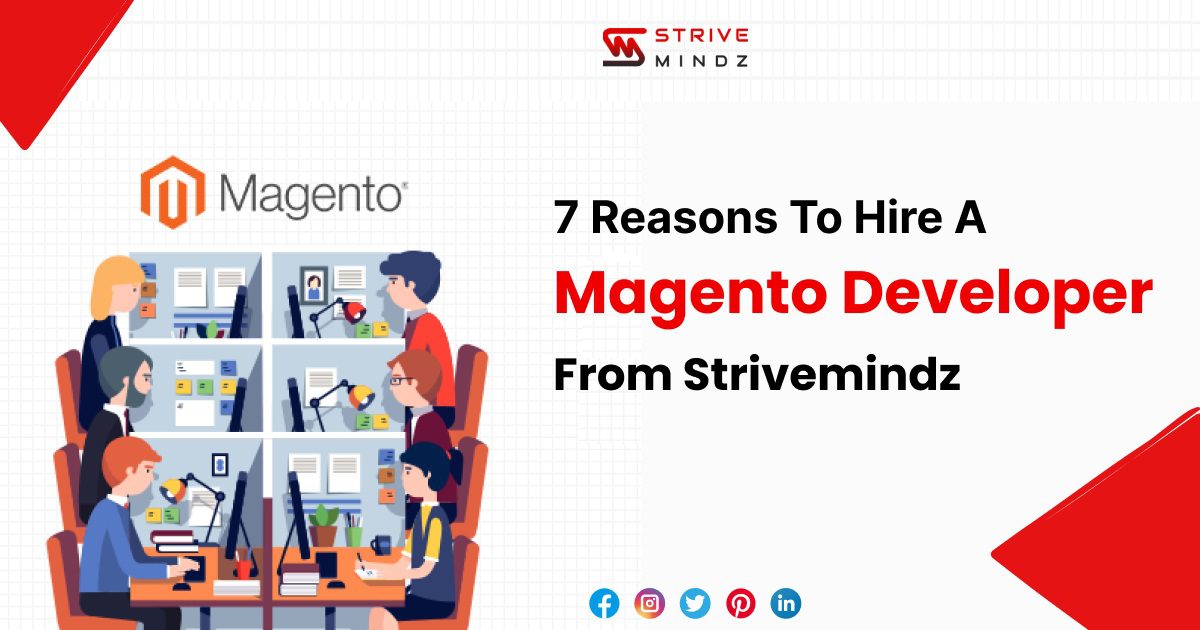 Built on an open-source technology, Magento is an e-commerce platform that assists users in creating online stores for expanding business. It has multiple online merchants that are provided with flexible shopping carts. The whole content, functionality an appearance of the store is handled by Magento developers.
Magento developers have become a very essential part of development as they are well-versed with all the technicalities of Magento. These developers offer optimum solutions for your enterprises and create a framework to provide top-notch solutions for all kinds of e-commerce projects.
They offer cost-effective and interactive applications that are extremely reliable and secure. They also assist you in fulfilling your business objectives by creating an application that attracts your targeted audience. Magento Developers develop the finest solutions to your projects with the help of trending tools and techniques.
Why to hire Magento Developers from Strivemindz?
Despite of being a reliable and responsive platform, Magento still has some of its own cons. Hiring a Magento Developer from Strivemindz will prove utmost beneficial for your online store as our Magento Developers will find efficient solutions to your store and despite of the cons, deliver a perfect and scalable e-store.
Magento Development is expensive

The costs of maintenance, updates, plugins and add-ons, additional features and functions may become a little pricey for your online store. We at Strivemindz have Magento developers that are proficient in developing cost-effective e-stores that come with no extra burdens or hidden charges. Our pricing model is complete, extremely affordable and fixed.

Difficult functionalities and installation

Magento's functions and features are a bit complicated and tricky. They will require a well-adept professional Magento Developer to create and manage an e-store. Moreover, installation and set up is also ambiguous. We at Strivemindz contain a team of proficient developers that use a variety of tools and strategies to assist you with the installation as well as technicalities of Magento.

Lack of Magento Technical Support

Magento does not offer any technical support to its users and customers. Running an online store will pave the way for many issues like security threats and downtime. We at Strivemindz offer unconditional assistance throughout your project and after the launch as well. We are available during the entire time to solve your issues whether it is a small bug to optimize or the overall performance of your online store.

Payment gateway integration issues in Magento

At times, users and clients have faced payment integration issues on e-stores created on Magento. This results to poor performance and inefficient working. We at Strivemindz facilitate our customers in providing multiple payment options for their e-commerce stores to ensure smooth and secure transactions. The integration of multiple payment gateways for your eCommerce store is fully managed by our Magento developers to give you a tension free business experience.

Migration Problem in Magento

It is a complicated process to transfer an e-store from any other platform to Magento. Only certified Magento Developers can smoothly shift your whole store to Magento. We at Strivemindz have Magento Developers that can very easily transfer your online store from any other platform to Magento. We have professional developers that can handle your store with great expertise.

Magento is a complicated platform

If you try to save money by not hiring a Magento Developer and doing each and every task of your online store by yourself, its just a waste of time. Magento is a very complicated platform with tons of technicalities embedded. A beginner or fresh developer will not suffice in maintaining the task of Magento Development. We at Strivemindz have a skilled team of excellent Magento developers and programmers that build customised, responsive and innovative online stores to engage large audiences for your enterprise. We offer reliability and work on your projects to help achieve new levels of success.

Limited Authentic Magento Developers

Currently certified Magento developers are very few in number as it requires a great deal of knowledge and experience to understand the complex structure of Magento and handle its core software. We at Strivemindz provide you the best team of certified Magento Developers who have great command and highly proficient experience in developing and managing Magento online stores.
Apart from this, hiring a Magento Developer from Strivemindz will gain you other benefits like detailed updating of your project, efficient resource and time management, round the clock availability, reliability, assured confidentiality, data security and guaranteed results.