Diet Planner App Development: Cost and Key Features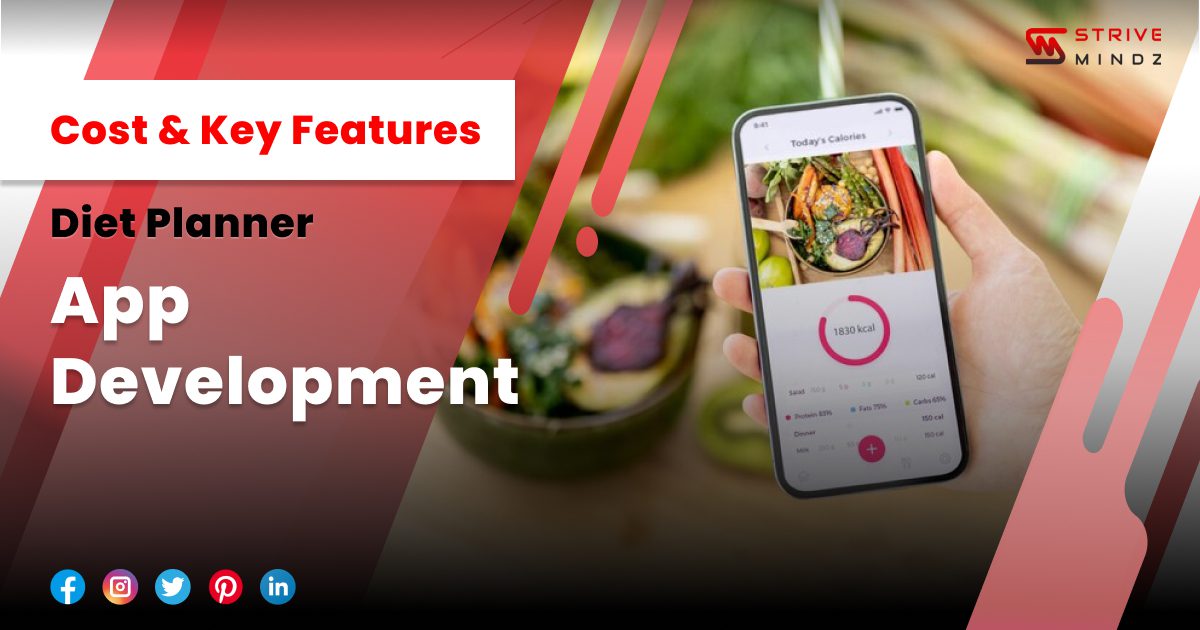 "You are what you eat" – this is a common phrase that many of us use. When you really think about it, what you eat determines your calorie intake and your calorie intake determines how healthy you are. An unhealthy food habit can really cause damage to your health and fitness.
Thus, it is important to keep track of what you are putting in your body. And this is not just what we claim – even consumers today are becoming more and more aware of the importance of knowing and planning their diet. This is why the market for diet and nutrition planner apps is growing exponentially these days.
If you were thinking of creating a diet planner app of your own, then this is exactly the right time for you to start your venture. So without further ado, let us take a deeper look at the process of developing your own diet planner mobile application and how much it will development cost you to create the diet planner app.
Our article will cover all the basics of diet planner and nutrition app development as well as the must-have features and tools you need to create a successful food and nutrition tracker.
How Does a Diet Planner App Help Users?
A diet planner app is extremely helpful for gen-z people and millennials as it helps them keep their food habit and fitness routine in track even through a busy schedule. A diet planner app can help users in multifarious ways, which include –
Tracking daily calorie intake

Understanding the ingredients of the consumed food

Providing guidance regarding the diet chart

Providing guidance regarding the consumption of water

Helping users connect with expert dietician and nutritionists for more personalised diet plan
On top of this, some diet planner apps also help users in planning a thorough exercise routine and in tracking daily activities to stay fit and healthy.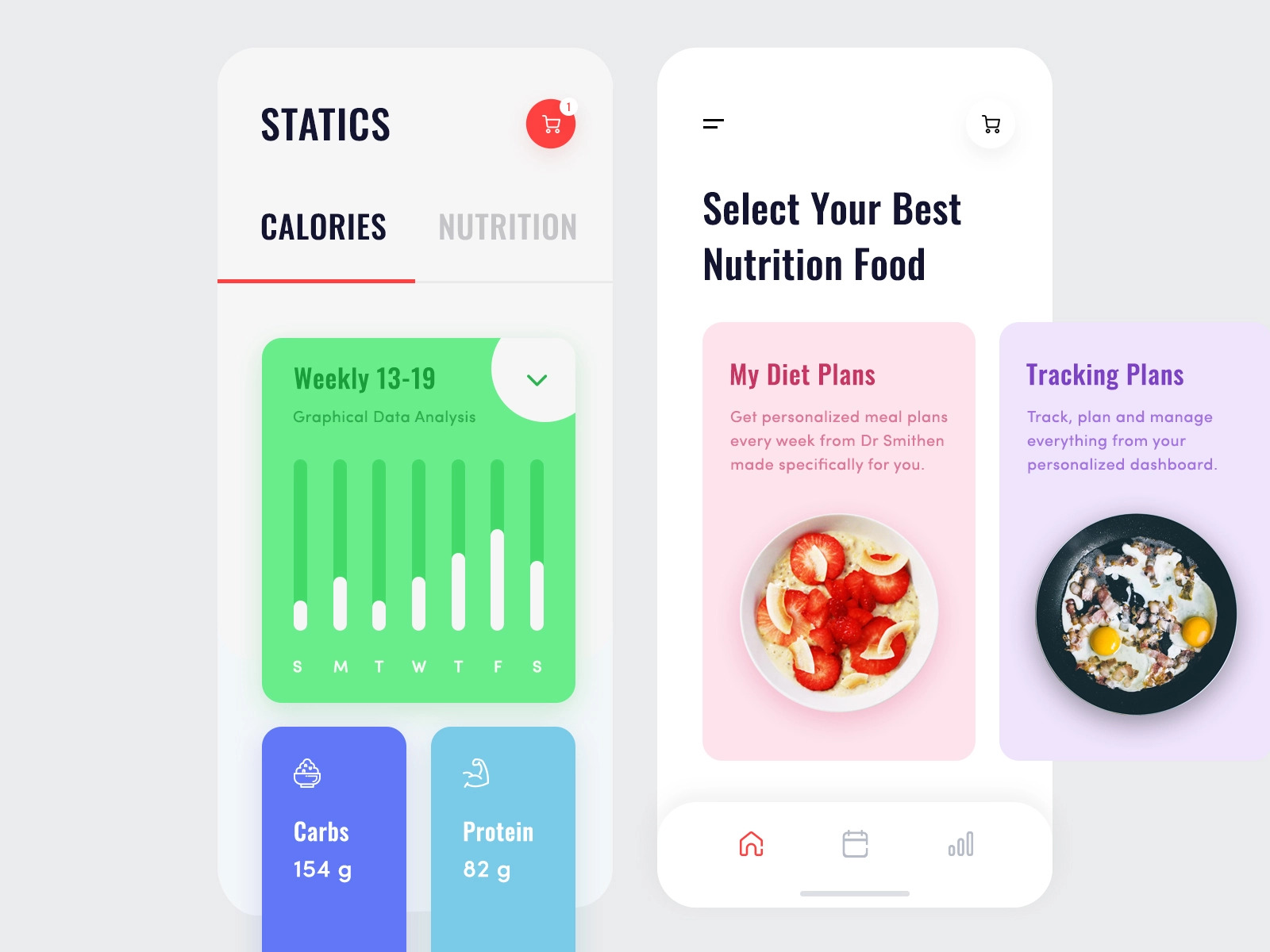 How does a diet planner app function?
Unlike fitness apps which majorly work depending on sensors, diet planner apps usually depend heavily upon users to enter certain information. Once an individual downloads and installs a diet planner app, they will be instructed to manually enter all the necessary details that will help the app give them a better idea regarding what should he eat and how much should eat.
These details generally include the gender of the user, their age, height and weight, and the amount and type of food they are consuming. These details help the app to provide the users with a better insight on how they can improve their diet habit. Along with this, some diet apps also have a fitness section that helps users to have a planned exercise regime in order to stay in shape. These apps use sensors and user-inputted data to work.
How to Monetise Your Diet Planner App?
Just having a diet planner app is not enough, you need to have a fixed stream of revenue. For this, you must monetize your app. So what are the ways to generate profit from your diet planner app?
Subscription model

In-app purchases

In-app advertisements

Freemium model
Subscription model
Some diet planner apps are expensive and feature-heavy, and users need to have a subscription to use these apps. You can use this model for your business if you are confident that your app is hard to resist for users and they will be happy to pay money to use your app.
In-app purchases
You can offer certain diet products / chat sessions / other items which users can purchase within the app. The in-app purchases are a good way to streamline your revenue.
In-app advertisements
You can offer a digital space within your app for third party promotions and digital advertisements. This is a very popular method to monetise mobile apps. However, too many advertisements can cause a negative sentiment in your users so you have to be careful.
Freemium model
You can offer your app as a free to use application, but you can use certain advanced features that users can only access if they have a premium model.
Must Have Features That You Must Include in Your Diet Planner App
Most diet planner apps have two separate panels for users and admin. These two panels offer different sets of features
User Panel
The user panel of diet planner apps should have these following features –
Sign up and log in: Users can register in your diet planner app using their social media accounts or contact number. This feature helps users to create their own unique profiles in your app.
Calorie count and food logs: This is the next most important feature in a diet planner app which allows the users to input what kind of food they are consuming and how much calorie they are intaking.
Set goals: The next feature that users will need after tracking their calorie count is a way to set goals for a certain period of time and follow a diet pattern. The time period can range from a day to a week to even a month.
Diet advice: Diet planner apps should also be able to guide users regarding how they can improve their diet habit, what kind of food they should stop consuming and what can they continue to eat.
Chat with experts: Using the diet planner app, users can connect with expert dieticians and nutritionists.
BMI calculator: The BMI calculator is a feature that all diet planner apps have. Users can check their BMI by just entering their height and weight in the respective fields.
Push notifications: Users need to be made aware of the timings when they need food or for special updates. Push notifications and emails or SMS alerts help the app to communicate with the users in real time.
Wearable device integration: It would be extremely beneficial for your users if they can access your app, or certain features of the app from their wearable devices such as fitness bands or smartwatches.
Admin Panel
For the admin panel, you have to include these following features –
View/manage users: The admin needs to have a track of all users who install and register on your app. This feature helps the admin to regulate the users.
Analytics: Analytics helps the admin to identify how the app is performing and which areas can be improved.
Email and chat support: Admins need to be able to address all the grievances and questions of the users, and email and chat support is a must have feature for this.
Development Stages of Your Diet Planner App
Strivemindz is more than happy to help you on your dream to have a diet planner app of your own. We can assemble the best team to carry forward your project, and our expertise in the field will make sure that you have a world class diet planner app for your business. The development team that you would need for your project will include –
The process of creating your own diet planner app is simple, and easy. Strivemindz will help you at every stage of the development so that your app is running and can offer the top-notch experience to your users. The process of developing a diet planner app has the following stages –
Project planning and evaluation

Market research and evaluation of target clients

Designing the UX / UI

Developing a mobile application

Testing the app

Launching and maintenance
Cost of Diet Planner App Development in 2023
Giving an exact figure regarding the cost of developing a diet planner app over an article is impossible. However, Strivemindz offers cost-effective services and you will not have to spend a fortune if you take your project to us.
The cost of the development may depend on the platforms on which you want to launch your app, the number of features you want to include, the region where you are launching your project etc. The average cost of developing a diet planner app can be near $7000 – $150000. Please note, this is not an exact figure and may vary based on your project requirements.
Conclusion
You can monitor your daily intake with diet and nutrition apps. Keeping fit with these apps can help you avoid several health problems.
Today, diet and nutrition apps are highly in demand, so building one is definitely a profitable venture. The best way to do so is to hire app developers or connect with a mobile app development company.
Nowadays, diet planner apps are extremely popular among people of all ages and the market is wide open for businesses to tap into. Start your journey as the owner of a diet planner app with the help of Strivemindz. Contact us now!