How to Develop A Mobile Video Chat App Like Omegle?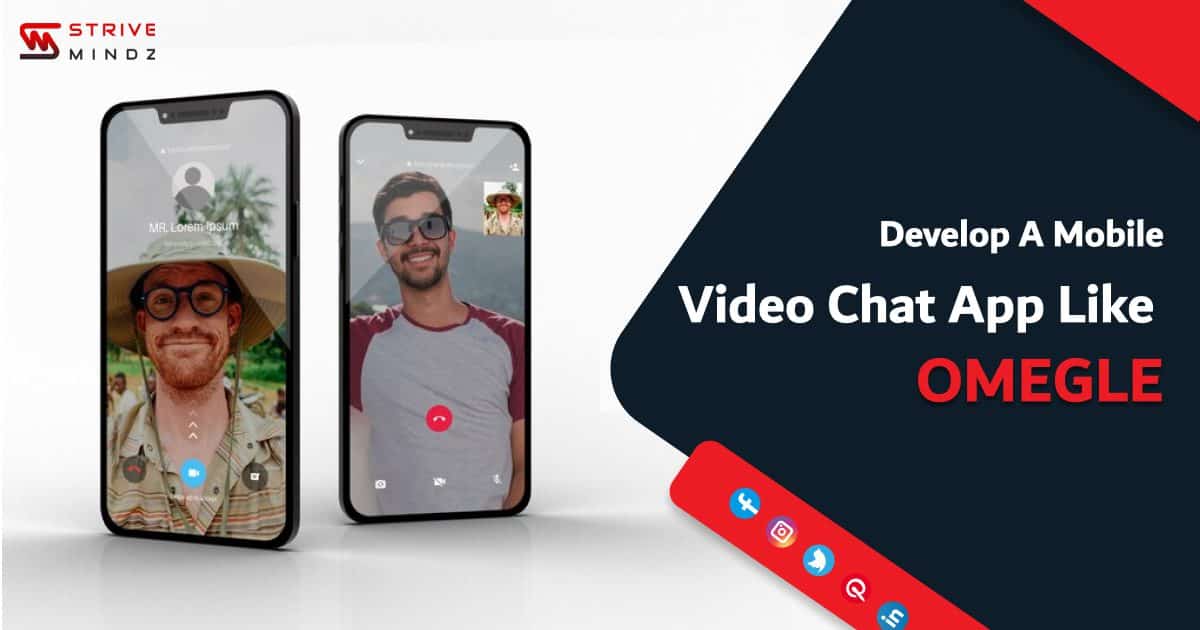 The COVID-19 outbreak has caused the Omegle app, which debuted in March 2009, to regain prominence unexpectedly. In this "virtual chat room," individuals can have unrestricted conversations with others from anywhere in the world. Interested in building an Omegle-like app? You're unsure about where to start, though. Don't worry; Strivemindz has your back. We, as a leading dating app development company, can assist you in creating a mobile video chat app like Omegle.
What is the Omegle app?
With the help of a video-chatting service mobile app like Omegle, you may converse with a stranger online via text, video, or perhaps both. Users can also enter their interests, and Omegle will attempt to pair them up with those with similar interests. If you don't, anyone may contact you. There is no requirement to make an account, and chats are anonymous unless the user chooses to identify themselves.

What is Omegle used for? Why do people use Omegle?
Since this platform doesn't require registration, you can start a conversation with other users without providing personal information like your name or age. Additionally, Omegle does not let users choose the people they want to speak with; instead, chats are automatically produced with strangers. On the other hand, the user can select interesting topics.
Visit the site, choose the language you want to use, and enter the topics you're interested in to be directed to chats with people searching for varied talks. The platform will then start a chat room with a random user. Chat applications that include secure conversation and file transfer functionalities may facilitate team communication in business settings. Because it enables people to connect with friends from everywhere and develop new connections, it may be a fun tool for communities.
At first, glance, having private conversations with strangers while skipping lengthy registration processes may seem appealing. Still, it's important to be aware of some of the problems that Omegle users face. Therefore, it's essential to incorporate at least a few features that make your mobile video chat application, like Omegle, more secure and practical.
Leading Video Chat Apps
Users can choose from thousands of video chat apps, but not all are appropriate for all forms of communication. For example, some are for business meetings, while others are for video games.
Video conferencing application Zoom boasts 300 million daily active users (DAU). The simplicity with which the audio and visual settings may be changed, the ability to capture video, the limited number of emoji reactions, and the sidebar conversation are all noteworthy Zoom features.

A video conferencing programme, Hopin, is focused on facilitating sizable virtual events with up to 100,000 attendees. To keep participants interested, Hopin's video chat features during live virtual events include audience polls, quizzes, and Q&A sessions. Additionally, users can retain and modify recorded video material and use the platform's integrated analytics to obtain a deeper understanding.

Like Zoom, the gaming app Discord enables users to set up video chats between two or more people, stream live games, and create discussion channels. Discord is a flexible and user-friendly video conferencing option for users of any experience level because it is free and compatible with most current OS systems.

International users who want to communicate with friends and relatives who live abroad frequently use WhatsApp. Despite being mostly a text-based chat program with push alerts and presence indicators, it also supports video calling. Only eight people can simultaneously participate in a video conversation, but even in those remote areas, the audio and video stream is of great quality.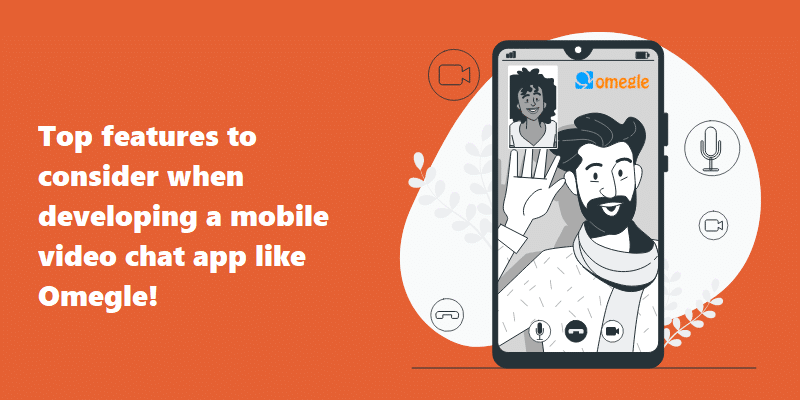 Here Are Some Top Features to Consider When Developing a Mobile Video Chat App Like Omegle!
When developing a dating app, remember that features are the most important thing to focus on. When choosing the proper application functionality, be selective because features can help your application reach new heights. A handful of the features of chat applications like Omegle are given below. Look at that!
Membership: Using this option, you can provide your users discounted access to many features. Additionally, you can choose to pay for their subscription on a monthly or annual basis, depending on your preferences.
Set preferences:  Users can pick and choose who they wish to contact, thanks to this crucial feature. It indicates that the clients and the outsiders they are working with have another thing in common as many areas as you can have tags inserted.
Profile: Users can ban viewers or modify their viewer preferences from their profile to stop receiving unwanted notifications and uncomfortable contacts online. To maintain the privacy of their information throughout their entire use of the app, users can also hide their age, specify geographic preferences, and use several additional options.
Multilingual support: With Google Translate's assistance, users can utilize your app. Finding partners from the same country as you or who speak the same language as you will be easier with this tool's help. Users can select English if they want a random match. This application is easy to use, and numerous language options are available on the website.
Messaging via text: This service's users can communicate with others exclusively via text messages. They are inaccessible to users through voice or webcam. This service is ideal for businesses if customers don't want to speak with you through your camera. Many people, however, do not want that. You can find what you're looking for in this chat format if users don't want that. Utilizing it is always simple. Internet usage for text services is always higher than for other services. You'll be able to connect and chat with people from all around the world.
Ask Questions: Users can use this feature to pose intriguing inquiries to total strangers. Users, however, cannot post and must only view them. Users can also assist others by responding to questions from strangers and engaging in conversation. Click the "asking a question" option if users want to utilize this mode to ask questions. Users should ask a question that will spark discussion and debate.
Spy mode: Going to the forum, posting your question, waiting for responses from strangers, and observing who replies make the offer even more intriguing. A small number of people who have expressed interest in taking part in this fascinating social experiment and are prepared to speak about particular themes will be displayed by the service.
What Are the Steps to Developing a Video Chat App Like Omegle?
Make extensive research and planning efforts
Every new company venture should start with a brilliant idea. However, before you begin developing your mobile video chat software, such as Omegle, you must first determine its purpose and goal. What can we expect? What is the heart of its allure? What particular issue will it address, or what area of your users' lives will it improve? It will also help you get there faster if you have a specific goal in mind for the app. Create a project plan when you've defined the application's goals. This necessitates the presentation and categorization of viable application mandates into attainable milestones.
If you're short on time, experience, or funding, create a minimal viable product and focus on it for the initial takeoff. Assessing the competence required for every application development project is part of the planning process. Operating systems for phones, such as iOS and Android, make use of a variety of complex technologies. Developers who can develop video chat applications for both iOS and Android are needed for apps like Omegle.
Concentrate on UI/UX design
The UI/UX design incorporates a user-friendly interface. A simple and intuitive mobile experience is the aim of this application. While working on your UI/UX design, you should also create a design for your chat app, such as Omegle.
The goal is to design a blueprint that will assist you in better understanding the relationship between each screen and how the user may navigate your app. An effective user interface aids in the early stages of development. Another alternative is to use wireframes. Wireframes are a rapid and low-cost way to create app templates and improve them during the design phase. When building wireframes, keep the device-specific plan in mind. So it makes no difference if your software is used on an iPhone, tablet, or Android phone or tablet; it supports simple and device-specific usage behaviors.
The success of a system application is measured by how successfully prospective customers perceive and use the program's features.
Begin the development process
The design of a mobile app refers to its layout or beauty, whereas development refers to the code that powers the app. Despite the early beginnings of design and development, the process can only be completed once the research and prototype are completed.
Examine the app
After the program has been created and built, it must be rigorously tested to guarantee that it is error-free before being deployed. The audience might be shown a beta version of a mobile video chat program such as Omegle and asked for input. It may be costly to fix problems or errors in the application after it has been released. As a result, as part of the testing process, they must be addressed. To attain a fantastic mobility outcome, you should include the following procedures in your application testing. Testing is key to a program's long-term performance and is an essential component of the overall dating app development process. Developing a high-quality mobile application necessitates precise preparation of mobile tests.
Choose the ideal combination of talent for your development team
The tasks listed below are necessary to construct a top-notch mobile video chat app similar to Omegle in order to produce an app like Omegle:
UI/UX designers

Frontend developers

Backend developers

QA Engineers

Android developers

iOS developers

Project manager

Business analyst
Hiring professional engineers and individuals to construct an app like Omegle will raise the cost of dating app development. That is why it is advisable to collaborate with a top mobile app development company that has the right mix of talent.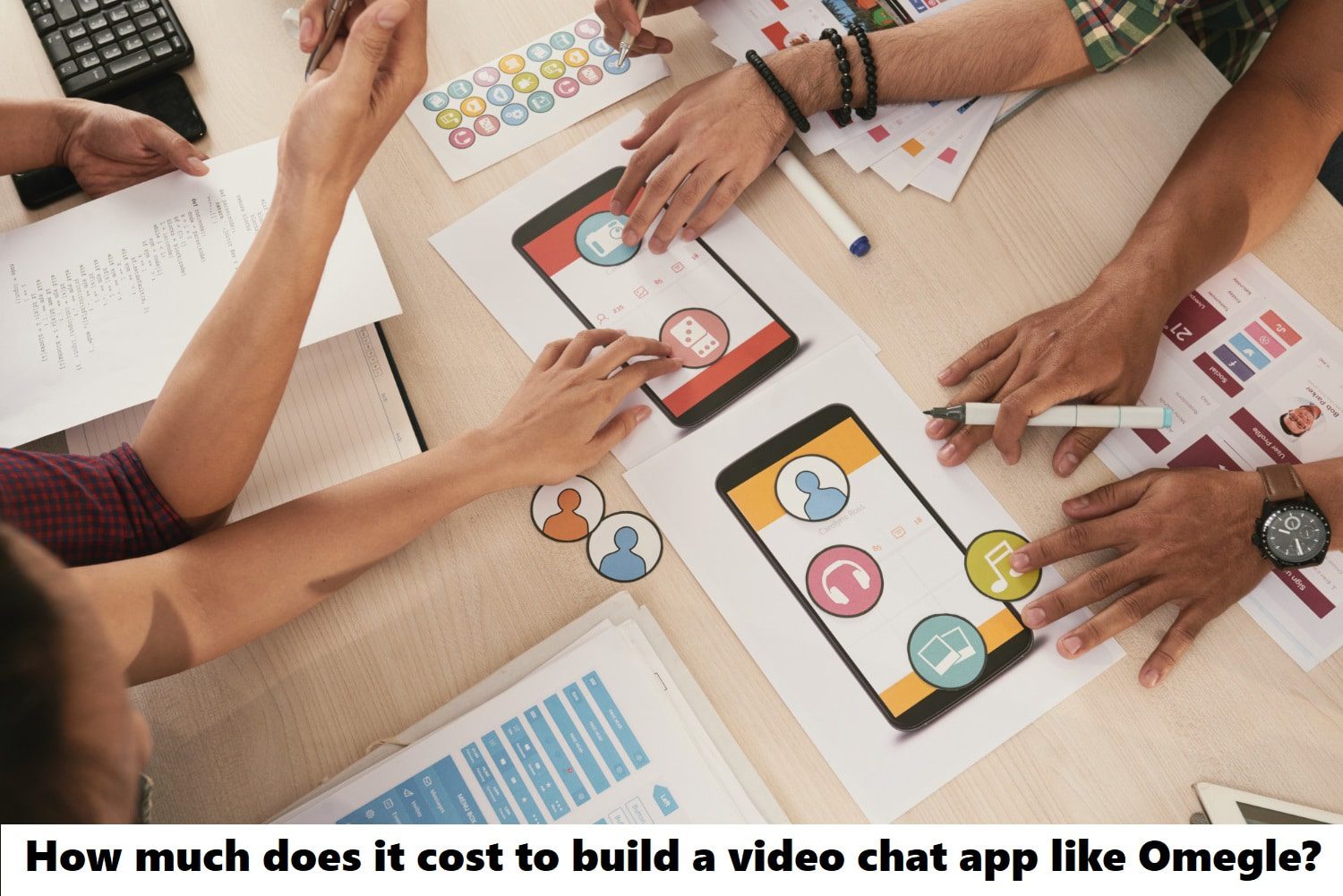 How Much Does it Cost to Build a Mobile Video Chat App Like Omegle in 2023?
If you are planning to develop a video chat app like Omegle, then you can expect to spend between $15,000 and $30,000. Additionally, you should be aware of the differences in development fees between native and cross-platform apps.
It usually costs $25,000 to build a dating app. It can cost as little as $15,000 or as much as $40,000. If a dating app has a few features (also called a "minimum viable product", or MVP), it will be more affordable than one with many features.
As you might expect, it isn't easy to define dating app development cost since it varies by region, function, technology, platform, and other factors.
As per your requirements, we can provide an estimate for the project. 

Advantages of Video Chat App Like Omegle
Because they are detached from the other members of the meeting, audio conference participants tend to zone out and multitask. In contrast, video requires "virtual eye contact," which translates to higher levels of engagement. In addition, when every conference participant is visible, you're more likely to apply the communication skills we've all honed in face-to-face talks.

One of the most obvious but major benefits of video conferencing is reduced commuting time. In-person meetings with suppliers, clients, and satellite offices may consume valuable hours of your day; even an hour-long meeting can quickly consume a whole morning when travel time is included, making it a tedious and unproductive activity. In addition, teleconferencing is a considerably greener alternative to in-person meetings if sustainability is a mandate in your organization.

Travel is not only time-consuming but also costly. People frequently travel long distances for training, conferences, and business meetings, and these in-person conversations can usually be conducted using video conferencing. You should rather use the money you would have spent on business trips for other company needs.

According to studies, individuals receive visual information faster and more accurately than text and music. As a result, when you hold a conference using video conferencing, your attendees will retain more information and comprehend it more efficiently than if the meeting was held via audio.

For a variety of reasons, teams are becoming increasingly geographically divided. Some freelancers and even permanent employees work from home, while others are contractors working from other continents or are just on the road to business. But great distances are irrelevant when you can bring your team together via video conferencing, whether for regular meetings or last-minute check-ins.

This makes video conferencing a huge competitive advantage for your organization when you consider all the advantages listed above. You can streamline many of your present responsibilities while also increasing collaboration by lowering costs, increasing team cohesiveness, and holding more effective meetings.
Wrapping up
If you wish to create a mobile video chat app like Omegle, we hope you found this article useful. Developing an app like Omegle is not an easy task. You must use the right resources and work with a top mobile app development company. Contact Strivemindz if you are looking for such a company. We offer various advantages to our clients, such as picking the most dependable, rewarding features for dating app development, which can considerably increase the user experience over other dating apps on the market. We have a team of top dating mobile app developers for hire, who can help you turn your ideas into reality.