Key Features And Cost of eWallet App Development in 2022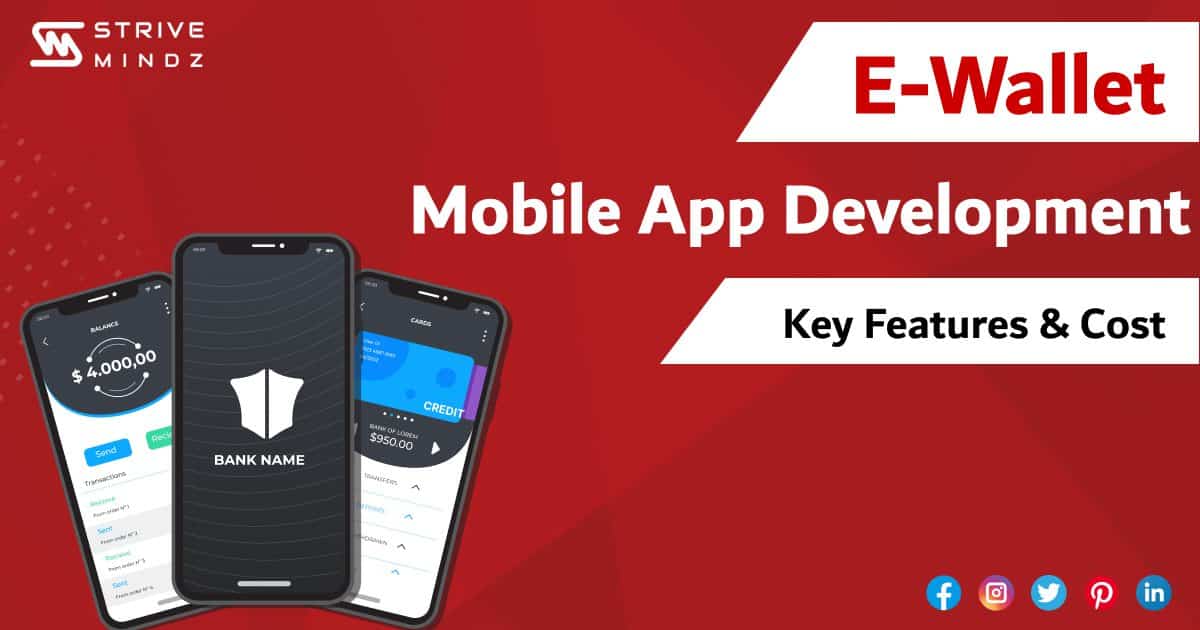 With the advent of digital wallets, becoming cashless has become simpler. Ewallet application development allows for cashless payments and quick money transfers no matter where you are or how long it takes. The touchless world of today is ruled by it. In 2021, four out of ten American smartphone users will use contactless payments, according to Statista. Mobile eWallet apps or associated payment escape models power it.
Today, businesses work with eWallet app development companies for mobile eWallet app solutions to improve their business transactions and revenue. According to GlobeNewswire, revenue from mobile eWallets will reach $46,006.0 million by 2028, growing at an annual rate of 18.9%.
Global eWallet transactions market size for 2020 with a forecast for 2021 to 2025.(in million U.S. dollars)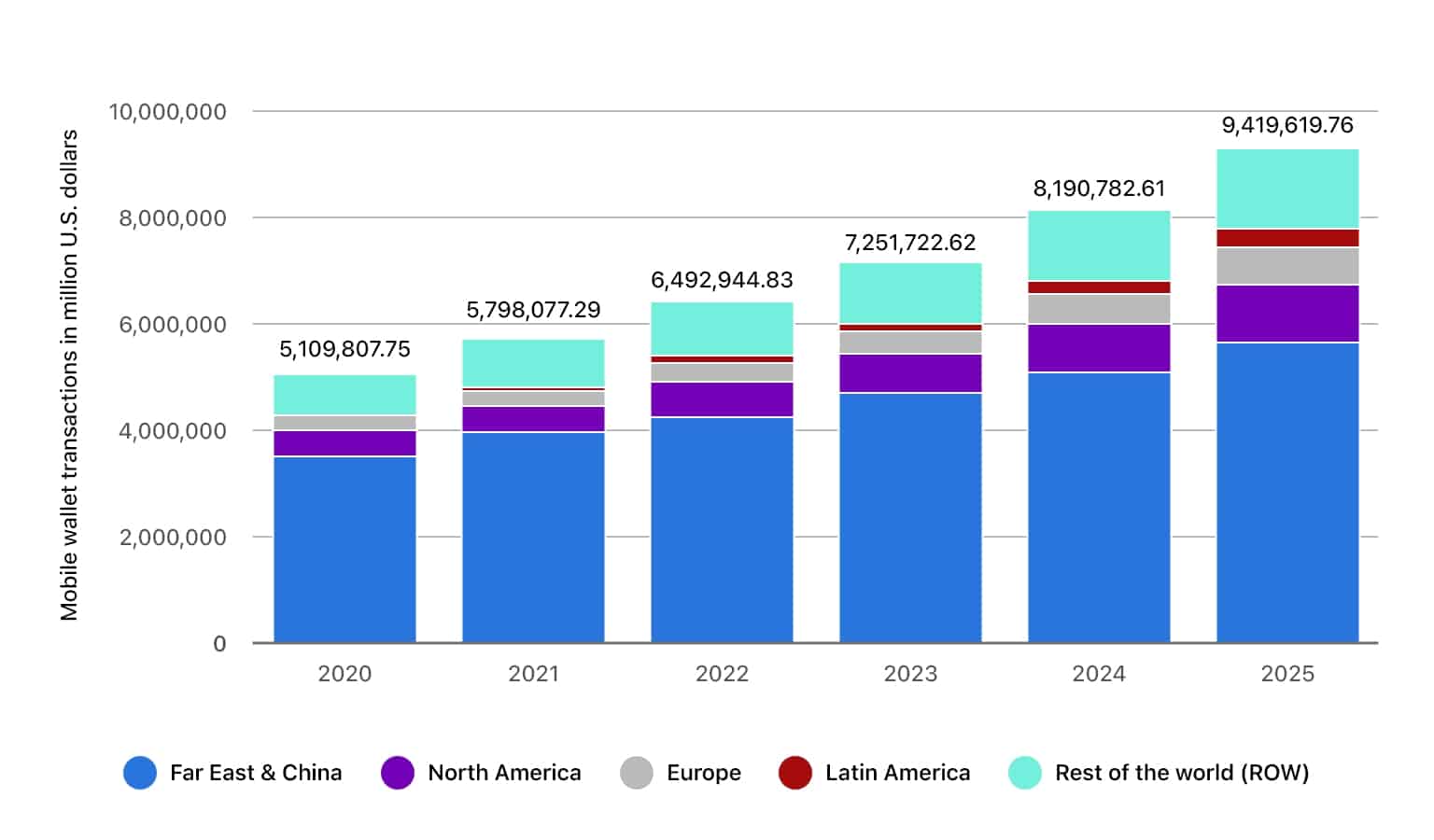 src: Statista
Because of this, many business owners are now working with eWallet app development firms to produce unique apps like the mobile Starbucks and Walmart Pay apps for making purchases of goods and services. In addition to supporting their company ecosystem, it includes food delivery, ticket booking, and more for their clients. As a business, spending money on creating digital wallet apps can help generate healthy earnings. If you're considering creating a feature-rich, personalized mobile app, this piece will give you a thorough rundown of all the important considerations.
eWallet mobile app: what is it?
It makes it possible for clients to pay you in person, online, and through an app. It connects to their bank accounts and digitally stores their debit and credit cards. So they can transact with you without using cash or credit cards. The gift cards, loyalty cards, discount coupons, and other items that you provide to your consumers are also kept in the digital wallet.
What resources are used to create an eWallet application?
E-wallet applications are evolving with time to become smarter, more creative, and more useful. This is the result of integrating several technologies, including Bluetooth, QR codes, near-field communication, and beacons.
NFC, or near-field communication, is a cutting-edge technology that makes it simple to send money without having to give any other personal information.

Companies that create digital wallet apps take care to incorporate QR code support, which enables users to send money while scanning the code. With this, you may use social media to send money to your friends, family, business teams, etc.

You can share money using technologies like Bluetooth and a beacon in situations where the recipient of your payment is nearby. This is quicker, safer, and more dependable than alternative approaches and techniques.

Every second that goes by, technology advances, and e-wallet apps have been keeping up with these changes. As a result, they have opened their doors to blockchain technology. This step has been taken to advance blockchain technology, which is known to be safer and more encrypted. However, one must be aware that blockchain is still illegal in many nations, which is why implementation is still in the works but seems far off.
What Kinds of eWallet Apps Are There?
It's time to comprehend the many kinds of e-wallet apps created by e-wallet application development companies now that we are aware of the importance and range of e-wallet applications. Ewallet apps can be broadly categorized into three groups:
Open eWallet Apps
These eWallet apps are among the easiest to use. These apps may be downloaded by users using their smartphones, and once they've registered and finished the installation and setup steps, they can use the app to conduct transactions pretty much anywhere, at any time. PayPal and Apple Pay are two popular examples of these apps.
Semi-Closed eWallet Apps
Open wallets, as we previously discussed, are accessible to everybody. Semi-Closed Wallet Apps do, however, have some limitations. For example, users using Semi-closed Wallet apps can only complete transactions for a limited number of retailers and locations.
Closed eWallet Apps
Consider the apps you use to pay at a particular retailer, like Walmart, when you are there. These are the apps that are created just for one business or group.
The Essential Elements of an eWallet App
Instant Payments between Wallets
With this function, you can send money instantly between the wallets of the payer and the payee. Users are not required to wait for payments to finish during particular business days or hours. This feature makes it easier to make payments, get money right away, and have more control over your money wherever you are.
Transactions to & from Bank Accounts
Mobile wallets enable quick transfers of funds from one bank account to another. Users can also transfer money to their accounts. The eWallet smartphone app provides a simple method for sending money across banks. Users merely need to enter a few specifics, such as their IFSC code and bank account number, and then choose their preferred bank.
Individuals are going digital today, and they prefer to pay all of their bills online. People adore paying using eCash, whether it be for loans, mortgage payments, cell phone bills, credit card bills, utilities, etc. Users may easily pay their bills, whether postpaid or prepaid, with the help of the mobile wallet app development concept.
Management of Physical and Virtual Card Operations
eWallets can store user credit/debit card information that can be used to conduct financial transactions at any time and from any location. The creation of the eWallet has simplified customer finances by combining all of their cards into one platform. Additionally, it eliminates the need to physically carry a card because it securely saves card information, such as card numbers in an encrypted format. Mobile wallets provide the capacity to manage a variety of card procedures, such as account limits, pin resets, fresh card applications, etc.
It goes without saying that in the digital age, business owners are eager to adopt new technologies that accept payments using a mobile wallet. Retail customers can complete profitable in-store payments utilizing eWallets and contactless technologies like QR-code scanning and NFC (near-field communication). The QR code and barcode may be read by users using the cameras on their smartphones. NFC and QR code payment mechanisms, which cater to the growing need for cashless transactions, are essential components of a mobile wallet.
When providing digital transaction services, strong security should come first. A strong security feature, such as security questions, end-to-end encryption, tokenization, biometrics, and one-time passwords (OTPs), is required to ensure the security of online financial transactions.  Online transactions, however, provide greater security than physically carrying cash, a debit card, or a credit card. But before using the mobile wallet, new customers consider security issues. eWallets must therefore have robust security features and end-to-end security capabilities if they want to attract clients.
Easy & Quick Self-Registration
Since the idea behind developing an e-wallet software is to save users' time and effort, the app should provide a quick and simple self-registration process. Although adding significant values and data input fields is not recommended because the registration process is one of the most important phases with a lasting effect on the customer experience, it is nevertheless necessary. The one-time registration procedure should be exact and straightforward to maintain users' interest in your software.
Rewards, Coupons, and Discounts
Marketing and sales teams know the effectiveness of rewards and coupons. These advantages can now be offered to bargain-hunting clients in an appropriate setting thanks to eWallets. Therefore, for a successful e-wallet app development that may make your app stand out in the market, features like easy generation and management of coupons, discounts, tickets, earning loyalty points, etc., are essential.
With today's features, splitting the bill is a no-brainer. Simplifying users' daily duties and keeping things straightforward might be a competitive advantage for your eWallet application. Users can divide the bill when going out for group dinners, shopping, parties, etc., with this fun tool. By simply picking the friends' phone numbers, the bill splitting may be done using the eWallet app.
Every client should routinely track their personal financial activity. Everybody needs to keep track of every dollar they spend. Users of eWallets can monitor and view their financial activities using data, graphs, and numbers using an analytical dashboard. The openness of when and where users invest their money across all sources, including bank accounts and credit/debit cards, allows consumers to make more informed financial decisions.
A chatbot is a piece of software that communicates with users. When human assistance is not accessible, chatbots assist clients with the help of AI and NLP. The incorporation of chatbots into the creation of your mobile wallet software offers up new channels for engaging your target markets and enhancing customer support. For example, your eWallet app's chatbot integration makes your services accessible around the clock at a reduced service cost. Consumers today anticipate a prompt response from any digital medium. In order to increase customer happiness, chatbots might be a terrific addition.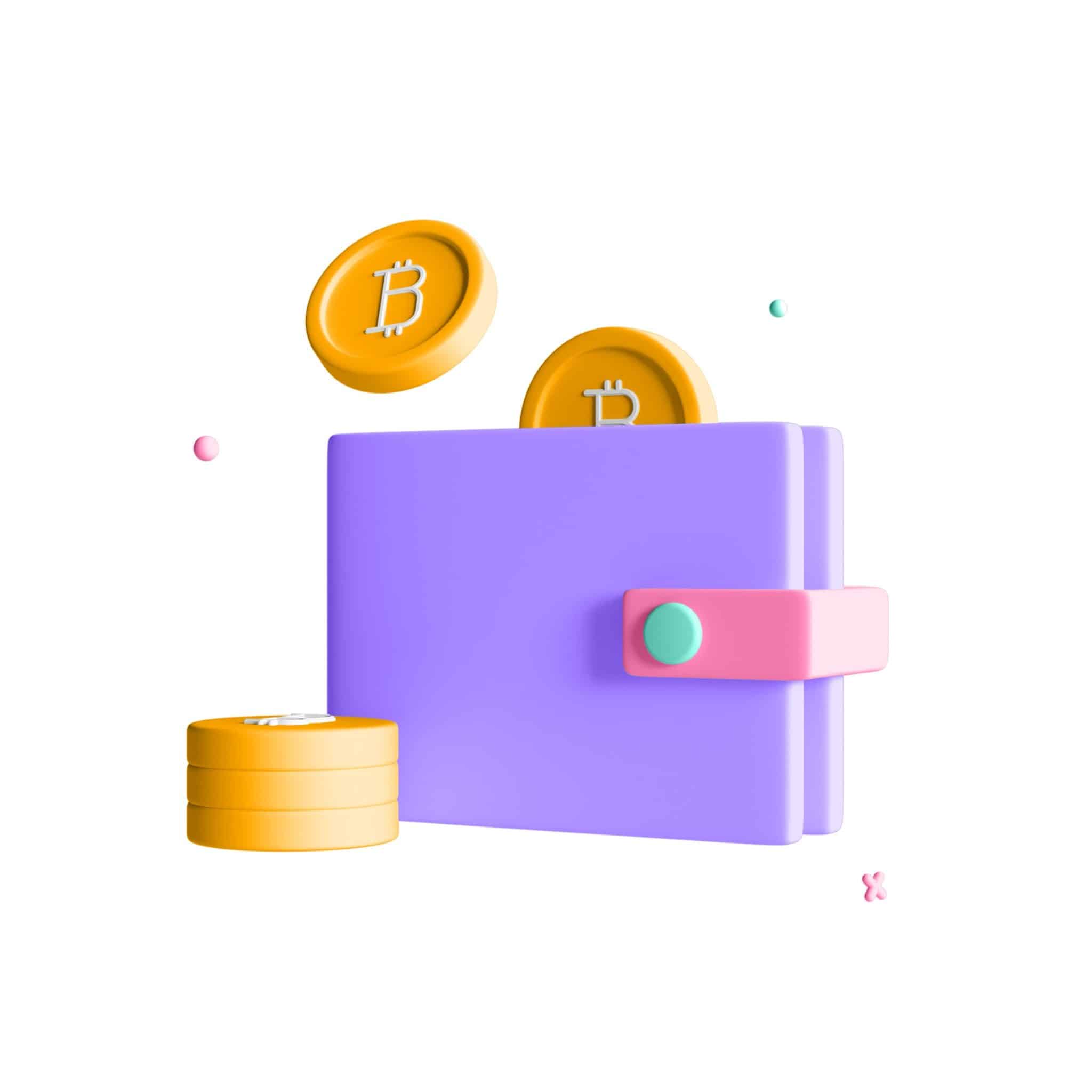 What Factors Affect the Cost of Developing an eWallet App?
Its design is the main driver of client interest and engagement in a mobile application. For eWallet application creation that is straightforward and provides smooth performance on practically every platform, including cutting-edge technologies, modern UI/UX trends, and pricey unique design components.

The most important aspect affecting the cost of developing an e-wallet software is the number of features and functionality included in the app. Your minimum budget might be met if you decide to create an app with only the most basic features. However, the price will rise if you decide to include sophisticated and complex features.

The platforms used to design mobile apps have an effect on the entire cost of developing an e-wallet. For example, when compared to Android app development, creating an eWallet application for iOS platforms will be less expensive. The eWallet mobile apps, however, are primarily created for both the iOS and Android operating systems.

The price of developing a mobile wallet app depends on the technological stack employed. Every technology and platform has advantages and disadvantages. Hire a seasoned mobile wallet app development business so they can assist you with a solid app architecture before you decide on the tech stack.

For your eWallet development, whether you hire junior, executive-level, or senior developers, the price will rely on their expertise, work history, and certifications. Senior and experienced developers will cost more to hire than junior or mid-level developers who have a limited skill set and lack domain knowledge.
Advantages of eWallet App Development
Portable eWallet applications are shattering all previous records, and every other business owner is planning to release their own eWallet products. Nevertheless, there are some people who will understand the advantages of these advanced installments.
With eWallet apps, you can easily improve the buying experience. Whether you need to search for and book flight tickets for your upcoming vacation, everything is altered in the same way. You can have excursions without any mistakes with the correct e-wallet app. While e-wallet programmes need 2 seconds to execute transactions, the chip-card exchange could take up to 10 seconds.

There are numerous individuals who use automated wallets and profit from every trade. The pricey but distinctive e-Wallets also offer cutoff points, coupons, and even cash back to entice new customers. Additionally, for additional purchases, you can interface advanced wallet features with credit card terminals.

Everyone is familiar with the aggravation we feel when we finally get to pay after waiting in line for a while, but our debit card won't work. The good news is that you can avoid this annoyance and humiliation by using mobile wallets. The wallet apps allow you to centralize the information for multiple cards and further facilitate simple transactions.

Are you aware of the amount you spent on your weekend getaway? What happened at the petrol station, do you remember? How much did your transaction cost last month, you ask? Hold on, and the proper e-wallet programme can assist you in tracking all of your expenses in one location without missing a single piece of information. According to the date, time, and record, you can further divide the expense category.

What Is the Cost of Developing a Mobile eWallet App?
A basic mobile ewallet app can be created for between $ 25,000 and $ 50,000, and a more sophisticated eWallet software with additional capabilities can be created for between $ 90,000 and $ 150,000. The cost of a basic eWallet Android app development with minimal functionality ranges from $ 20,000 to $ 45,000, while the cost of an advanced app may be between $ 80,000 and $150,000. The cost of a basic eWallet iOS app development with minimal functionality ranges from $ 25,000 to $ 55,000, while the cost of an advanced app may be between $ 100,000 and $150,000.
Wrapping Up
The market has been completely transformed by the rise of mobile eWallet app development. Although the internet and mobile banking have been around for a while, eWallet smartphone applications have sped up and simplified both online and offline transactions. Strivemindz offers the best eWallet software solutions to help businesses stay ahead of the competition and capitalize on market trends. We are a premier eWallet app development firm that focuses on using innovative digital solutions to transform your business model. We provide complete mobile app development services in UK, India & USA for the needs of international businesses.
When developing our eWallet mobile app, we focus on security, scalability, network testing, and constant monitoring. Let's make a responsible choice today and prepare for the construction of a cutting-edge eWallet app that will quadruple the growth of your company. Our goal is to assist our clients in achieving the best position possible in the cutthroat global marketplace.