Healthcare App Development: A Complete Guide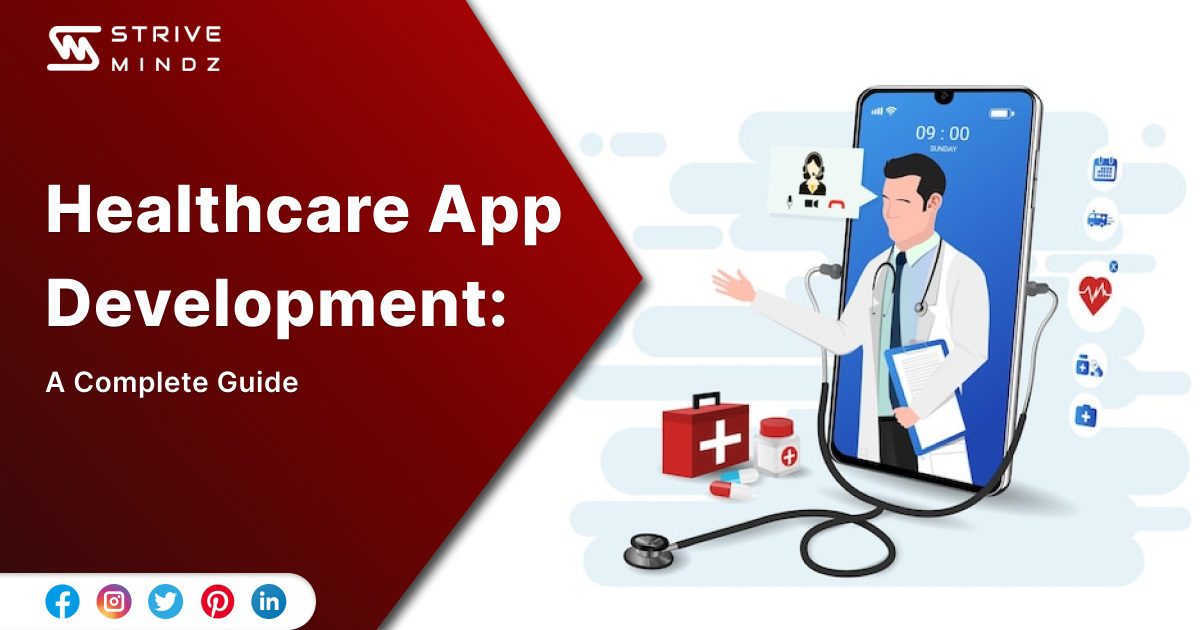 The healthcare mobile app development process emphasizes developing digital solutions for patients, doctors, nurses, and medical staff.  Healthcare app development is the method to build healthcare apps for mobile devices. It is done to help users effectively manage their medical conditions, fitness goals, hospital visits and much more.
Healthcare apps can be useful in so many ways. Nowadays you can monitor your sugar levels, pulse rate etc. through such applications. Healthcare apps are beneficial for all those who want to monitor their health in one click. You can easily get complete data and report that is easy to access and you can share it with your doctor for further advice.
If the application is for healthcare professionals they can look after and care for their patient remotely. This is a more convenient way to get a medical expert's consultation.
Also, there is an app that works as an online medical store. You can upload a prescription and get your medicines delivered at your door.
You can easily build a healthcare application for your hospital that will give you a great return. Our expert team at Strivemindz can help you to develop an efficient healthcare app. You can talk to our developers about what exactly you need and we take care of all your healthcare app development requirements. We offer you a fixed price, upfront and using AI to deliver your project six times faster. Not only this Strivemindz don't lose communication with you after the project is done. We stick to you even after the successful delivery of the healthcare app.
Mobile healthcare apps actually saves patients' and doctors' time and can improve care quality due to facilitated visit scheduling as well as patient examination and treatment. With a team of healthcare software developers, Strivemindz offers healthcare app development services.
Digital Healthcare Market Size And Forecast 2019 To 2025
Globally, the digital health market was valued at $175 billion in 2019. Digital healthcare market is expected to grow roughly 25% between 2019 and 2025, reaching nearly 660 billion dollars.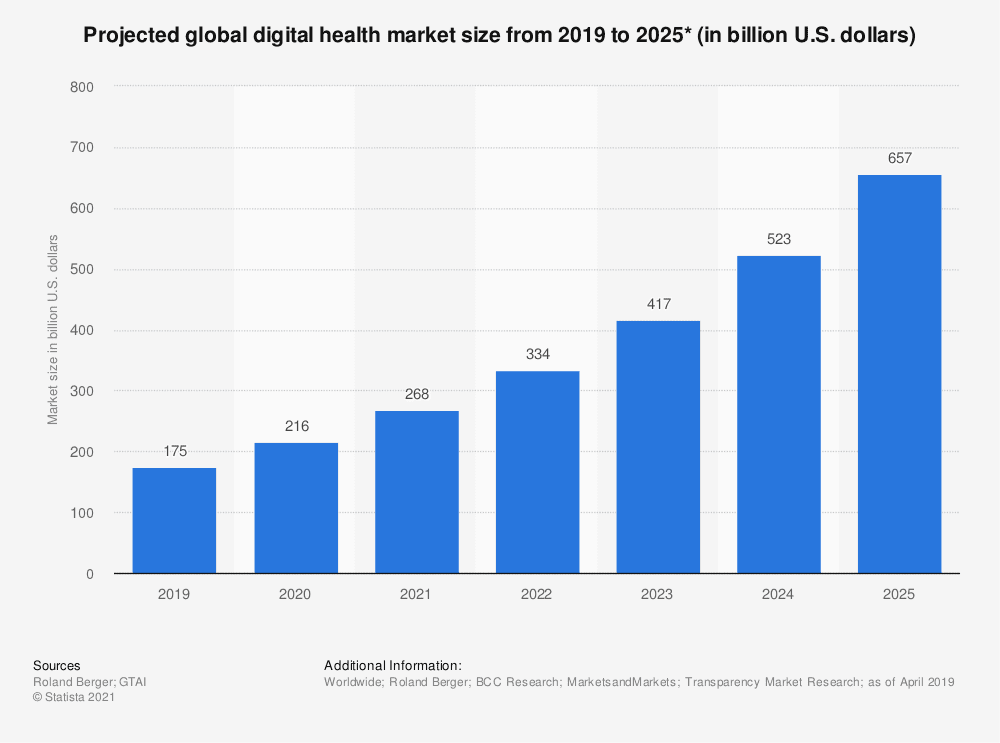 Image Sources: statista
What Types of Healthcare Apps Are There?
There are basically two types of healthcare app development. Some healthcare apps cater only to doctors. While the second type is for the patient or other people who are health conscious. Medical professionals use these apps for patient management, staff training, and for other functions. The healthcare app for patients provides services like managing health and patient monitoring.
We at strivemindz cater to two types of healthcare mobile app development services:
1: Healthcare apps for Professional
Nowadays, there are such healthcare applications that allow doctors to provide care for the health of their patients remotely.
2: healthcare Application for Patients
There are many different sensors used in modern smartphones. Patients can share their data with doctors, which makes patient care and diagnosis more easy, accessible, and more accurate.
What are the different types of mobile applications used in healthcare?
Over 318,000 apps are available in all major app stores in the mHealth market, which is very comprehensive. There are different types of healthcare apps, such as:
Electronic health record apps (EHRs): Hospitals use these to manage patient information such as medical histories, medication records, and consultation notes.
Database apps for doctors: These apps are used by doctors to locate similar medical cases in a database of diseases to help diagnose and treat patients.
Applications for medical diagnosis: These apps take patient information/symptoms as inputs and help doctors in diagnosis and guide individuals for the next step, such as hospital visits.
E-prescription apps: These apps allow doctors to create, edit, or renew prescriptions using e-prescriptions.
Mobile telemedicine apps: Also known as on-demand doctor apps, these apps help patients locate doctors, book appointments, and conduct virtual consultations.
Appointment booking apps: These apps allow patients to book appointments online and receive notifications and reminders.
Management apps for hospitals: These apps are used to manage the day-to-day activities of hospitals, such as accounting, inventory management, claims handling, and patient management.
Fitness apps: There are health and fitness apps, diet and nutrition apps, and meditation apps that help people maintain their mental and physical health.
Medical diary apps: Patients use these apps to keep track of their symptoms so their doctors have a consistent record of their health.
Doctors and patients around the world use these major types of healthcare applications to benefit their healthcare journeys. You can create an invaluable mobile app by targeting these categories if you're interested in developing one.
Step-by-Step Guide for Healthcare App Development
Identify a Problem
There's a lot of smartphone healthcare applications in the market. You have to determine how you will add any extra value to end customers. You have to think upon the specific features that set you apart from the rest. A detailed market research is necessary to identify gaps in the market that your app can fill and problems it can resolve.
Taking the time to talk to doctors, hospital management, and patients will help you understand their needs.  It will give you insight on how to build a helpful healthcare application.
Understand Your Audience
Understanding your target audience helps you to know their exact pain points. You'll identify their needs from your app. These ideas you can use to develop a custom healthcare solution that's more effective.
Perform an extensive market research to know the exact requirements of both doctors and patients. This will help you a lot to create an efficient app. The market research also helps you to understand the improvements needed in the subsequent versions.
Conceptualize UI Design
Knowing your target audience is also important for designing the app. Usually, older people like simple navigation and bigger fonts while a younger audience prefers colourful UI with better functionalities. The overall design of the app will also depend on whether your audience is patients or doctors. You should always keep in mind that the UI design will make or break the product. So invest your time and resources accordingly to make it right.
Begin by Creating an MVP
Medical app development can be an expensive affair. It's good advice to begin by developing an MVP (minimum viable product). You can use solutions that are already available while building the first version of your app. Ensure all third party integration is seamless.
Test & Gather Feedback
The main reason to start your project with an MVP app development is to be able to test it. You can add required functionalities to the product, and also be able to avoid large-scale glitches. Keep in mind, the application needs to be released as soon as possible. You can then update it subsequently with market feedback. The user's feedback, ratings, help you to identify bugs, and other issues. You can fix issues and ensure the product is improved in each upgrade..
Monetization
The healthcare industry offers many lucrative business opportunities, so you can find different avenues to monetize your app. You can opt for in-app purchases or advertisements for the healthcare app. Even you can earn revenues via subscription to your app.
Why It Is Important To Hire Good App Developers To Build Healthcare App
You know, why medical apps fail, despite years of research, design, and development efforts? So there could be many reasons like:
Due to its Poor UI and UX design.
Having poor compliance with privacy regulations.
Healthcare app development without solid research, concept, and purpose.
Lack of understanding of the needs of the target audience.
Having unnecessary Complex content in the app.
Lack of adequate or proper testing
Lack of Skills of development.
The last point is the most important issue and can only be resolved by hiring the right  healthcare application development team for your project. When you're outsourcing healthcare application development, hiring the right development partner can be quite challenging.
When you evaluate potential partners, always check for relevant prior experience. Ask them and see relevant products in their portfolio. You can ask them about their approach, knowledge of privacy, as well as data security regulations.
Get the development team who is supposed to work on your project to gauge their experience, skills, and also professionalism. You must check how comfortable the team will be with feedback, revisions.
At Strivemindz, we dedicate time to fully understand the client's business needs before committing to the project. We at Strivemindz know how painful it is for businesses to deal with buggy codes, project delays as well as bad UI/UX. Also poorly executed data security, and privacy features can be a big issue. We have experienced and well qualified developers. Strivemindz have already had a lot of satisfied clients.
You should always check the development agency's market reputation from reviews, ratings, and testimonials. Keep in mind, the portfolio only presents half the story. You should need to work with a team that's trustworthy, ethical, patient, as well as understands your vision. A great team that is as passionate about executing it as you are and Strivemindz offers you all.