Introduction
Due to today's fast-paced lifestyle, people can no longer fully maintain a household chore schedule. The wet garments waiting in the laundry can be chosen later when there is a rush to complete more worthwhile activities. Thankfully, housemaids have always come to the rescue in these circumstances. The emergence of applications for housemaids on demand has made housework simpler in the current situation. Thanks to technology and the necessity for on-demand application development for housemaids, finding mobile apps that will handle all house maintenance and related services.
The Idea of On-Demand Housekeeping Apps
Thanks to smartphones, people may now more easily address straightforward issues with a single swipe. With the help of a top mobile app development company, any service can be digitally transformed into a cutting-edge tech solution. For example, a maid-locating app will be created by a company specializing in house cleaning services so customers can easily manage their housekeeping chores. To learn more, let's examine how these apps work.
What's the Process for a House Maids On Demand Application?
Once you've downloaded and installed these apps, you may sign up and log in. There are many different sorts of services that the agencies post. The user can choose the appropriate service type and ask for help finding a maid for that service by providing the salary and essential details. The Maid can be hired as soon as the service provider can locate one willing to take the position. The hiring process takes only a short while, and the Maid can start working. These programmes help consumers who need maid services and maids in this way.
Common categories for on-demand maid smartphone apps include:
Cooking
domestic duties and cleaning
Laundry
parenting children
taking care of elderly people
caring after patients
massage of a newborn child
caring for animals
One could view the groupings mentioned above mostly in any mobile maid application. It is also possible to include many cutting-edge technological features to meet the requirements. Additionally, there is a tailored page where registered app users may type their requests and get a price so they can move forward. The choice to add additional categories, elements, and so forth is left up to the app developers or users.
On-demand House Cleaning Industry and Growth Statistics
The housekeeping industry's rebellion is a wall that won't come crashing down soon. It is regarded as a sector where investments will always be profitable in the market. According to the data, this booming sector is expanding at a CAGR of 6.2%. From 2020 to 2022, it's anticipated that the demand for housekeepers will grow to 74.3 million USD. Housemaid on-demand applications have been observed to have the most promising potential in regions like North America and the Asia Pacific. Housemaid on-demand applications provide services in the following categories: cleaning, cooking, child care, window cleaning, vacuuming, and floor maintenance.
Housekeepers On Demand Face Difficulties
You must also be aware of potential challenges and roadblocks to make your software and company impenetrable. Here are some obstacles you can encounter as you enter the market for housekeepers available on-demand apps:
 Providing reliable services
For most users and staff, house maintenance may be familiar. Cleaning the house can evoke a range of feelings in people. As a result, your app's features must be convincing enough for consumers to believe in them. The maids you employ to work with your app should have discretion while handling sensitive matters. The secret to your housemaid app company lies in the maids you select and their interpersonal skills. Additionally, the Maids searching app development business will ensure that your app's features are responsive enough to start a follow-up in cases of complaints and conflicts.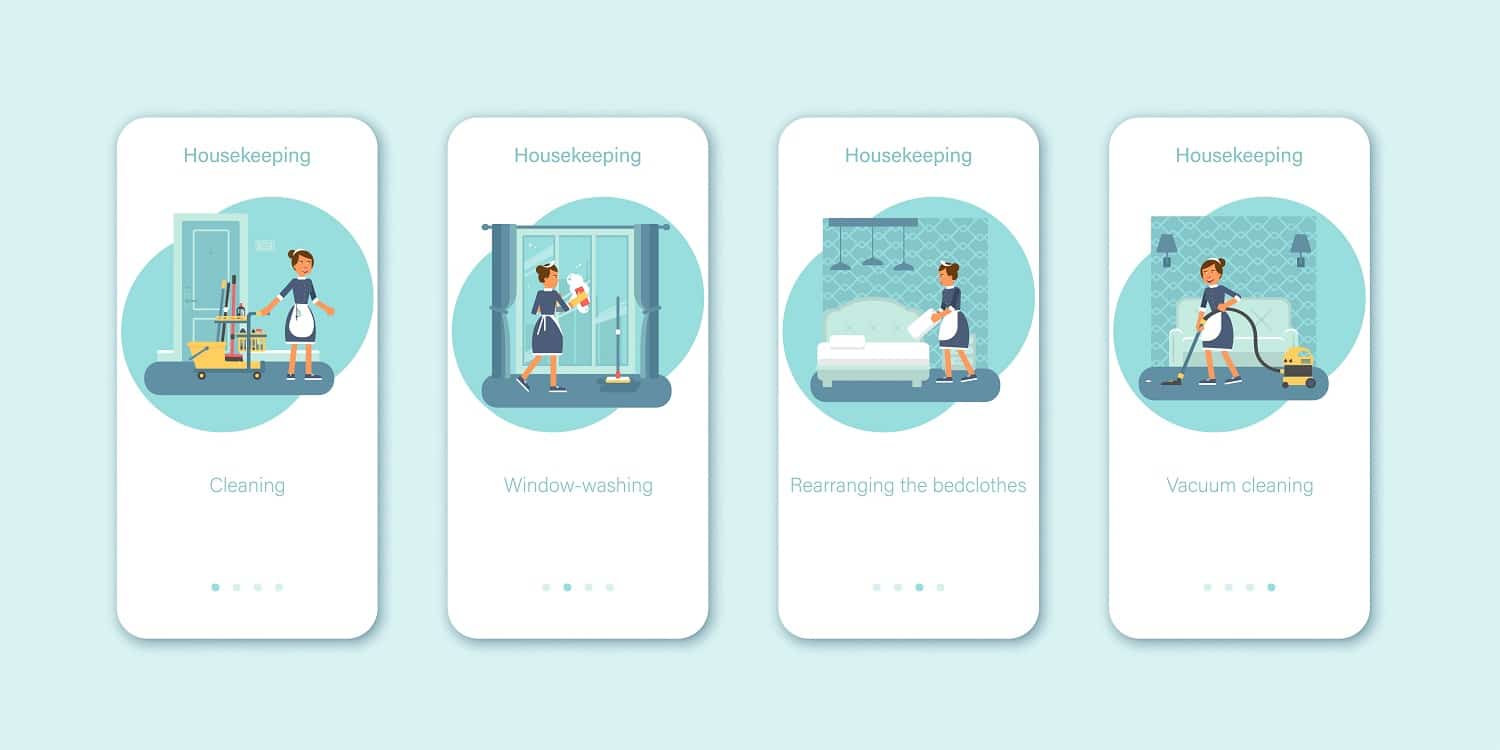 Dependable relationships with contractors
Because they handle communication lapses, you must close the communication gap between the platform and the partners paired with it if you want to maintain your app operating today and in the future. You can accomplish such a goal only if you run with a transparent payment system. Another tool you can use to help with the aforementioned is to think about cleaning insurance plans with the addition of signing legal contracts.
Your services are a direct representation of your brand. Be incredibly sincere in providing your customers with high-quality services, and also build trust with the cleaners you select for the task if you want to ensure that you are always at the top of the list. Keep double-checking your ideas and executions, and repair issues as you find them.
Gain an advantage in the contest
You should research the market before using your deck of cards because there is fierce rivalry due to the enormous demand for housemaid on-demand applications. Therefore, you need to be fully aware of the needs of your potential clients to gain an advantage over the competition.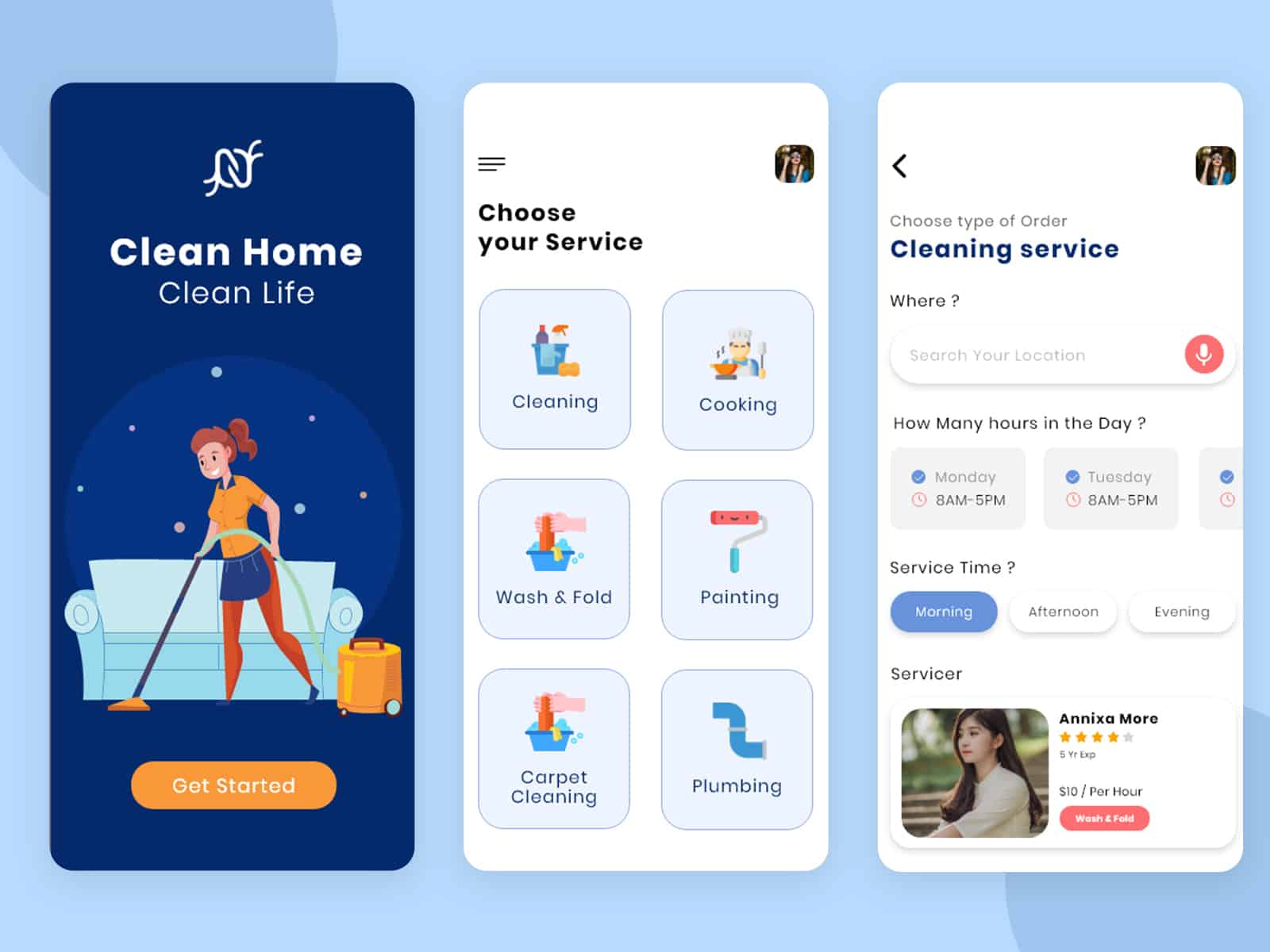 The House Maids On Demand App's Business Models
Such applications are ideal for organizations with a trained workforce of cleaners and a track record of providing maid services. With this mobile solution, they can improve the user experience to the next level. They give their customers individualized services so they may more easily suit their needs.
The most outstanding candidates for this kind of service are seasoned and knowledgeable maids who desire to look after numerous clients. They may expose themselves to various alternatives by utilizing contemporary technology. In addition, these apps allow cleaners to contact customers who are located distant from them.
Directory-based development
Directory-based development is the best option if you want to inform your customers about the maid services available close to where they live. The maids are free to advertise themselves, their services, and their abilities and experience in the industry. Using a directory-based app that accurately offers relevant information about the professionals, users can quickly locate the best professional maids booking mobile app.
What are the main advantages of mobile apps for Maid on demand?
A maid on-demand booking mobile app has many benefits for your business, including reaching a larger audience in a city or area by growing your network and making your services more accessible to a larger audience. You may do all this by simply creating a profile listing the services you give, the fees you charge, and the locations where you will perform them. The app will put you in touch with potential clients and home-service experts as soon as you're finished. You will surely get glowing customer evaluations after providing excellent service, which will help your business grow and make you more visible to future customers. Additionally, the app allows home service providers to share their interactions with clients, which can be helpful. Therefore, it is clear that utilizing such an app has various benefits, and all you have to do is use it to enjoy the benefits.
A Maid-Booking App's Essential Features
Registration: A housekeeper-on-demand app user can access this home page. People sign up for these apps' services using their social networking or email addresses.
View Details & Choose Maids: Users can utilize this feature to get answers to their needs for maid services. This section contains all the information, including years of experience, the area of specialization, the ideal location, and much more.
Reserve numerous maids: The best thing about these apps is that users may choose from a wide range of services. For various needs, they might select various maids.
Booking Rescheduled/Canceled: Users can easily reschedule or cancel their maid appointments with only a few touches if necessary.
A push notification: An on-demand maid app's push notification feature enables users to be informed about information like booking completion, a payment due, or any changes to the Maid's schedule.
Expense Section: A user can pay for services through the payment site of an app using alternatives like mobile wallets, debit cards, or the COD payment option.
GPS Tracking: In this section, users may browse qualified local maids and their profile details. Additionally, they might look into maids' itineraries to suggest better ways.
View Maid history: Users can look up the Maid's experience and confirm their previous duties when hiring a maid.
Ratings & Review: In this category, user ratings and reviews are displayed so customers can confidently employ maids who meet their demands.
Accept/Reject Booking: If there are any open orders or it's a busy period, maids may accept or decline user requests.
Choose from Job Lists: The maids can select the appropriate job categories based on user requirements, informing them about service specialism.
Alerts & Notifications: The maids can choose the best work categories based on user needs while keeping them informed about service specialization.
Update End-time: If the user's requests are approved or if the user makes a small change to the time, alert messages are sent to the maids.
View Order: With this function, maids can get paid according to the hours they put in, the charge schedule, and additional working days.

On-Demand Maid Booking Mobile App Development Cost in 2022
Several factors affect the development cost of an on-demand maid booking app, including the app's complexity, the platforms on which it is developed, and its features. The development region, however, is the most significant factor affecting the price of developing such an app. For instance, development costs in Australia are $200 per hour, while they are $130 in Europe and $150 in North America.
Speaking of India, research has shown that it can be quite cost-effective to choose this country for an app development job because the hourly wage for developing apps is $80.
Leading House Cleaning Apps on the Market in 2022
The urban company, established in 2014 and had a $30 million revenue, is currently a strong competitor in the industry. For the convenience of the customers, they are packed high with amenities like massage, cleaning, and hairstyling. It was formerly known as UrbanClap. They have a sizable fan base across the top four social media sites: Facebook, Instagram, Youtube, and Twitter. They are well-known influencers.
Leah Busque founded the company in 2008, formerly known as RunMyErrand. By the year 2020, it will have a $200 million market. TaskRabbit is a fierce competitor in the market because of its enormous market. It has many time-saving features, including cashless payments, flexible work hours, immediate money transfers, insurance for every assignment, and the quickest method to deliver local jobs to your home. The reach of TaskRabbit is growing to include more cities and municipalities.
One of the mobile housekeeper applications with the greatest growth uses a straightforward process. Using filters in the app, such as an address, and home area (in square feet), used for commercial or residential, you may quickly identify the maids in your neighbourhood. Next, select the best package for you from basic, rapid, and deep cleaning. Your services are provided following the package. You can either schedule a cleaning for later or get one right away.
Wrapping Up
Smartphone apps for maids are a growing market, as mentioned previously. You can invest in developing such mobile applications if you are interested in house maid on-demand app development and to fill the hole. On-demand app development costs depend on a variety of variables. With the help of a competent development team, it is possible to develop excellent apps.
If you need help creating mobile apps for maids, contact Strivemindz for more details.  Our mobile app developers have years of expertise and are skilled in dealing with difficulties. They can therefore help you produce truly amazing apps.