Introduction
Developing an e-commerce website in today's economy can be a wise idea for anyone who can put effort into this venture. However, as exciting as it might seem, choosing the right e-commerce platform for your e-commerce website is crucial as it will determine the entire process of reaching out to customers, adding sellable items, processing orders and payments, and shipping. Not every e-commerce platform suits every e-commerce business. In this article, we intend to walk you through some of the best e-commerce platforms on which you can develop your e-commerce store.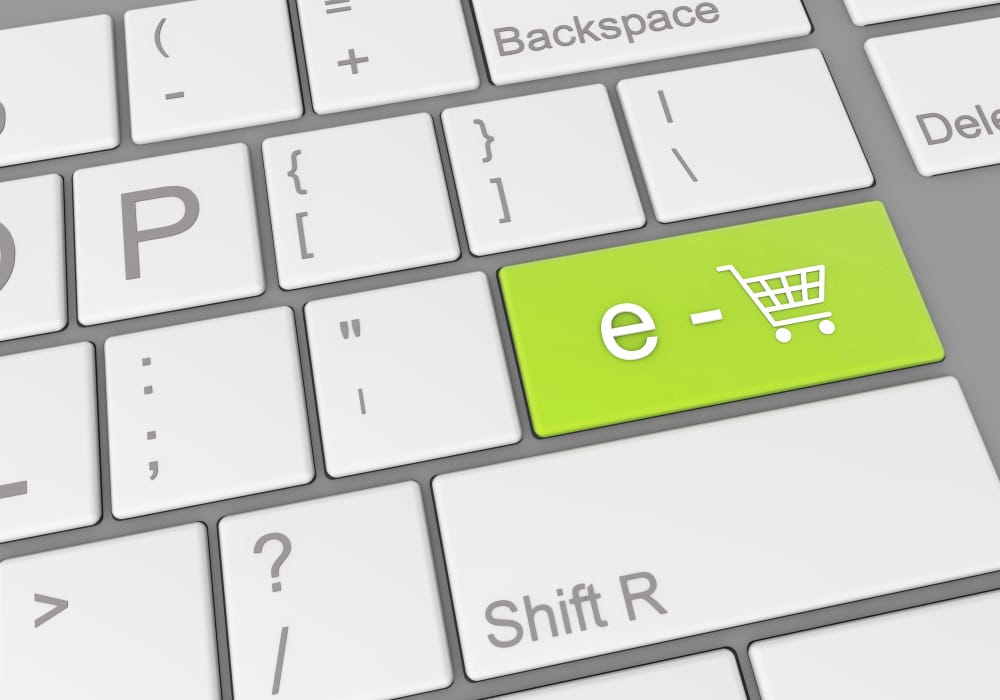 What is an e-commerce platform?
If you are building an e-commerce store, then the platform will be the backbone on which your store will be developed. An e-commerce platform is software where online store owners can host, manage and launch their e-commerce store. Different e-commerce platforms come with different features which determine the ease of creating and managing an online store.
These platforms offer an integrated solution for the front end and the back end of an e-commerce store. In short, e-commerce platforms determine the performance, functionality and user experience of your e-commerce store. This is exactly why we mentioned that choosing the right platform is the first step towards developing your e-commerce business.
Some features that e-commerce platforms offer
Different e-commerce platforms come with different features which offer different values to your online store. In this list, let us provide you with some of the most basic features that you can get from an e-commerce platform –
Offers one single unified platform: 

The best option an e-commerce platform can offer you is one single unified solution. This means you do not have to choose different platforms for different functions – the entirety of your e-commerce business must be handled by one unified platform.

Top-notch user experience: 

The success of an online store depends on what kind of experience it offers its users. Your e-commerce platform should be able to provide your customers with an engaging, interactive and personalised user experience.

Site security:

 Any business requires security, and your e-commerce platform must be able to guarantee top-notch security for your e-commerce business. The platform you are choosing should be able to provide you with an e-commerce SSL certificate and PCI compliance.

Customer management: 

As we mentioned earlier, businesses thrive on customer service. If you want to retain your customers and attract a new audience to your e-commerce site, then your e-commerce platform must help you with customer management. All the interaction and engagement with your customers must be tracked under one page and easily accessible.

Order management: 

The interface offered by your e-commerce platform should ensure that your online store can execute orders as soon as you receive orders. The order management process must be centralised and offer a single-page view of your inventory and pending orders.

Content creation:

 The online presence of your e-commerce store, especially the visibility of your store in search engine searches, depending on the quality of content on your website. By creating keyword-heavy content with proper search engine optimisation, you can take your website to a larger group of audience. Your e-commerce platform should be able to help you while creating new content or update old content.

Support and maintenance: 

Even with a range of world-class features, your e-commerce platform will not be up to the mark if it does not have a steady and sustainable support system. Whenever your website requires help regarding any issues, your e-commerce platform must be able to connect you with experts who can troubleshoot your website and get it running back again.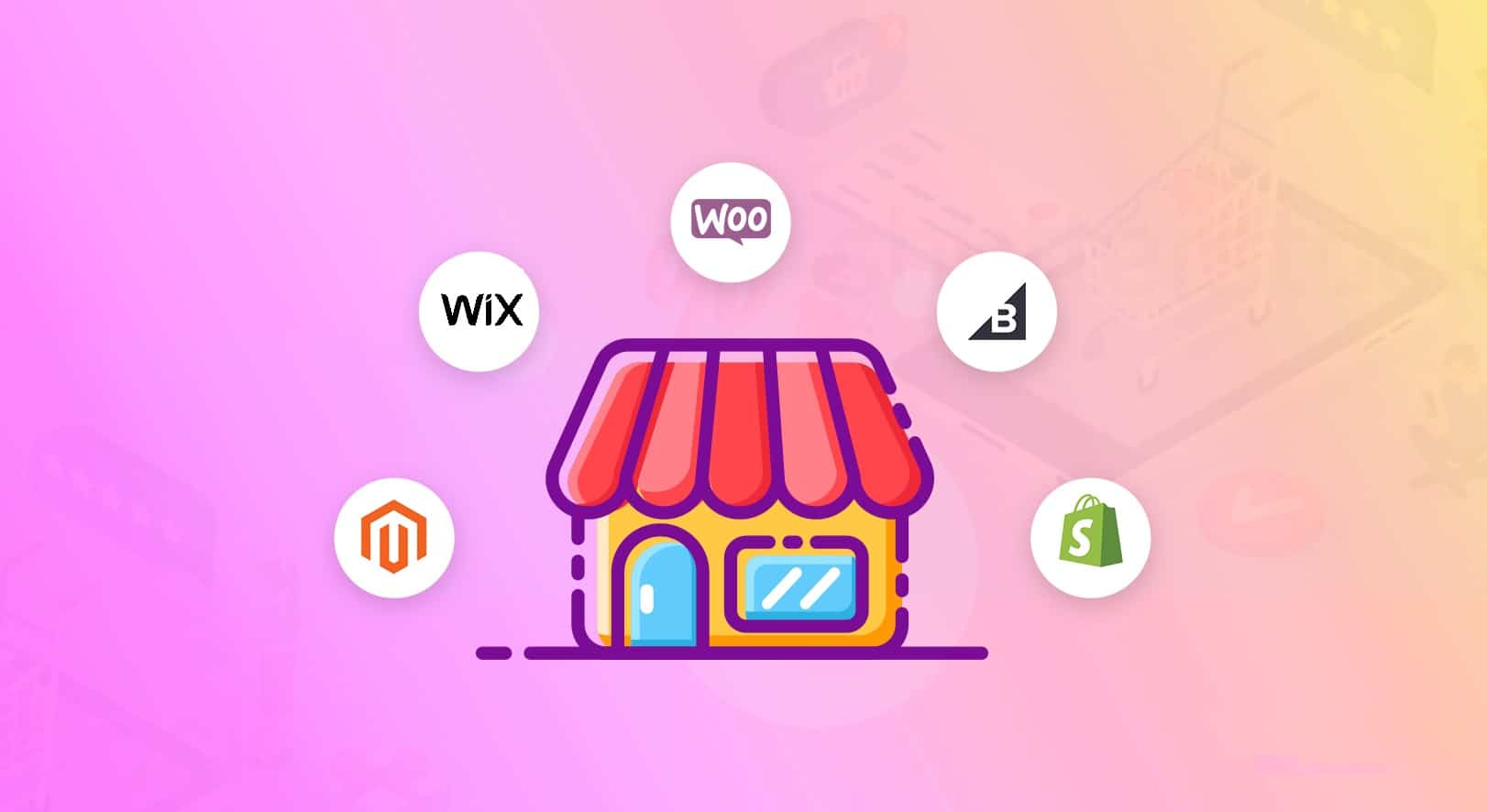 Top 5 e-commerce platforms for your e-commerce business in 2022
Now that you have a clearer idea of what e-commerce platforms are and what they do let us take a deeper look into the best e-commerce platforms on which you can develop your e-commerce website. Before starting the discussion, we must mention that every platform comes with its pros and cons, and thus you need to choose a platform that caters to your business needs in the most suitable way. So without further ado, here are the top 5 e-commerce platforms to develop your e-commerce business in 2022 –
Shopify
BigCommerce
Adobe E-commerce (Magento)
Wix
WooCommerce
Shopify 
Regarding e-commerce platforms, the first name that comes to our minds is Shopify. They have been active in this field for over a decade and have supported millions of merchants across the globe. Shopify offers an extremely easy-to-use platform for developing e-commerce websites. They also offered an enterprise plan called Shopify Plus since 2014.
Advantages
Shopify comes with multiple advantages for e-commerce store owners.
The most notable benefit of using Shopify as your e-commerce platform is its expertise and experience in this field.
Shopify offers a complete web hosting solution with PCI compliance and an SSL certificate.
Shopify has a user-friendly approach and they offer built-in features and CMS.
Shopify App Store offers a wide range of apps to scale your online business.
Shopify offers promotion and sales across multiple channels such as Facebook, Instagram, and Pinterest.
Shopify is the best bet for starters as the platform is extremely easy to use, and their library, Shopify Learn, offers free courses to run the business. Other than them, even large retail businesses can use Shopify to go online.
Disadvantages
Despite its popularity, Shopify has a few disadvantages as well.
Shopify's default features are good for entry-level businesses, but for more growth, you will eventually need to purchase advanced apps from their store.
Because it is a hosted solution, you may not have complete control over everything on your e-commerce website.
Pricing
Shopify offers a free trial of 14 days. Their starter plan costs $5 per month, and the enterprise plan Shopify Plus costs around $2000 per month, which will be the best choice for large businesses.
BigCommerce
BigCommerce is one of the largest open SaaS e-commerce platforms that you can opt for. This is the best option for you if you want to enjoy all the benefits of SaaS platforms and the flexibility of open-source platforms. BigCommerce offers everything from marketing to analytics, which is useful for businesses of all sizes.
Advantages
BigCommerce, just like Shopify, is one of the market giants in e-commerce platforms. They are trustworthy and reliable.
BigCommerce has a wide range of built-in features that help improve the scalability of e-commerce businesses. The features are also somewhat flexible and customisable.
BigCommerce offers a wide range of payment solutions, 600 app partners and unlimited bandwidth.
BigCommerce offers effective APIs and professional reporting on all of its plans.
Other than this, BigCommerce offers a large inventory and a top-notch order management system.
BigCommerce does not charge any transaction fee.
Disadvantages
There is a limit on annual sales on each plan offered by BigCommerce. Once you hit that number, they will automatically upgrade you to the next plan.
The built-in features can be complex and difficult for entry-level users to learn.
Pricing
Like Shopify, BigCommerce also offers a free trial period, which lasts for 15 days. They offer four different plans. The first 3 (Standard, Plus, and Pro) of these four plans are categorised under BigCommerce Essentials. The Standard plan starts from $29.95 per month, while the Pro plan costs $299.95 per month. The other plan is called the BigCommerce Enterprise plan, and this plan is a custom quote, which you can get by contacting BigCommerce.
Adobe Commerce (Magento)
Adobe Commerce is an extremely popular and useful open-source e-commerce platform used by multiple e-commerce websites worldwide. Previously known as Magento, Adobe Commerce offers multiple features and tools, making this platform a great choice for all online stores.
Advantages
Adobe Commerce offers multiple advanced features as well as content management. Store owners can customise the needed features by opting for Adobe Commerce.
Adobe Commerce has a mobile-compatible interface that is responsive to all smartphone devices.
Adobe Commerce offers top-notch search engine optimisation, which enhances the visibility of your e-commerce website on search platforms.
Adobe Commerce allows third-party modules and Progressive Web Applications (PWAs) to be integrated with your e-commerce website, allowing your online store to function at a higher level.
Magento 2 offers top-notch solutions for B2B online stores.
Disadvantages
The set-up of Adobe Commerce is complex and extensive, which can result in high costs and may be troublesome for people who have no experience in technology.
Without a clear idea regarding how e-commerce stores and platforms work, it can be tricky to work on Adobe Commerce. This means you may need to hire developers, designers, and a maintenance team for your store, which can shoot up the cost.
Pricing
Magento or Adobe Commerce has a custom quote for which you need to contact them. They offer no free trial, which can be considered a drawback.
Wix
Wix is an e-commerce platform that is best for smaller creative businesses. If you want to merge your official website and your e-commerce store, Wix is the best option. It is easy to use and the perfect place to start your e-commerce business.
Advantages
Wix is extremely beneficial for entry-level users for its easy-to-use interface and drag-and-drop editor.
Wix offers multiple impressive sales features and e-commerce tools, which are very helpful for small stores.
Wix offers more than 200 free and paid apps to be integrated into your store, increasing its functionality.
Wix offers a built-in ability to sell on Instagram.
Wix offers unlimited bandwidth, 11 payment solutions, zero transaction fees, and abandoned cart recovery.
Disadvantages
Wix has a very basic inventory and its analytics systems are only ideal for entry-level stores. The support system is very limited as well.
The features are good, but not enough for large stores. Wix does not offer much opportunity for growth.
Pricing
Wix offers three plans, where the basic plan starts at $27 per month, and the Business VIP plan costs $59 per month.
WooCommerce
WooCommerce is an open-source WordPress plug-in. Merchants can use this platform to transform their WordPress websites into functional online stores. WooCommerce offers multiple free and paid features that you can add to enhance your store. Overall, it is the best choice for small businesses with an existing WordPress website.
Advantages
WooCommerce is free to install, and it is extremely easy to use.
WooCommerce offers multiple sales features. However, if these features are not enough, businesses have the option to use the WooCommerce extensions and apps from the store to enhance their business.
WooCommerce offers SEO features and multiple payment options.
Disadvantages
WooCommerce does not offer PCI compliance, and store owners are responsible for getting their PCI compliance on their own.
WooCommerce is a WordPress plug-in and is not useful for other website platforms.
It cannot handle too many themes, plug-ins, or products.
Pricing
WooCommerce is essentially free to download and use. However, they charge a fee for web hosting, the amount of which depends on multiple factors.
Conclusion
Starting your e-commerce store can be a fun yet hectic journey. The choice of an e-commerce platform will determine how your store performs, so you have to get it right. Hopefully, this article will give you some ideas regarding the best e-commerce platforms you can choose. If you wish to create your e-commerce store, contact Strivemindz, where we can guide you about your project and the best e-commerce platform that will suit your business!