How Can a Website Change Perspective of People Towards Your Idea and How You Can Build One?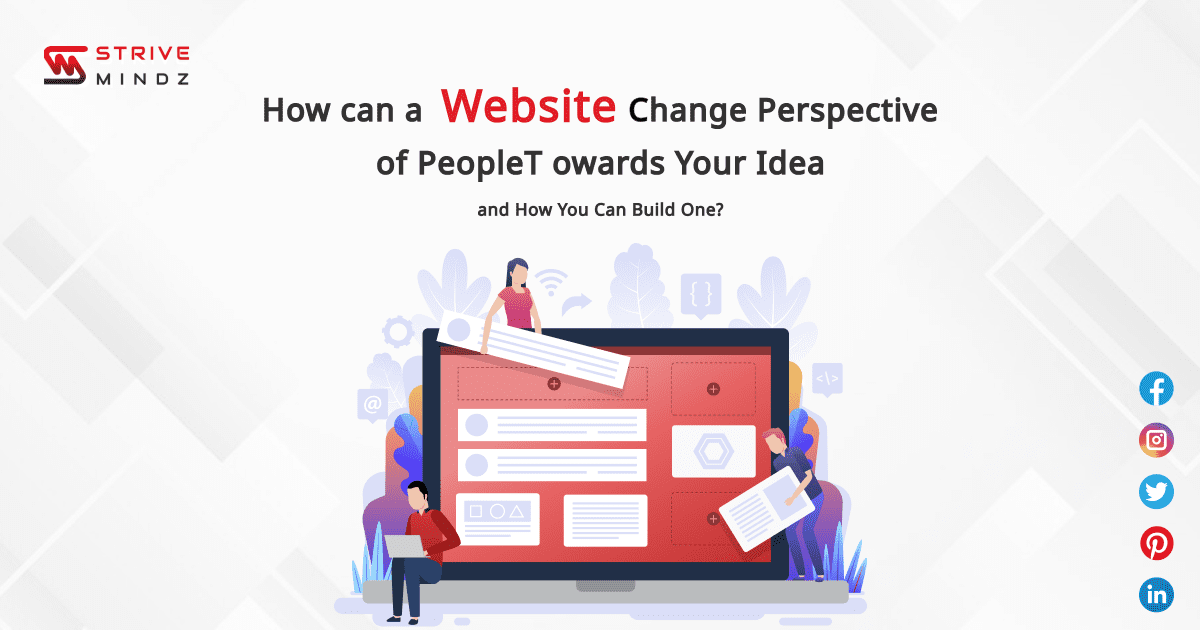 The world has such a wide variety of cultures, thinking and knowledge that drives the way a person takes any idea presented in front of them. When someone presents any idea in front of people, these factors help them in understanding and react accordingly. But there are chances that your idea hasn't made its way perfectly through people's way of thinking and they need more specifications and details to understand the idea that is being presented.
The simplest way of information exchange is a website. It is a quick and easy way to connect and to give info out to people. When your idea is presented on a website with a few pictures, updates and relevant information, it reaches out to people more.
In the business world, people spend most of their time online and what they require is a source that can give them proof of authenticity about the venture or product they are investing in. Having a website offers that credibility. And if you have a website with feedback, promotional videos and important information showing your authenticity then that will definitely get have an impact on your client's perspective about you. The easy-to-use website may help your customers feel comfortable in working with you.
With the help of a website, you can build authority for yourself in the competition. Each website is different from others and the ideas presented are unique. When anything is explained in detail and you can show people that the idea has the ability to make an impact then, people will definitely be attracted to your work. It helps them understand things better and then reflect upon it. Websites makes impression on the customer so having a good website with quality content can very serve the purpose you have built it for.
How to build a website?
Building a website for your company or for blogging or for sales services is kind of mandatory if you are in the business. Most of customers prefer viewing, reading or buying things online. So, a website can provide your customers with a lot of information about you and how can they reach you.
Before building a website, you should have a clear idea about what are your expectations from the website. Any website creation needs the following steps:
Step 1: Choose your Website Platform
The first step that has to be followed while building a website is to choose the platform on that you're going to build your website. The platform here means the language that will be used for the development of the website. HTML, CSS and PHP are all different coding languages that can be used for building a website.
CMS (content management system) is the most common platform that is used these days to build a website. WordPress, for instance, helps you manage your online content through a website, without creating it from scratch using coding languages.
Step 2: Register your Domain name and Host
A domain name is basically the web address your website will have. A domain name should always show the type or the content that you are offering for your viewers through your website. This will make it easier for the users to find it on the search engine. The chosen domain name will be used as the email address for your brand.
Website hosting is the service that connects your website to the internet so that it is easily accessible to the users. It ensures that your website is loading as fast as possible and it does not go down.
Step 3: Build your Website
You can build a website all by your own or can hand over all these endeavors to professional web developers who will build it for you. There are several website publishing packages that can help you in creating a website. Website building is not a one-time job because they need regular updates and maintenance.
If you are new in business, we recommend you build your website with the help of professionals. Web developers can create your website quickly. They can also guide you through handling and managing it from there.
Your website should be user-friendly and it should be accessible on both mobile phones and desktops. Creating a website well enough that work on both those platforms will increase your traffic and it will be more accessible to people.
So, build your website today with us.