Looking forward to expand your business by developing e-commerce stores that can reach worldwide?
We have got your back.
Our team of experienced eCommerce developers can help you fabricate a smooth functioning e-commerce website like Amazon or Flipkart with user-friendly interface and exclusive features.
Tips for developing E-commerce Website
E-commerce platform plays a crucial part in your business, especially when it has to handled online. The basic needs of a well-functioning e-commerce platform is covered in the following steps.
Create wireframes and website design
The website design should be catchy, so that it grabs user attention. It should be UX-friendly and should have user-friendly interface. That will make it easier for the user to interact with your e-commerce website. In order to have better SEO, it should be considered to have a realistic and trendy design as well as content.
Make a list of the features you need in your e-commerce and then use right technologies that works according to your budget, timeframe, features and complexity. The technology used in your e-commerce should keep up with the trend. The backend and frontend language used should be relevant as per the needs.
Hire professional E-commerce Web developers
A team of experienced developers will definitely work in your favor. You just have to brief them about the features you need in your page and they can bring your ideas to life. When the core development of any webpage is handled by a team of professionals, it has the potential to connect with major audience.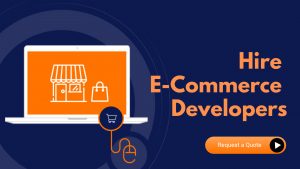 Our E-commerce web developers, at strivemindz are highly trained for this job. We provide efficient service as per your need, that are cost efficient.
Customer security is our first priority. We develop e-commerce websites such that you don't have to worry about your customer's security. Every e-commerce website has payment gateways and many personal details such as phone number and address of the customers, it is very important that they have a completely secure platform. Security of user details comes prior to anything else.
It is important that your e-commerce website is bug-free. Before launching the final product, we make sure that it has been through series of testing.
The job doesn't just end when e-commerce website is out on the internet. Marketing is equally important in this case as you have to reach audience on bigger banner. In order to amplify your presence on the internet, you should brand your website with the help of marketing strategies such as social media marketing, collaboration, email marketing, telemarketing etc.
We can build you an e-commerce website that includes any medium of payment that you want. The payment system should be easily accessible and secure. since online payment is not trusted by some part of the audience, you should prefer being inclusive of other payments method also. Refunds and returns policies are always a better option to add upon the list of benefits.
Our services expand from e-commerce, IoT, food and beverages, healthcare & education, and e-learning which are cross-platform customized and have exclusive features. We have contributed start-ups we have modestly expanded our business and registered ourselves in one of the leading app development companies in Australia, the UK, and the UAE.
Constantly keeping updating our skills related to every new language makes us capable of providing world-class solutions.
| | | | |
| --- | --- | --- | --- |
| Swift | JS | Magento2 | Flutter |
| PHP | ASP.NET | Python | React JS |
Strivemindz team takes the least possible hours to complete the project. We provide every service cost at different prices but these depend on client requirements. Our team gives 100% assurance to provide quality work beforehand.
Benefits of Multi-Vendor E-commerce Store over Ecommerce Shop
One of the most important benefits of multi-vendor eCommerce stores is the variety of products they offer. There are many famous eCommerce websites, such as Amazon, Flipkart, etc, where other vendors can sell their products for a small revenue share, and people like these sites because of the variety of products and deals offered.
How Strivemindz Stands Out from Other eCommerce Design & Development Companies
Strivemindz has been selected among the Top eCommerce Web Design Companies by Designrush" 
There are thousands of eCommerce web development companies out there that build e-commerce websites for clients without considering the most important thing. A conversion. When designing e-commerce apps and websites, users should take into account the experience they are going to have from the time they see the logo or icon to when they make a purchase. First, our consultants meet with you to understand your business objective, and then they map out a strategy and user experience before writing a line of code. As a result, the final product will be developed faster and clients will be more satisfied.