Nearshore Software Development: what is it and how does It work?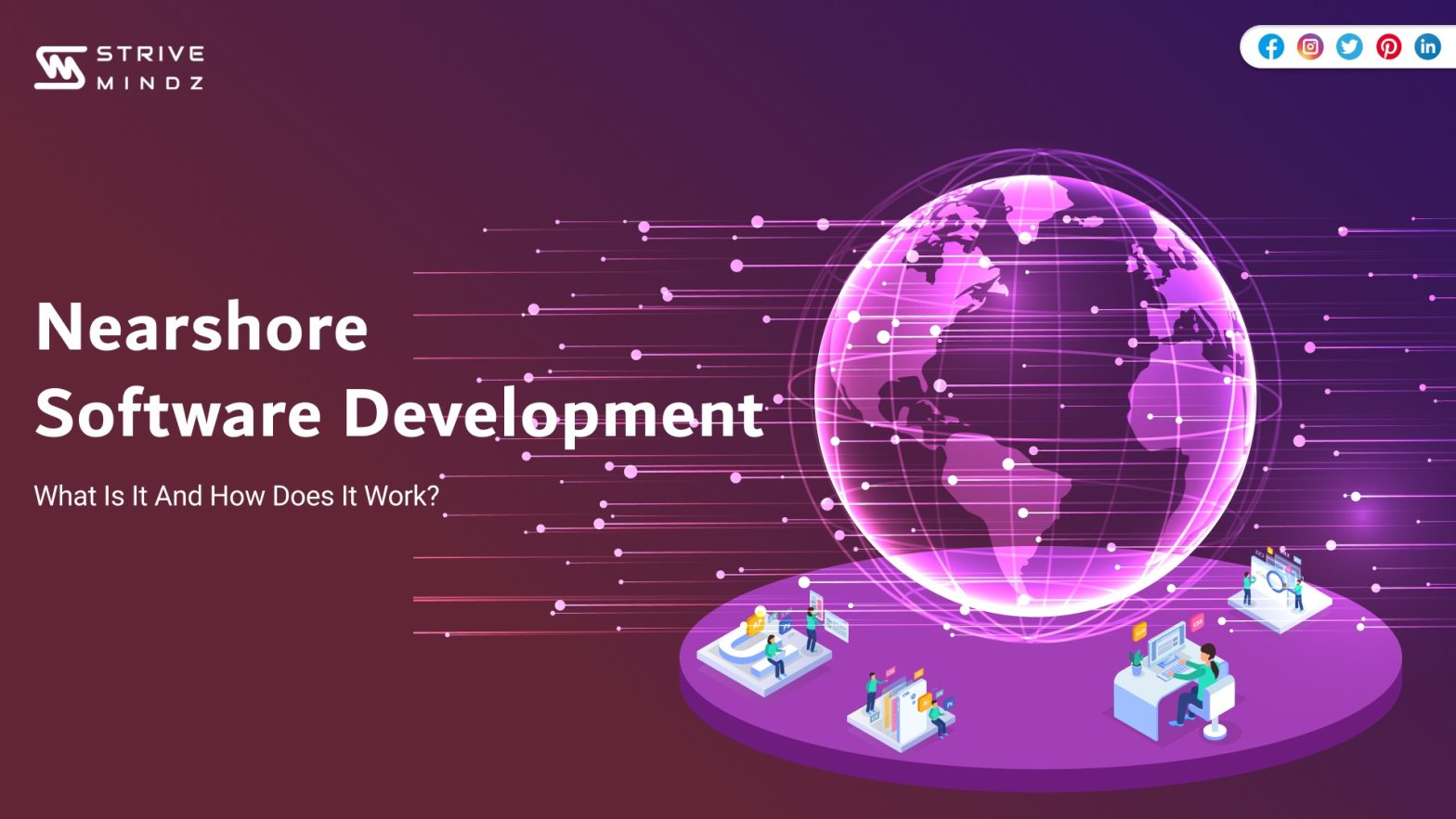 Nearshore software development outsourcing companies offer both onshore and offshore outsourcing services. By taking advantage of it, you can invest in IT talent and project management wisely while developing high-quality products on time and without much hassle. Additionally, it reduces costs and optimizes resources.
To understand how nearshore outsourcing can benefit your business, we will describe nearshore software development with examples as well as highlight the key differences between nearshore, onshore and offshore.

Nearshore Software Development: what is it?
Nearshore software development involves the practice of outsourcing business processes to companies located in close geographic proximity to your own country. These nearshoring firms are typically situated in nations with similar time zones, ensuring that the time difference between the two entities does not exceed 1 to 3 hours. The proximity and reduced cultural and time zone disparities contribute to a higher level of communication, facilitating more straightforward coordination and collaboration.
For instance, when European countries like Serbia, Croatia, Romania, and Bulgaria provide nearshore software development services, it is particularly advantageous for economically advanced European countries such as Switzerland or England. This arrangement offers numerous cost-saving opportunities for travel and time, while the absence of significant cultural and language barriers positively impacts the quality, speed, and productivity of work. Thus, when you engage teams in these countries, it only takes a few days to meet the development team in person and return home.
There are numerous successful examples of nearshoring practices that can enhance your understanding of this approach. In the 1990s, U.S. companies began nearshore outsourcing. Many North American companies outsource their IT services to Mexico, Argentina, and Brazil, while Western European companies turn to Eastern European nations. Prominent software hubs in this context include Poland, Serbia, Croatia, Romania, and Bosnia and Herzegovina. The countries outsourcing software development from these regions are typically Western European nations such as Germany, the United Kingdom, and France, as well as Nordic countries like Denmark, Sweden, Norway, and Finland.
In these countries, you can find highly skilled nearshore software developers who are proficient in English and offer top-notch services at attractive prices. According to Statista, the IT services outsourcing sector is thriving, with Poland's outsourcing market growing to $2,312 million last year.
Notable examples of successful nearshoring practices include global giants such as Google, Tesla, Porsche, IBM, and Johnson & Johnson, who have reaped the benefits of nearshore services.
Nearshore Software Development Business Strategies
Nearshore software development plays a crucial role in modern business strategies, as nearly 76% of companies are choosing to delegate their IT services to third-party providers. This decision is typically motivated by several compelling factors: cost efficiency is a primary consideration for 57% of businesses, 51% value the agility to adapt to changes in operational models, and 49% seek access to new capabilities. However, the success of this strategy hinges on the selection of the right outsourcing model tailored to specific needs.
In practice, businesses are often faced with the choice between onshore, nearshore, and offshore outsourcing, necessitating a thorough evaluation of various factors. Each model comes with its own set of advantages and disadvantages, requiring a well-informed decision-making process that aligns with both the company's requirements and the nature of the project in question.
Nearshore software development involves contracting out software development tasks to a team located in close proximity to the customer, typically within a 2-4 hour time zone difference. Opting for a nearshore location is often regarded as the second-best choice after onshoring, as it allows access to high-quality tech experts while remaining budget-friendly.
As we enter 2023, the demand for outsourcing remains strong, with an astonishing 85% of enterprises planning to either maintain or increase their investment in outsourced services. A significant proportion, 55%, will prefer the services of outsourcing companies. Recognizing this trend, Strivemindz has undertaken the mission of providing you with comprehensive insights to help guide your partnership decisions when considering a nearshore vendor.

How Does Nearshore Software Development Model Work?
The company has the option to outsource through one of three primary outsourcing models, which are chosen based on business requirements, budget constraints, and specific project characteristics:
Onshore: This involves entrusting tasks to third-party vendors located within the same country. For instance, a company in New York might delegate tasks to vendors in Washington.
Nearshore: In this model, tasks are assigned to third-party vendors located in the same or a similar time zone. For example, a company in Germany might choose to outsource tasks to vendors in Ukraine.
Offshore: This model entails assigning tasks to third-party vendors in countries with significant time zone differences. For instance, a company in Canada might choose to outsource tasks to vendors in India.
Similar to the outsourcing models mentioned above, the nearshore development model offers two types of collaboration:
Integrated teams: In this approach, you engage individual developers with specific skills to augment your existing IT staff and address skill gaps. For example, if your in-house team lacks DevOps expertise, you can hire DevOps specialists from nearshore tech vendors.
Dedicated teams: With this option, you hire an entire full-stack development team to work on your project from start to finish. For instance, if you do not have an in-house tech department to create a product you intend to sell, you can hire a dedicated team to handle the entire development process for you.
Comparison of Outsourcing Models: How to Choose the Right One
Onshoring, nearshoring, and offshoring represent the three primary outsourcing models, each suited to varying needs.
Nearshore Outsourcing vs. Offshore Outsourcing
Offshore software development constitutes a collaborative arrangement between a client and an organization or team of software engineers whose technical experts are situated in a foreign nation. The physical and time zone disparities establish that the development unit is located "offshore" from the client.
Nearshore Outsourcing vs. Onshore Outsourcing
Onshore software development involves a collaborative arrangement between a client and an organization or team of software engineers situated within the same country, typically with minimal to no time difference.
Nearshore Software Development Advantages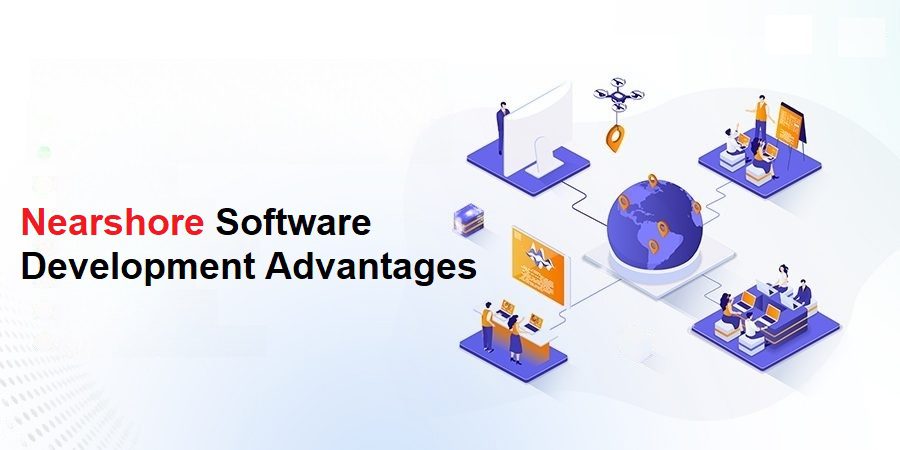 Nearshore software development offers a host of advantages that mitigate the risks associated with other outsourcing models. It provides access to highly skilled professionals at a reduced cost while circumventing the challenges of offshoring, particularly concerning time zones and communication hurdles. Some of the key benefits of nearshoring include:
Cost Savings Compared to In-House Development
Collaborating with a nearshore software development team presents an attractive option for companies in economically advanced nations, where hiring local professionals can be prohibitively expensive. For instance, recruiting in-house IT experts in countries like Germany or the Netherlands can cost approximately $90,000 per year, but by nearshoring a proficient team from regions like Serbia or Croatia, where the cost of living is lower, companies can realize cost savings of nearly 50%.
Time Zones and Cultural Affinity
When the nearshoring team operates within the same time zone or with a 2-4 hour time difference, they are likely to share a common understanding of your culture, language, and customer base. This alignment enables companies or individuals to synchronize their external teams' working hours, facilitating rapid and efficient responses. Geographic proximity allows for real-time collaboration, fostering high-quality face-to-face communication, prompt decision-making, and streamlined workflow. For instance, most Europeans tend to be more culturally aligned with other European regions, in terms of language, holidays, and customs, compared to distant countries like those in Asia or the Americas.
Access to Exceptionally Skilled Experts
The shortage of skilled developers makes nearshoring an invaluable solution for technology companies. As economies grow, such as the 3.8% growth in the Dutch economy in 2021, the demand for IT jobs surges, exacerbating the scarcity of developers. Nearshore software development offers a resolution to this problem, enabling companies to tap into top talent and experts that may not be readily available in their local region.
Proficiency in English
European nearshore software development teams typically exhibit proficiency in English, often with accents similar to those of their clients. This linguistic alignment ensures fluent and effortless communication, promoting a clear understanding of work tasks and objectives.
Nearshore Software Development Challenges
However, there are also notable challenges associated with nearshore software development, including:
Prolonged Communication:
When there is a considerable distance between regions, it can lead to communication gaps between teams. Inadequate or ineffective communication between internal and nearshore teams can result in significant communication challenges.
Project Complexity:
Remote communication can impact technical discussions and project intricacies, potentially hindering effectiveness and productivity in achieving project goals.
Tech Stack Selection:
The selection and management of the appropriate tech stack for a project are critical to its success. Remote setups may introduce additional hurdles in this process, which can affect the project's functionality.
Cross-Team Collaboration:
The absence of regular in-person meetings can hinder the synchronization between teams, leading to reduced collaboration among different teams involved in the project.
Quality Concerns:
Quality assurance is a significant challenge when it comes to outsourcing to a nearshore software development company. Differences in technical expertise and skill sets can raise concerns about the overall quality of the product. Therefore, it is imperative to thoroughly assess and validate this aspect before partnering with an outsourcing service provider.
Now, let's explore the reasons why you should consider implementing a nearshore software development strategy.
How to Choose the Right Nearshore Software Development Company for Your Business
Identifying a provider that offers the optimal blend of experience, value, collaboration, and performance can be a challenging task. This is why we strongly recommend that you acquaint yourself with a comprehensive guide on the selection process for software outsourcing vendors. In the meantime, below, you will find the key factors to consider when seeking the right partner.
Technical Expertise, Reputation, and Track Record:
Ensure that your potential vendors specialize in the programming languages and technologies that align with your project's requirements and have a proven track record in developing relevant software. Pay attention to their domain knowledge in your specific industry. To delve into these aspects, start by exploring the provider's website, focusing on their experience within your domain, client testimonials, and case studies. Additionally, you can assess client ratings on prominent business review platforms such as Clutch, Good Firms, and Glassdoor.
Resource Pool and Scalability:
How extensive is your nearshore provider's talent pool? Are they capable of swiftly expanding your team if the need arises? Depending on the project's complexity and scale, you may require a larger or smaller team. Therefore, the availability of staff and the company's capacity to scale up will determine the speed at which they can meet your resource requirements.
Legal Compliance and Security:
The nearshore development outsourcing company you select should place a strong emphasis on the security of your collaboration and go the extra mile to ensure its safety and integrity. This includes having an agreement with clauses that safeguard your intellectual property. The company should also adhere to specific security protocols and possess relevant certifications. Thus, familiarize yourself with the vendor's standard procedures and data protection policies, including compliance with regulations like GDPR.
Communication and Language Proficiency:
A nearshore software development company should provide a team of software engineers capable of regular and effective communication with you in your language or in English. You should have the ability to directly interact with the team responsible for your project. Therefore, it is crucial to verify the language proficiency of your external team and ensure that communication can flow smoothly.
Why Choose Strivemindz as your Nearshore Software Development Services Provider?
With Strivemindz's nearshore software development services, you gain greater flexibility, allowing you to easily scale your team up or down in accordance with your specific requirements. Moreover, you have the option to hire diverse types of developers for all phases of your project. At Strivemindz, we offer access to a versatile, experienced agile team of experts from various domains, including:
Strivemindz is dedicated to assisting businesses in overcoming their technical challenges and thriving in the swiftly evolving market. If you wish to explore how we can help your organization harness the potential of nearshore software development, please contact us for more information.

Final Thought
Nearshore software development companies have the potential to be transformative for any organization in the long term. They can drive growth, enhance efficiency, and uphold organizational productivity. Consequently, if you seek the convenience of onshore outsourcing while enjoying the advantages of offshore outsourcing, the nearshore model is the ideal solution for you.
Furthermore, if you are in search of a systematic approach to hiring remote software talent in nearby locations, consider exploring Strivemindz. This unique platform leverages a harmonious blend of global talent resources and AI through its Intelligent Talent Cloud. It assists companies in the sourcing, vetting, matching, and management of the world's top developers working remotely.