How to Decide The Perfect Budget for a WordPress Website?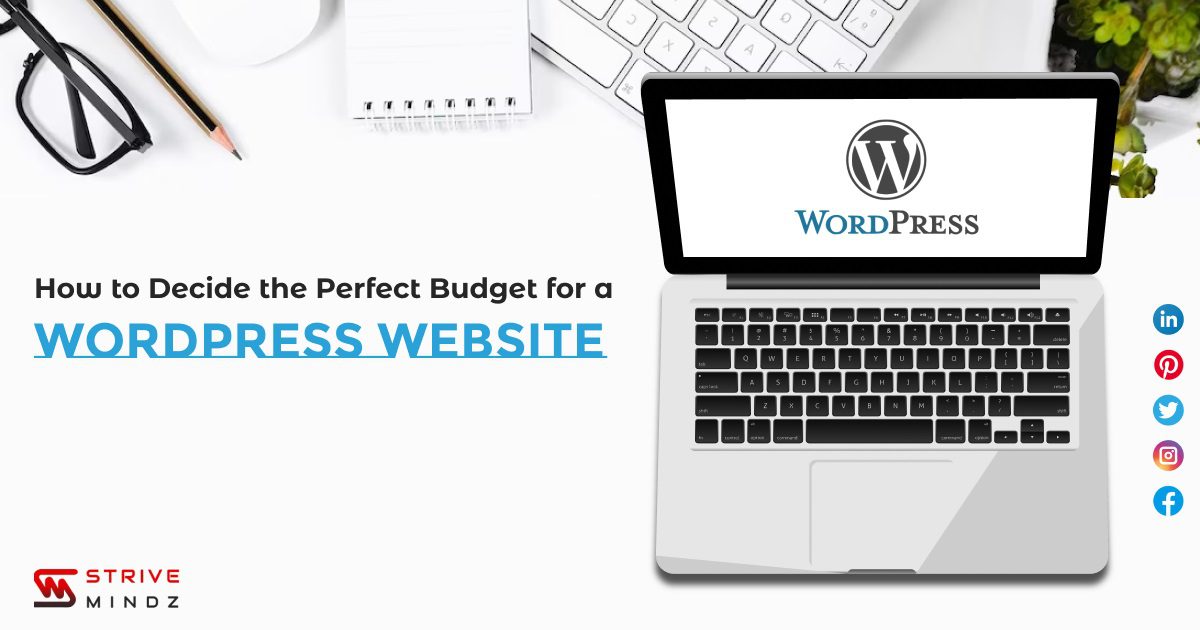 Even though setting up a WordPress website sounds inexpensive, it can be hard to estimate how much does a WordPress website cost.
The WordPress software is available on the internet for free. There is no pricing model to download and use its basic functions. WordPress is a customizable software that allows users to create websites and add features as per their business requirements. WordPress allows users to make use of plugins and add-ons to create exceptionally attractive layouts. It has many themes that enhance the appearance of your website and give it a classy look.
A large number of features in WordPress are free of cost but some are either one-time costs or duration-based subscriptions. The main of a WordPress website cost can be decided by estimating the cost of a few factors like domain name, hosting, extensions, themes and backups. Only by considering the cost of these factors can someone estimate the website budget.
How Much Does a WordPress Website Cost in
2021?
Moreover, here at Strivemindz we even offer WordPress development services which can easily co-ensure all your requirements and develop a product as per your idea's need. Here is the WordPress website cost estimator.
Cost of Domain Name – Domain name is basically an address to your website. It is the address through which your website will be shared across the web. It is the address with which other people will be able to reach your website. Many people tend to skip this step because of its cost but let me tell you that a domain name provides a professional look to your website. A domain name builds credibility and increases brand value. With a domain name, you can protect copyrights and trademarks.
A domain name ends with either a .com or some other type. The most recognized top-level domain is .com but it is at times difficult to purchase. There are many options to buy a domain name. A domain name is usually expensive and is a duration-based expense. It needs to be re-purchased in a span of time. Domain names usually cost around 15$ per year.
Cost of hosting– Another expensive factor in establishing a Word press website is deciding upon hosting requirements. Hosting is the priciest part of this entire process. Hosting can be decided on the basis of the traffic that your website will receive. If you are a beginner then you may opt for entry-level hosting in which your website will be on a server that is shared by many other websites. This type of hosting is mostly beneficial to bloggers and entrepreneurs who are creating their first website. If you are expecting huge traffic to your website then you need advanced security systems and other features to manage such big data. In this case you may go for dedicated hosting which will place your website only on one server.
Hosting prices range between 5$ and 15$ per month for a website. They also vary depending on features and services required of your website. In WordPress, hosts offer cheaper prices for one year if you pay the hosting price for the whole year in advance.
Cost of Themes- This is the most crucial part of the process, which can either make your website or break it. A theme is the property of your website that decides the first impression of your viewers. If you do not wish to risk this then make sure to spend smartly on the theme of your website. There are tons of themes available in Word press but the best one is the one with a responsive design. It ensures that your website looks good on a larger screen as well as smaller ones.
The free-of-cost themes on WordPress are available with very less customizable options. They are plain and not very user-friendly. Paid themes have good quality and are also fully featured. They are custom-built and offer amazing templates. These  WordPress website themes cost around $50 to $200 as per your requirement and can be either a one-time fee or a duration-based subscription.
Other hidden costs- Some costs that you might not think of at first but realize later on are related to extensions and plugins. It is very possible that due to technical issues some data or in some cases your whole website gets wiped from the server. To prevent such technicalities, one must always have a backup to avoid data loss. There are many online options available that allow you to back up your data and recover it in case of any faults.
According to the functionality of a website, plugins and add-ons are required to enhance and integrate websites. The cost of such extensions also varies and is an important part of the website.
There are some online plans that charge around $99 annually and provide all the backups and extensions one needs.
It is essential to plan a budget before the actual execution to avoid losses and ambiguity. If you are planning to develop a website, it is better to forget the word "free" and concentrate on "minimum budget" to get the desired result. Every website is different and has some unique functions and features but through the above listed points, one can very well estimate the approximate cost of a WordPress website. Our WordPress developers fit in best in all sorts of task and are ready to work at a better pricing compared to the in-house developers one hire.