Skills that a Dedicated Developer must Possess for a Successful Product Development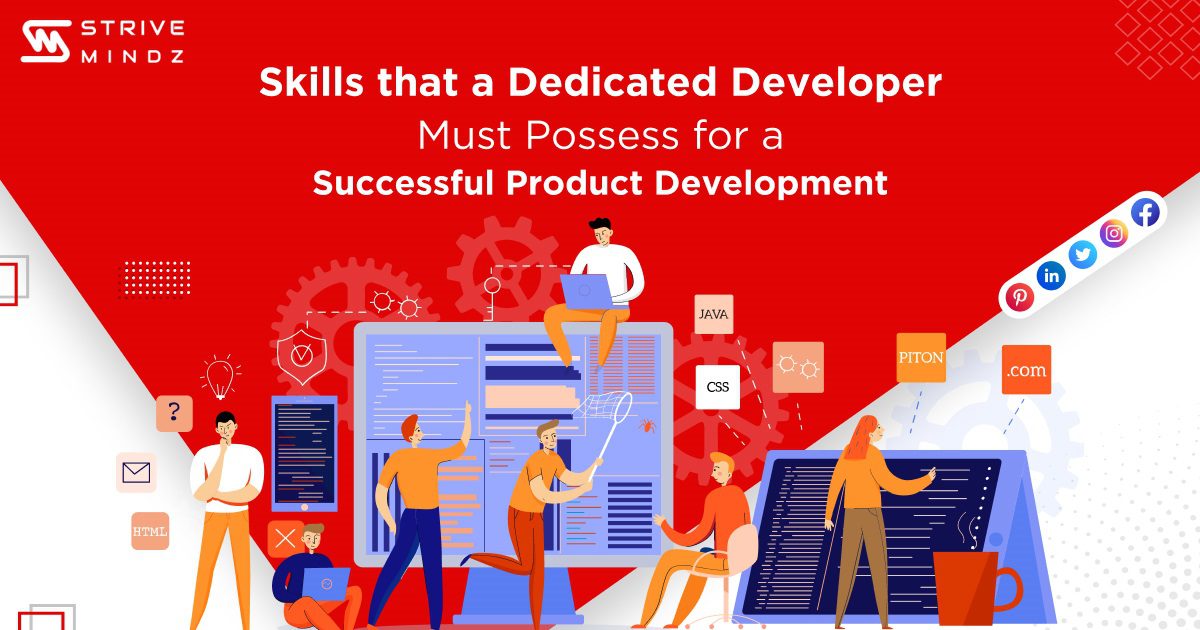 Recent reports indicate that the demand for dedicated software developers will continue to rise in the coming years. Companies will also require expert programmers, resulting in a surge in software development employment. There will be a great need for dedicated web developers who understand scripting languages and toolsets.
There has been an exponential increase in the demand for software development solutions over the years and it does not seem to stop any time soon. There will be no surprise if the established firms compete with each other to hire dedicated app developers for in-house development.
A competent and dedicated app developer is one that can accomplish successful product development. It is the product developer who needs to have an end-to-end knowledge of developing new products or modifying the existing ones and is also capable enough to supervise the entire design and development process along with constant market research.
What Exactly Does A Product Developer Have To Do?
Here are some points that I could think of but do know that there is definitely more to it.
Supervise a product from the core foundation to development.
Create a prototype along with the technical team.
Collaborate and function with both technical and marketing teams.
Conduct market research to gain knowledge about current technology trends.
Discuss and jot down project requirements when dealing with clients.
Product Creation
This is the most basic and most important step towards successful product development where a developer has to work along with the software development team to re-engineer the existing legacy of the products or build a new one.
Identify The Specifications And Requirements
The requirements and specifications in creating a product depend on a lot of factors and it's up to the management team to take all these factors into consideration during the product development. The product developers have to understand the expectations and needs of a client for a precise product development process to take place.
Prototyping
For having a rough replica of what the end product might appear to be, the developer has to supervise the design and development team to come up with the best suitable ideas that meet the end-user requirements.
Fluid Communication
Without communication, it is not possible to set coordination between teams and hence it becomes apparent for a product developer to play a role of mediator to make the teams work in the same direction.
Market Research
Market research is a constant ongoing process of a product developer to research data and to stay updated with the current or upcoming market trends so as to ensure maximum return on investment.
What Skills A Dedicated Developer Should Possess?
Proficiency in coding and having an upper hand with scripting platforms and languages are the basic requirements to look for in a developer. However, soft skills are as important as knowledge-based skills.
Understanding the Business
A product developer should have a concrete understanding of what the client expects from the product and what goals have to be achieved. It is the responsibility of the developer to never get diverted from the end goal and to never lose sight of the final objective.
Technicalities
How can a product developer understand the technical coding and complexities if (s)he is not well versed in the same? Unless a product developer is technically sound about programming there is no way the designing and development can be successfully accomplished.
Analysing Data
Data is the oil that needs to be fed into the machinery of information technology for the digital economy to grow. It is the duty of a developer to extract data from all possible sources related to the product. The analysis of data has to be carried out by determining the product features and functionalities.
Read also: How is 5G Technology Revolutionizing the World of Mobile App Development?
Prioritization
There are a number of modules that need to be completed within a project and hence prioritising can help complete important ones first which will further ensure that the project is completed on time. This will also enable the project not to miss out on primary modules and as of secondary modules, they can be tackled later on.
Strategies And Proactive Approach
Adopting a proactive strategy before the actual process of developing a product starts from scratch, and it is very much necessary that there is always a backup plan and an immediate action plan in case things go wrong in any of the stages.
Empathising With Peers And Colleagues
Empathy is one big quality that is more than enough to gain tremendous respect from your peers and it is crucial for a product developer to possess the feeling of empathy to keep the subordinates motivated and take part in problem-solving whenever needed. Empathy also plays a major role when a product developer has to deal with clients while patiently listening to what clients have to say so that they can understand their point of view.
Collaboration
Respecting the opinions of others and listening to what your teammates or subordinates have to say is the key to bringing outstanding results in the end product. Collaborating and discussing is a part and parcel of the job for brainstorming sessions that can result in useful conclusions.
Time Management
Adopting time management techniques and giving ample time to each module has to be the way to accomplish the project efficiently. Herein, the factors that need to be considered are the time for coding, time for designing, time for discussions, time for implementation, and so on.

Creativity
Thinking out of the box and bringing in a great deal of creativity is also a must-have quality in a developer. With creativity on high, a product developer can come up with innovative ideas and will be able to present a product that stands out of the crowd.
Accountability
Each and every product developer has to take responsibility for the actions performed individually or within a team. This way if the errors or mistakes are confessed, they will be rectified and will never be repeated since the solutions are brought about at the same time.
This blog pretty much sums up everything that should be considered while hiring a developer. It is not just about knowing the business strategies or programming but it comprises a number of factors along with a handful amount of creativity and innovation so that the end product comes out better than what was anticipated.