In the same way that desktop e-commerce portals are declining in popularity, it is clear how mobile e-commerce apps will be in the future. A major contributing factor to this radical change is that mobile e-commerce accounted for 11% of all online retails in 2014, and Business Insider forecasts a 45% boost in mobile commerce by 2021. In addition, mobile traffic keeps rising, becoming almost 70% of overall internet users each day. This confirms that mobile commerce will dominate e-commerce channels in years to come. If a business strives to become one of the successful entrenched e-commerce leaders such as Amazon, it must invest in mobile e-commerce apps. Creating apps and mobile sites for your business has shifted from being a luxury to becoming a necessity.
Progressing ahead to our discussion, we will start with:
Top 5 eCommerce Apps To Check-in 2022:
Amazon : Top eCommerce App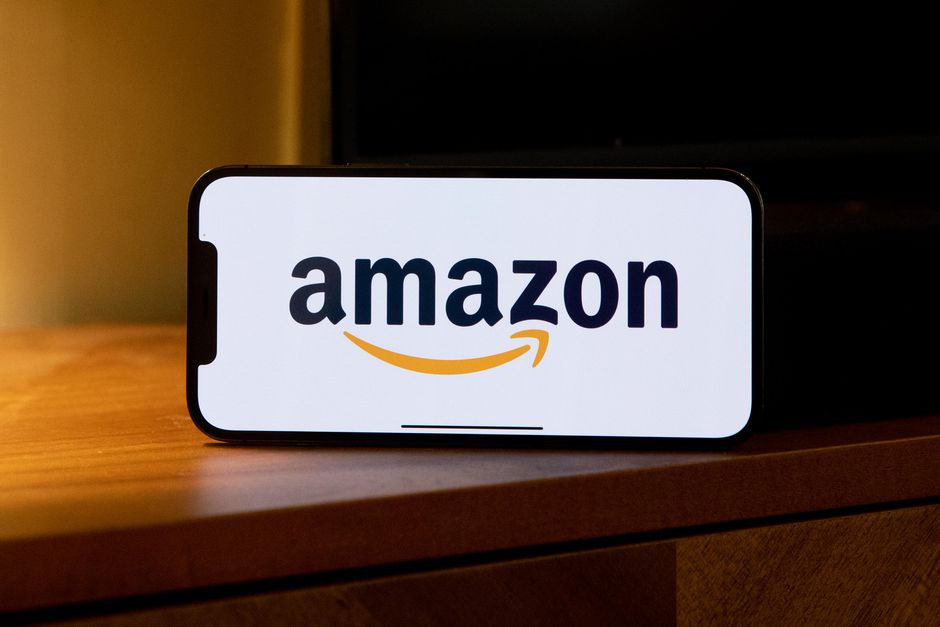 As an online giant, Amazon is well-known locally as well as internationally. The app has earned immense trust from the Indian audience through features such as easy exchange, refund policy, and fast delivery. The e-commerce marketplace allows sellers to register, sell, and ship their products without hassles through initiatives such as 'Self-Service Registration' and 'Amazon Easy Ship'. The customer can find a wide variety of products at various price points, making it an e-commerce marketplace that caters to everyone.
According to the recent Statistics of Amazon, the net sales revenue of Amazon is nearly 469.8 billion USD while the net income of Amazon is 33.36 billion USD. Also, the brand value of Amazon is equal to 684 billion USD.
Why Choose Amazon?
A wide range of products is available to accommodate the needs of a wide range of customers.
The Amazon app advertising system can target business owners as well as consumers.
Amazon's self-service advertising solutions help businesses market their products and services through customizable ad solutions that fit any budget.
As an online retailer with a widely recognized brand, powerful brand image, and a broad customer base, Amazon is an excellent choice for advertising any product.
Amazon creates a community for its loyal customers to review different products frequently.
Flipkart: Top eCommerce Platform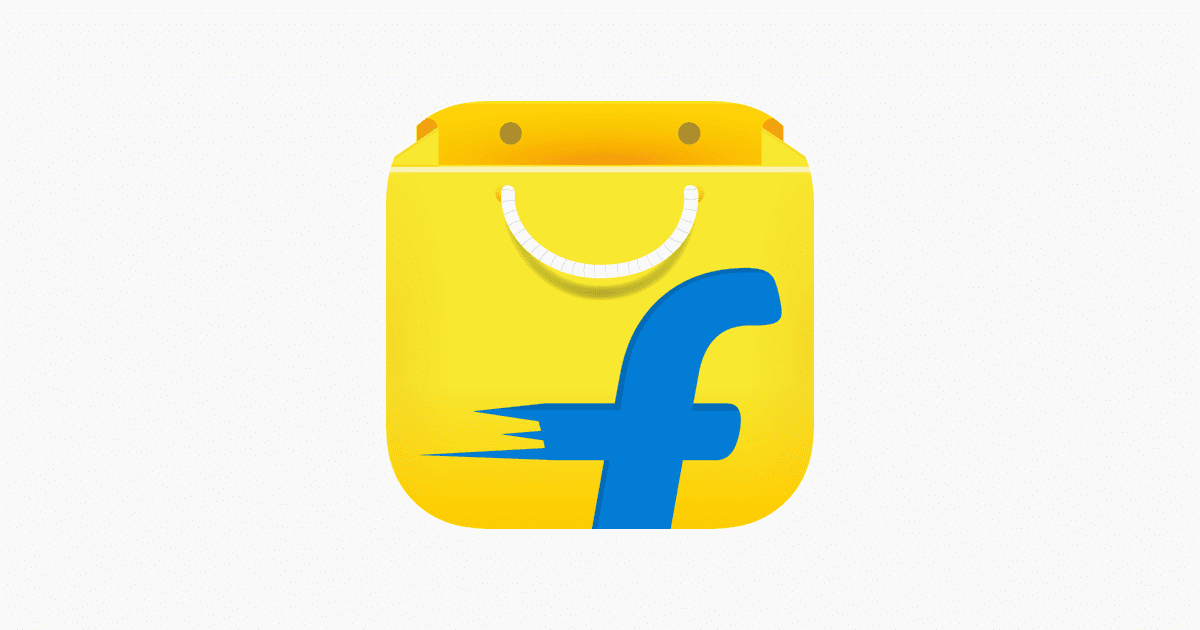 Image source: Flipkart 
From a book-selling app to a prominent online seller, Flipkart slowly evolved into a product and service market leader. Flipkart is an India-based e-commerce platform that offers a wide selection of electrical appliances, books, apparel, home decorations, and furnishings. The Flipkart-Amazon competition is close, but Flipkart holds a competitive advantage in the apparel segment.
Most of Flipkart's operational revenues come from the sale of products, which stood at Rs 42,939.8 crore in FY21, a 25.7% jump from Rs 34,170.5 crore in FY20.
Why Choose Flipkart?
With over 70 million loyal customers in India, Flipkart is India's largest e-commerce company.
There are over 2 million registered users, thanks to its features such as easy delivery, smooth returns, refunds, and exchanges.
As a leader in the online retail industry, Flipkart differentiates itself from its competitors in an efficient supply chain, fast delivery, and easy browsing.
In Flipkart, the CPC (cost per click) model is utilized so that the advertisers in the same product category get an equal opportunity to showcase their products.
Flipkart has the highest growth rate in the e-commerce industry.
Myntra: Marketplace Platform

Image source: Myntra 
Myntra marketplace platform is an online fashion and lifestyle store with a wide range of products available. As it started as a gift-selling website, it has become one of the most popular online fashion and lifestyle stores.
A total expenditure of INR 2,891.6 Cr was incurred by Myntra in FY21, representing an 18% increase from INR 2,462.9 Cr in FY20. While employee benefit expenses accounted for INR 464.7 Cr, other expenses amounted to INR 1,186 Cr.
Why Choose Myntra?
The app serves as a style guide for young adults, so if your brand is geared towards a younger audience of 13+, advertising on the Myntra app would be highly profitable.
When you consider advertising clothing or fashion products, you cannot overlook Myntra since it is a tough competitor in the apparel category.
Several Myntra marketing tactics, such as 'End of Reason Sale, cash on delivery, easy return and refund policies, celebrity endorsements, etc., have helped Myntra gain the loyalty of Indian youth.
Myntra is famous for its attractive cash-back offers, making the customer crazy about buying and saving more.
It has a user-friendly interface which makes it easier for the buyers to navigate throughout the app.
H&M: eCommerce App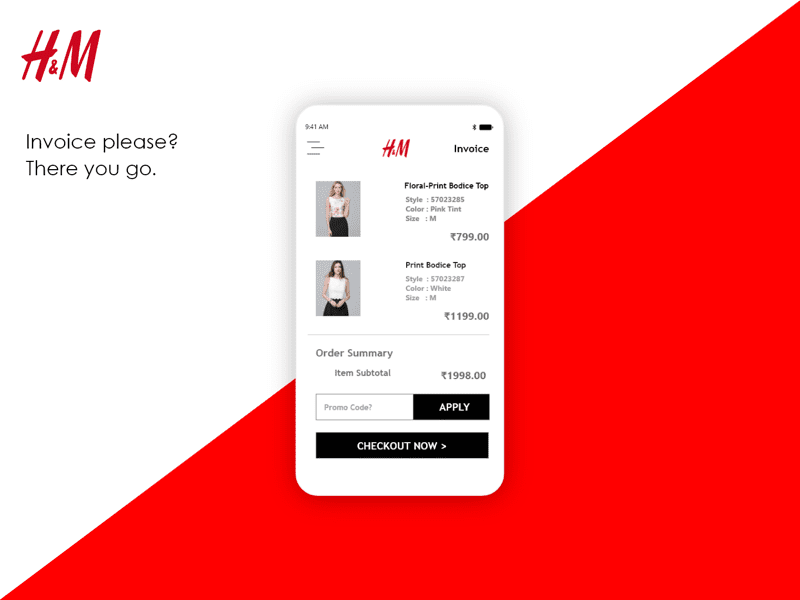 Image source: dribbble
As a result of its massive investment, H&M has built a stunning e-commerce app with impeccable UX design. When users load the app, they can view easily accessible barcode scanners, full-screen graphics, and product menus in a native lookbook format. A minimalist interface provides users with one-click access to everything they need while featuring rich advanced features. The app allows users to attach photos to product pages to create a handy interface.
Despite an 11% decline in sales, Swedish fashion retailer Hennes & Mauritz (H&M) retained its position as India's largest fast-fashion company by revenues due to aggressive store expansion and lower prices.
Why Choose H&M?
In the fast-fashion space, H&M competes with brands like Zara and Forever 21.
Fast fashion relies on the sale of low-cost, trendy clothing in large quantities.
According to H&M, its mix of brick-and-mortar and online sales gives it a competitive edge.
H&M never compromises with the quality of their products.
The minimalistic theme is the pillar of H&M.
Paytm: Second-Largest eCommerce Company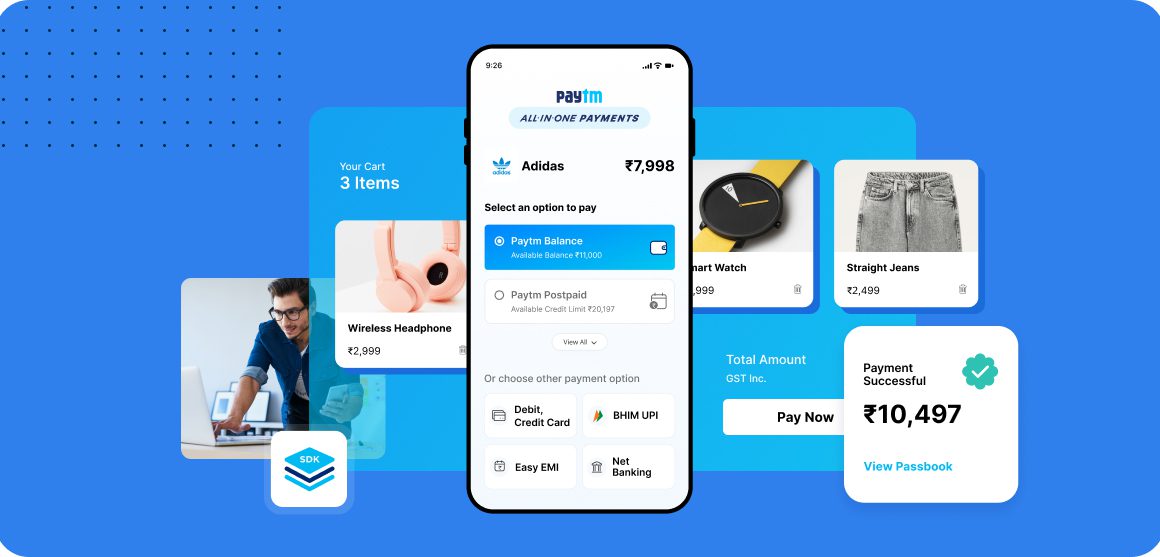 Image source: Paytm
Besides being a popular online payment app, Paytm is also the second-largest e-commerce company in India. One of the best features of the Paytm app is that it not only facilitates secure online payments and in-store payments but it also offers a wide range of products via its Paytm Mall. Starting as a mobile wallet, it's now one of India's most popular e-commerce platforms.
The company reported its earnings publicly after going public this month for the first time. Net loss jumped to a consolidated loss of 473 from 437 crores a year earlier. Expenses jumped to nearly 1,600 crores from 1,170 crores a year earlier.
Why choose Paytm?
By providing secure payment services, the app has gained the trust and loyalty of Indian consumers.
More than 300 million users and 200 million merchants use the app.
As this app is available in 11 languages, it adds an advantage to its reaching regional audiences.
Paytm is a popular app used by movie fans, shoppers, foodies, travellers, and financially literate people. It can target different age groups since consumers use it from a wide range of backgrounds.
Having a high-security system and plenty of options in the payment gateway, Paytm has already marched in the era of e-commerce with promising features.
How can you make your e-commerce app reach the top?
The decision to build a mobile app for your online business is always a good one; however, does it get you enough conversions?
There are apps for even the smallest of things in today's world, and thousands are added to the Play / App store every day. Ecommerce apps are another addition to mobile, giving online entrepreneurs an entirely new sales channel to sell their products. For years, increasing customer base and sales for online companies have been a challenge. But e-commerce apps are the perfect solution to this problem. Users of mobile apps now increasingly prefer using them for easy and fast shopping online instead of relying on websites. This is where Strivemindz takes the lead to provide you assistance for better sales in your business. The members in the Strivemindz company consist of top-notched individuals who are experienced in app development and sales marketing. We are ready to help our customers who are in dire need.
How can you boost your online sales through an app?
Sending push notifications to the customers will help you regain lost revenue.
Customers are always logged in to their social media accounts on their mobile phones, making social media a powerful tool for e-commerce.
Using GPS-based promotions is always useful for acquiring as well as retaining customers.
Other reliable ways to boost your sales:
Get in touch with your existing customers
When an online business has trouble growing its business, it is not about gaining new customers, but it has to do with improving customer retention. Existing customers are always more valuable than new customers.
The idea of increasing customer loyalty is an excellent one, even if it is a more expensive marketing strategy. However, you can increase loyalty even further with an E-commerce app since most people have easy access to their smartphones from anywhere, anytime. You can earn reward points through the in-app system, and it can encourage your customers to purchase more items from your site. It can also help you generate more revenue and conversion rates.
It would help if you offered discounts specific to mobile apps.
In addition to providing you with an extra opportunity to communicate regularly with your customers, the best mobile e-commerce solutions can assist you with integrating all the required tools, engaging, and converting your customers with a seamless mobile experience. Using the app, you can request that your customers leave a comment. This way, you can find out their needs and provide a better buying experience.
You still don't know how it boosts sales? Well, an e-commerce app is a best-in-class solution to sales. Its enhanced design, easy navigation, and ease of use help you reach one and a half times higher conversion rates than desktop buying. Additionally, mobile-specific promotions can be leveraged by leveraging the built-in features of the phone, such as GPS that knows the customer's location.
Registering and navigating the website is easy and seamless.
Building an e-commerce application can help you meet your business needs and grow your brand among extremely competitive online markets. E-commerce apps are raging the market today and are considered one of the best ways to gain profits. Even so, not every business with a mobile app will succeed. It will help if you put in the extra effort while developing the app. With easy-to-use features, customer satisfaction will be the priority.
Amazon, a giant in the mobile space, can innovate its mobile app to any level, keeping things simple. An e-commerce app should also be simple and user-friendly. An efficient user registration process should be fast and simple and never require users to register or log in. Users often land on your website while looking for a product, so a seamless experience can lead them to convert. Likewise, the products and categories within the app should be organized to make it easy for the user to find the items they need.
Interface with uncluttered buttons and prominent placement
Providing a clear and easy-to-navigate interface, whether it's a mobile app or a website, will bring more sales. Don't overwhelm the user with too many options and focus on focused sales. Another crucial factor is the visibility of important buttons on the mobile app. These buttons should always be on the top or prominent area of the screen, such as "Add to cart", "Checkout", or "Buy Now". Having these buttons prominently displayed on your website won't help you increase your sales. You need to put them in the right place and use the right font to increase clicks.
A step-by-step guide to shipping
The shipping process is one of the most important aspects of the customer buying journey as well as one of the leading reasons why customers abandon their carts. Yes, an e-commerce app can reduce shopping cart abandonment as well. Many people prefer to purchase from online stores where the shipping and handling costs are low, displaying the final shipping cost at the beginning of the order placement process. You can gain more trust and user engagement by guiding the user through the shipping process from the moment they arrive. Another great option is to offer the user shipping alternatives so that they can choose and pay accordingly.
Provide a variety of payment options
Due to the lack of payment options, many customers are unlikely to purchase your products. Adding payment options to your e-commerce apps like Net banking, UPI, debit card, credit card, and cash on delivery can drastically increase your sales. You may lose many customers if you accept a limited selection of payment options.
There are also alternative payment methods growing in popularity in the online industry, such as Apple Pay. It is one of the easiest options, especially if you have a mobile app. Easy payment methods simplify the checkout process and help you increase revenue.
Showcase your best-selling products
It is essential to feature top-selling items on the homepage banner to increase conversion rates, as showing visitors where to buy increases their chances of making a sale. For example, placing the category of "best selling items" at the top position instantly captures their attention. Your website is not user-friendly because not everyone knows what they want, and it can be overwhelming for new customers if you guide them through sales. With the right mobile e-commerce solution, you can strategically position your products with exciting mobile app themes. This trick will help you sell your high-margin products. As a result, your top-selling products will be more profitable.
End Thoughts
Without a doubt, digital marketing agencies are responsible for meeting your advertising needs; however, you cannot hold them responsible unless you do your part as well. Don't be hasty because this is one of the most critical decisions that you will make toward the future of your online presence. Give yourself the time you need to complete the research. Strivemindz is always ready to help marketers create that difference. However, if you find difficulties or have queries, feel free to contact us through emails, or you can discuss your issue in the comment section. Strivemindz Company is ranked to be one of the best e-commerce app development companies that can clarify all your doubts before boosting your e-commerce sales before the end of 2022. We are always ready to aid and guide you to your desired destination. You can also call our customer service provider, who is 24*7 available at your service.