Top Web Development Trends You Need To Know in 2021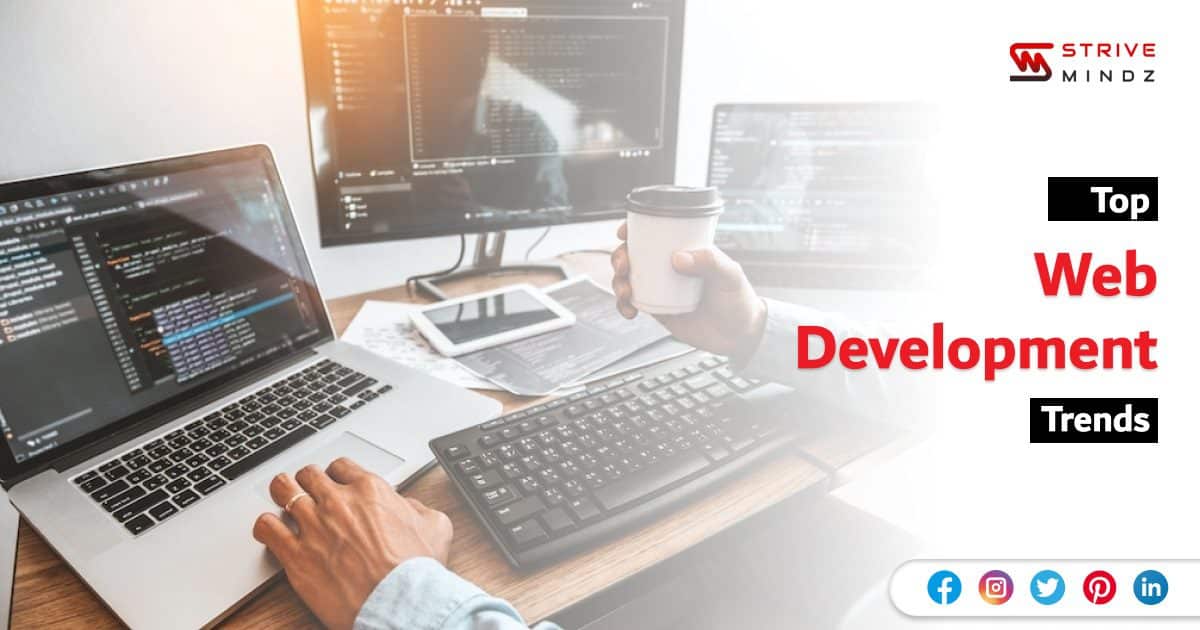 Web Development is the new rising star in the IT sector now. Digital market is a very competitive place and standing up to a position here is a difficult job. And that is the reason you should be adapt to the changing trends in the marketplace.  We here at, Strivemindz are providing you a detailed information of the Top Web Development Trends in 2021.
Web Development Trends of 2021
Progressive Web Apps (PWA)
Progressive web apps have always held a spot in web development trends. And it continues to grab attentions from developers and investors in 2021. PWA provides app-like experience to users. Hence giving it the first position in web development trend list. Majority of websites are focused on making them compatible to mobile and desktop users without downloading any app for that purpose. The languages important for PWAs are HTML, CSS, JavaScript, React or Angular.
Mobile-First Development
A large number of users now rely on mobile phones for getting their work done. So, Mobile-First approach is a very important point that should be a your strategy list. According to a survey, nearly 70% of customer return to websites that work efficiently on mobiles phones. In May 2021, Google updated that page experience is now a crucial factor for deciding ranking of web pages in search result. Thereby signifying the importance in web development. The goal must be to provide best and seamless experience to user on any device they use.
Artificial Intelligence Powered Chatbots
Providing a help hand to the users entering your website gives a chance to make a lasting impression on them. Through Chatbots, customer can directly reach to the part of the page that will be most helpful of all. Artificial Intelligence is being used in almost all the fields for increasing the efficiency of websites. Interacting with customers is a really easy with the help of artificial intelligence.
Chatbots can provide solutions to users queries without any delay. The management can get quite easily and efficiently. With the help of artificial intelligence and machine language bots with better features such as speech recognition and cognitive intelligence can be upgraded on the website.
Single Page Application
High speed internet access and sudden rise in popularity of JavaScript, Single Page Application is one of the most important trend of web development. SPAs can hold attention of users comparatively more than regular sites. Since SPAs are fast operating, it is easier to access and they improve the quality of website as a whole. It provides instant feedback which is far better than the regular sites. Single page sites have less consumption and more production. It can work without server-side code.
Recent demands and trends show how important it is to include SPA in your web development strategy. It is necessary to construct future projects as SPAs.
Focus on Cybersecurity
Cybersecurity is one of most important trends for every field where internet is involved. Cyber threat and risk of data theft is growing as rapidly as the technology, so it important to provide security to users and to the brand as well. While developing a new website ensure that it has tight security and it meets with the data security standards.
Many fields hold important details of their users like healthcare and banking, more and more tight security should be imposed here.
Voice Search Optimization
Voice Search has been a revolutionary change that came into the tech world from the very beginning. And it has never gone out of trend. Companies and brands are expected to launch their own virtual multifunctional assistants, that can execute commands upon hearing them. It allows user to save time and work more online. Voice search optimization should be an AI-based experience for everyone. It is beneficial for both the users and developers.
Internet of Things
Internet of things (Iot) development is a huge trend of 2021. IoT basically means interrelated devices that are not dependent on user to execute or operate any function or operation. Internet of things can make work easier and more convenient for user. It is smart and suitable way of simplifying life. Many features such as payment, transportation, healthcare and smart houses are the top niches in IoT for this year. With the help of this user can lessen their burden and put their energy in the right direction.
Push Notification
Notifications have always been a major part of mobile apps. But with time their aspect is changing. In 2021, they are expected to become a vital   part of websites too. Including push notification feature in web development can help in seeking more attention of user in web apps as well. Certain big platforms have been using this feature for quite a time and it has worked very well when it comes to retention of customer.
It is an easy way to remind customer about their important work or something new that you have come up with. The web development strategies including push notifications must be improved and enhanced with ready to use solutions. In this way customer can save time and it will be accessible for everyone.
With the ever-changing trends, norms and ways of web development, it is hard to meet all the expectations at once. But the necessary part is that the developers can provide security and satisfaction to the customers. We have provided you with the trends and now, you should on focus on what might work the best for your projects and get started with it.