Nearshore Mobile App Development in Mexico: Pros, Cons and Cost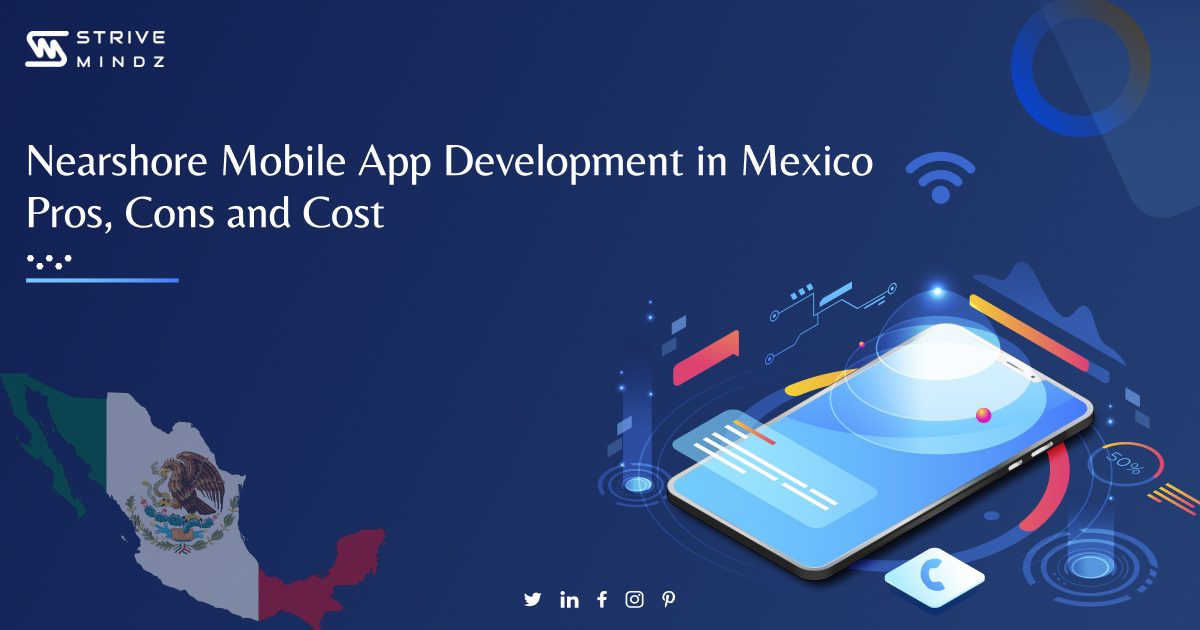 Today, more organizations are moving towards nearshore mobile app development outsourcing. Previously, software development outsourcing involved moving some business operations to less expensive nations. Businesses and technological experts are constantly searching for effective and affordable solutions to realize their app ideas.
In response, they found a nearshoring option in Mexico. Due to the fact that there are fewer risks and uncertainties involved than when working with an overseas partner. These points have made nearshore outsourcing a good alternative to offshore outsourcing.
The intricacies of this method will be covered in this article, along with its advantages and disadvantages, the reasons Mexico has become a hotspot for nearshore app development, and some information on the costs involved. Before getting into the complexity, let's first establish what Nearshore Mobile App Development is.
What is Nearshore Mobile App Development Outsourcing?
Nearshore mobile app development outsourcing actually sense for, "a company contracting with a partner who offers less expensive services to handle its mobile app development work."
For North American firms, Mexico is a favored destination.
Outsourcing mobile app development tasks to a neighboring nation with little to no variation in time zones from their own is most preferred by organizations. It makes coordination easy including visiting the service provider which is important for any service outsourcing partner from a security aspect.  


Why Nearshore Software Development in Mexico?
Here are some significant factors that elucidate why Mexico is a top choice for nearshore software development:
Steady IT Growth: Mexico's IT industry is on a robust growth trajectory, with a projected Compound Annual Growth Rate (CAGR) of 10.6% over the next five years, poised to reach a substantial market volume of $3.92 billion by 2023.
Tax Advantages: Mexico extends attractive incentives to international companies, including exemptions from local and state income taxes on corporate earnings, providing a favorable fiscal environment.
Economic Stability: As an active member of influential organizations like the G20, the OECD (Organization for Economic Cooperation and Development), and the Pacific Alliance, Mexico underpins its outsourcing partners with overall economic stability.
Digital Trade Facilitation: The implementation of the US-Mexico-Canada Agreement (USMCA) in 2020 included a dedicated chapter on digital trade, enabling cooperative efforts in developing and integrating digital markets among the three countries.
Regulatory Framework: Mexico has established robust fintech regulations, emphasizing user protection. This commitment to regulatory clarity adds to the country's allure as a nearshore software development hub.
Strong Bilateral Relations: The enduring business relationship between the United States and Mexico further enhances its appeal as a premier destination for nearshore development.
In summary, Mexico's ascent as a nearshore software development outsourcing hub is driven by its IT sector's dynamism, investor-friendly tax policies, economic stability, commitment to digital trade, regulatory framework, and strong international partnerships. These factors collectively make Mexico an ideal choice for businesses seeking efficient and high-quality software development solutions.
What is the Difference Between Onshore,
Offshore
and
Nearshore
Mobile App Development?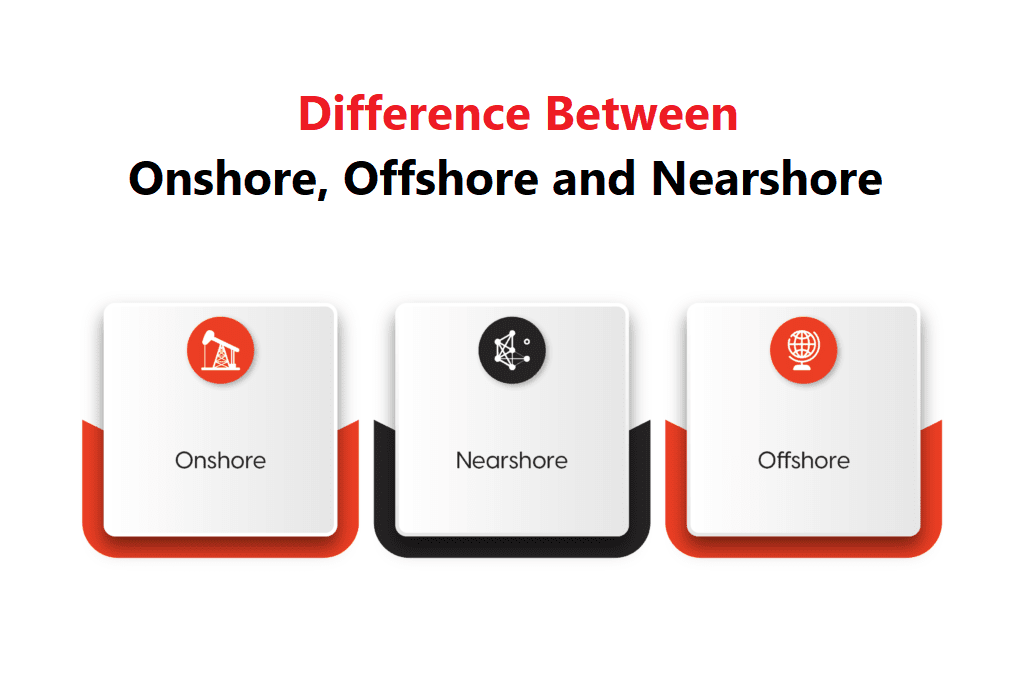 It is likely that you have heard of offshore, onshore, and nearshore outsourcing. For now, let me explain what they are: 
Onshore: An onshore company outsources software development to the same city, region, or country.

 

Offshore:

It means that the company you hired is based in a country with a different time zone from your own.

 

Nearshore: In nearshore outsourcing, your outsourcing partner is based in a close neighboring country.

 
That's the beauty of software development. Unless you want to, you don't need an in-house team. Instead, you can search for your ideal dedicated team in both near and far outsourcing countries. 
A software development project can be outsourced at any time and anywhere! You should weigh the pros and cons of nearshore outsourcing before making a decision.
Pros and Cons

of Nearshore Software Development
Pros Of Nearshore Software Development 
Consider nearshore mobile app development in Mexico and you'll have access to a number of benefits. The success of your project might be significantly impacted by the location of your development team.
Here are several major advantages:
Cost-Efficiency:

Nearshore development frequently outperforms onshore alternatives in terms of price. You receive top-quality work without paying a big price.

Cultural Similarity:

Mexico and many North American firms have similar cultures, which promotes better understanding and alignment. This keeps communication strong, coordination smooth and ensures that task completion is speedy.

Time Zone Convenience:

Collaboration and communication are made easier when there are few time zone disparities.

Quality Development Teams:

Mexico has a growing tech sector with qualified workers.

Language Proficiency:

Mexican developers frequently speak English, which makes for easy communication.

Flexible Collaboration:

The flexibility of nearshore development allows you to scale your workforce as necessary.

 
Cons Of Nearshore Software Development 
One thing is always certain in the aspect of any technical advancement and that is, it always has its own challenges. Nearshore Software development also offers several advantages, but it has its own set of adversities.
It's crucial to be aware of potential obstacles, as below: 
Language Barrier:

Despite the worldwide use of English, there may still be regional linguistic hurdles.

Cultural Differences:

Although it has several benefits, cultural alignment can also present difficulties in terms of work practices and expectations.

Data Security Concerns:

Sensitive data offshoring may give rise to security issues that need to be carefully addressed.

Logistical Hurdles:

Logistical difficulties can occasionally arise while coordinating with a team that is located in another nation.

Legal and Contractual Aspects:

Cross-border legal and contractual issues can be challenging to navigate.
Why Mexico is preferred for Nearshore Mobile App Development?
For nearshore mobile app development, Mexico is a preferred alternative for the following reasons: 
Distance from North America
Given its proximity to both the US and Canada, Mexico is a convenient alternative for businesses operating in the area. 
Booming Tech Ecosystem
For companies looking for nearshore software development, Mexico has emerged as a prominent IT hub and enticing choice. The nation is the third-largest in the world. In Mexico IT services sector has been expanding at a rate of 10–15% per year. Easy access to US markets is made possible by Mexico's advantageous location. Because of its skills in software development, cybersecurity, cloud computing and cutting-edge startups, Mexico's IT sector is varied and helps to improve technology.
Cost-Effective
Mexican mobile app development teams tend to be more economical than their American counterparts while still providing high-quality services. In fact, the average salary for app developers in the US is $110,140 annually, while the salary is $30,000 in Mexico. This exemplifies how sending a company's mobile app development work to Mexico may lower developer pay by 70%.
IT infrastructure that is fully developed
Thanks to its cutting-edge infrastructure, Mexico has emerged as a major global outsourcing hub in the last ten years. With a budget of over $14 billion (USD) projected for 2020, the Mexican government is actively trying to improve projects in the areas of energy, IT and transportation. Mexico is a top choice for software development outsourcing because of its developed infrastructure, which enables it to sustain reliable supply chains.
Affordability of Talent
With a rise in STEM graduates from 15.5% in 2005 to 25.9% in 2022, Mexico has benefited from a decade of governance that has placed a strong emphasis on education. There is a sizable pool of talented developers in the nation who are adept at using cutting-edge tools for developing mobile apps, like React Native and Flutter. Businesses wishing to tap into a smart and affordable workforce may consider fostering innovation through Mexican app development.
Government Support
The Mexican government has been proactive in promoting the tech sector, offering incentives and helpful business circumstances.

Cultural Affinity
Mexico and North America share many cultural traits, which fosters better communication and understanding.
The Cost Factor of Nearshore Mobile App Development in Mexico
One of the primary considerations for businesses is the cost involved in nearshore mobile app development in Mexico. To highlight, the price of developing a mobile app in Mexico may vary depending on a number of factors, including the complexity of the app, the level of experience of the development team, and the amount of time allotted for the project. However, the cost of creating software can be anything from $20,000 and $100,000.
The other factors influencing cost structure are as:
Resource costs

: Resource costs are reasonable without any compromise in skills. Since, Mexican developers sometimes want lower pay than their counterparts in the US or Canada.

Operational costs:

For any organization the management of operations costs is always high due to the general expenses like office space and electricity. Here, operations expenses like office space and electricity are lower in Mexico, which results in overall savings.

Government incentives:

The Mexican government actively promotes foreign investment and offers several incentives, including tax cuts, funding possibilities, and streamlined regulatory procedures, to do so. This includes a strong support system for the tech sector. Because of this, starting and running a business in Mexico may be

simpler.

Exchange rates:

For enterprises situated in North America, favorable exchange rates can further save costs.

Scalability:

Nearshore development enables cost-effective scaling of your team as required.

 

Quality Assurance in Mexican Nearshore Mobile App Development




The creation of mobile apps must always incorporate quality assurance. The following advantages are offered by Mexican development teams since they take this seriously:

 

Skilled Workforce:

Mexican developers are well known for their expertise and commitment to creating high-quality work.

Up-to-date Information:

The Mexican IT industry is booming and developers stay up to date with emerging trends and technologies.

Cultural Alignment

: The development team will be aware of your company objectives and user expectations.

Strong Communication:

Good communication is a key factor in producing high-quality work, and Mexican developers usually excel in this area.

Proven Success Record:

Several Mexican development firms have a history of successfully completing projects that prove to their skill.

 
Nearshore Software D
eveloper Hourly

Rates 

Here are the average hourly rates for nearshore software developers taking all of these factors into account: 
For junior nearshore software developers, the hourly rate is $40
The hourly rate for mid-level nearshore software developers is $50 
The hourly rate for senior nearshore software developers is $60
However, these numbers may decrease by 25% or more depending on the developer's location and English proficiency. 
It is a great idea to work with a nearshore software development company to improve your organization's efficiency and innovation. You need to choose the right type of consultancy for your project based on a variety of factors. Get in touch with one of our experts if you're ready to boost your projects.
Communication and Time Zone Advantage
Every successful project is built on strong communication. The Mexican nearshore mobile app development has following communication and time zone advantages to offer:  
Real-Time Collaboration:

Similar time zones between the outsourced and the outsource partner facilitate real-time communication and decrease decision-making delays, among other operational aspects.

Overlapping Work Hours:

Because of the time difference between Mexico and North America, queries and problems can be resolved quickly.

Regular Updates:

Updates on the status of the project on a daily or monthly basis are simple to accomplish.

Cultural Synergy:

Communication runs more smoothly and there are less misunderstandings because of similar cultures.

Agile Workflow:

Nearshore development frequently benefits from the use of agile approaches, which encourage effective project management and communication.

 
Selecting the Right Development Partner
Selecting the appropriate outsourcing partner for mobile app development is one of the most crucial decisions that businesses must make. If you collaborate with the right Mexican nearshore mobile app development company, your app can reach the market more rapidly. However, if you choose the wrong partner, the project may be delayed or even fail completely.
When looking for the top Mexican company to provide nearshore software development services, organizations should take the following steps into account: 
Legal Aspects:

Understand the legal aspects and contracts involved in your partnership.

Experience:

Verify that the firm you select has experience developing mobile apps for your industry or a related specialty.

 

Skills:

Make sure the outsourcing partner has developers with the best talents in line with the requirements of your project.

Communication:

Verify the nearshore software outsourcing firm's understanding of the value of excellent communication during the development of mobile applications.

Portfolio:

Examine each outsourcing company's portfolio after you've narrowed down your list to a handful. This includes looking at their prior work, case studies, and client testimonials. One can also arrange a trip to the business to meet the development team and gain more understanding.

 

Culture:

In order to get the desired results, it is critical that the Mexican nearshore software development company share your expectations for business ethics and corporate culture.
Cost of Mobile App Development Services in India, USA, UK & Mexico

So what are the real costs of developing mobile apps in India, the US, the UK, and Mexico?
When it comes to determining the most cost-effective geographical solution, different factors must be taken into consideration.
Here are the approximate charges-

Mobile App Development Cost in the USA
You will need to spend approximately $100 to $150 per hour in the US to get the application development process accentuated well. Depending on the complexity of your app, Android and iOS app development will cost you $80-$85 per hour. The average cost of hiring a freelance developer in the US is $68 per hour.
Mobile App Development Cost in the UK
A simple app may be built for about £10,000, while a more complex one can cost up to £1 million. This is a rather wide pricing range, as you can see. The typical cost of developing an app for a startup business is between £30,000 and £140,000.
The cost of Android and iOS app development in the UK is around $70. In the UK, app development costs an average of $71 per hour. The average hourly rate for a freelance developer in the UK is $93 per hour.
Mobile App Development Cost in Mexico
A number of variables, like the complexity of the append, might affect the cost of producing a mobile app in Mexico. However, the price of developing software ranges from $40 to $50 per hour.

Mobile App Development Cost in India
A typical Android and iOS app development cost in India is $30 to $35 per hour, depending on the app's complexity. The average cost of hiring a developer in India is $25.
According to platform data, here is the estimated list of hourly rate for mobile app development in these countries –
Location
| | | |
| --- | --- | --- |
| Region | iOS Development Cost/hourly | Android Development Cost/hourly |
| India | $30 | $35 |
| US | $80 | $85 |
| Africa | $120 | $130 |
| Switzerland | $50 | $55 |
| Eastern Europe | $45 | $40 |
| Netherlands | $35 | $37 |
| Canada | $100 | $110 |
| Mexico | $40 | $50 |
| UAE | $80 | $90 |
| Australia | $100 | $100 |

Looking for a Mobile App Development Company for Your Business Idea?
Strivemindz is here to assist you. Being a leading mobile app development service in USA, India, and the UK, we are the proven best outsourcing partner for your next project. Strivemindz is one of the top software development companies that offer full-stack development.
With over ten years of combined experience, our full-stack web and mobile app developers create solutions that satisfy market demands, strengthen brands, and promote expansion. The best IT solutions are available to you at Strivemindz.
We construct mobile applications and websites by integrating all the capabilities, extensions, APIs, etc. using cutting-edge technology and next-generation AI-enabled frameworks. Therefore, we can create and provide a customized, result-oriented solution at your service regardless of whether your organization is in the start-up stage, an SME, or an MNC. Since 2010, we have consistently reached new milestones in our area of expertise, which includes full-service, hybrid development, coding, and design. 
Final Thought
Finally, nearshore mobile app development in Mexico presents an alluring option for companies and IT aficionados. It is a realistic option because of its benefits of cost-effectiveness, top-notch development teams, and the convenience of close proximity. Mexico's expanding digital environment, cultural connection, and support from the government all add to the country's attraction.
However, difficulties like linguistic and cultural disparities shouldn't be dismissed. For a good conclusion, effective communication and cautious partner selection are crucial. Cost is still a desirable aspect, but it must be balanced with quality expectations.
FAQs
What forms of nearshore outsourcing are there?
The process of hiring workers or contractors from nearby nations rather than a company's home nation is known as nearshore outsourcing. The most often outsourced job categories are those in contact centers, software development and technical assistance.
What are the main specialties of developing mobile applications?
The primary components of mobile app development services are reasonable development charges, quality-driven UI/UX design solutions, development methodology, market research and project planning, application testing, and app maintenance. 
What is the nearshore model for software development?
A software development team that is located close to the client (within 2-4 hours) is referred to as nearshore software development. The second-best alternative, after onshoring, is a nearshore location, which offers you the same caliber of tech expertise at a lower cost. 
Can Mexico be regarded as offshore?
The term "nearshore" refers to outsourcing to locations with similar time zones that are close by. Mexico would be considered a US nearshore locale. Offshore refers to outsourcing to remote locations with wide time zone gaps. India would be considered an American offshore location. 
How does a nearshore technology solutions company work?
A company can outsource software development work to a country adjacent to its own when it uses nearshore software outsourcing. Nearshore outsourcing is typically used by U.S. companies to send work to teams in Latin America or North America.
How does nearshore differ from offshore?
You can extend your talent pool and reduce labor costs if you choose a nearshore software development company.
Additionally, nearshore has the advantage of reducing time zone differences.