Unboxing the pedagogy of E-Commerce Development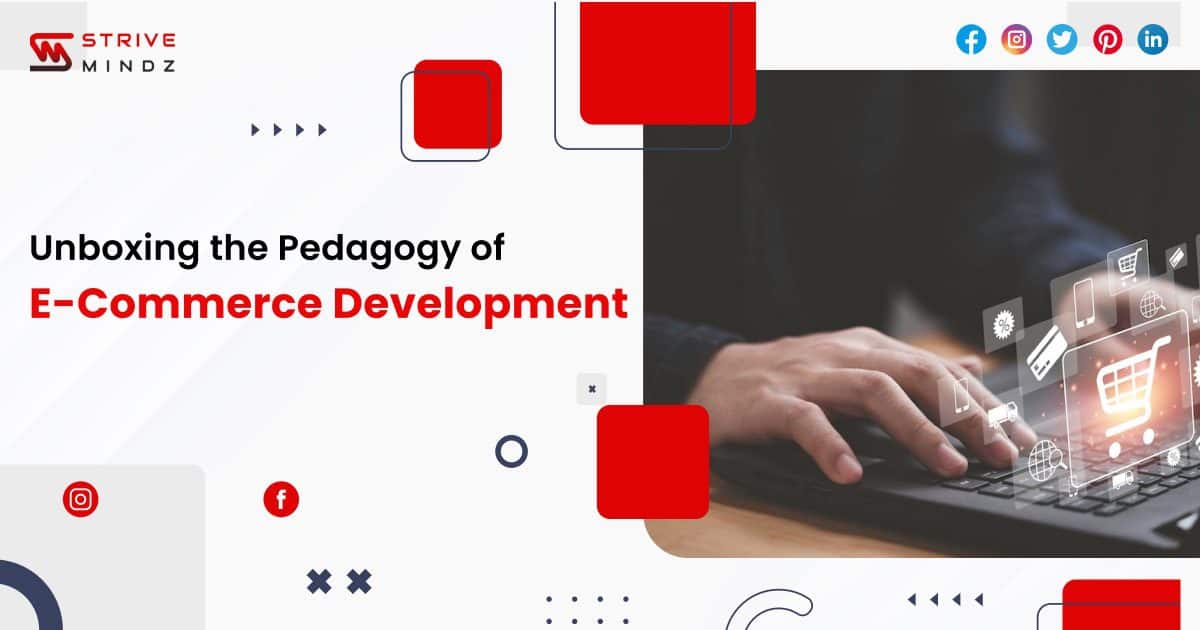 The eCommerce era began in the second decade of the twenty-first century. The industry's lockup and push toward digitization turned out to be a gift in disguise. E-commerce became the backbone for selling essentials to India's 1.3 billion inhabitants as consumers turned to online purchasing.
In the fourth quarter of 2020, the e-commerce development sector grew by 36% over the previous quarter. The personal care, beauty, and wellness categories, which climbed by 95 percent year over year, are the greatest winners. Meanwhile, the electronics sector grew at a rate of 27% per year.
E-commerce development has become an integral part of careers now. In this blog, we will be covering Strivemindz development services that make it a desirable eCommerce platform for everyone in the town. Strivemindz is headquartered in Jaipur, India, and has offices in the United Kingdom, the United States, Australia, and the United Arab Emirates. To come to fruition, all great ideas require sound knowledge, that is what Strivemindz believes in from Day 1.
We founded Strivemindz in 2016 with this dogma at the forefront of our roots, and it has since grown into a proud torchbearer in the realm of E-commerce development, custom website, and mobile app development for clients all over the world.
We have modestly flourished into one of the leading firms in the industry, with the business of a plethora of successful startups and established companies under our belt.
Why Choose Strivemindz for B2B E-Commerce Development?
Traditional software is often flexible, allowing the owner to choose between hosting, customization, and upkeep. You can take in-take the use of this independence to a large level, but you'll need the resources to manage these duties which demands regular intervention for smooth processing.
A SaaS platform, on the other hand, can make your storefront setup easier because it includes hosting, maintenance, and support as part of the product. Strivemindz specializes in B2B e-commerce development and support. We've built numerous e-commerce stores on platforms. As a result, we consistently recommend BigCommerce to our clients. We initially learn about the client's needs before recommending the best platform. If a client needs a fully customized e-commerce store, we always choose SaaS platforms like BigCommerce because of their simpler workflow. It's a win-win situation for these customers. This post will discuss BigCommerce and the characteristics that make it the best e-commerce development platform for you.
Read also: Why Your eCommerce Business Needs a Mobile App in 2023?
BigCommerce, like any other SaaS platform, operates on a closed system. It signifies that the subscription includes support and maintenance. BigCommerce offers a wide choice of tools for developers to employ in order to fulfill our client's unique needs. It includes a default base theme, one of ten free themes, and a variety of professional themes for purchase.
Regardless of the theme you choose, our front-end developers can make changes to it. We can tailor your site to your specific needs and identity. Custom scripts and a rich API for managing various types of integrations can be used to extend the functionality. To summarize, a BigCommerce site does not have to be a culinary masterpiece. For all this, one must need a third-party integration which provides you with the best option. Here are a few exemptions that would make you fall in love with Big Commerce.
12 BigCommerce Features That Make It Special
Unlimited File Storage, Bandwidth, & Products
BigCommerce has no restrictions on catalog size, storage, or the number of queries your e-commerce business can handle. It's also true because it's a "Standard" platform for an entry-level store, which means you won't need to upgrade to get more products or faster loading times. The sole restriction is on sales, which are capped at $50,000 for the Standard plan, $180,000 for "Plus," and $400,000.
Plans at the enterprise level have no restrictions. Your BigCommerce store, like any other e-commerce store, will perform best with a simple design and integrated assets. The advantage is that you will not be charged extra for greater bandwidth.
Your eCommerce store's checkout plays a critical role in increasing revenue. You'll lose a lot of potential clients if they have to fill out a long form or go through a series of procedures to acquire a product. For a high conversion rate, a simple checkout is essential. When clients are nearing the end of the checkout process, they should not be distracted.
BigCommerce offers a one-page checkout that is free of distractions. As a result, customers will always finish their purchases.
BigCommerce, like many other cloud-based platforms, touts a 99 percent uptime rate. It has a significant impact on sales and customer trust. Even during a holiday rush or a flash sale, you may open.
BigCommerce makes use of an off-site hosting service such as Amazon Web Services (AWS). Furthermore, cloud hosting relieves you of any maintenance and update responsibilities.
BigCommerce provides a comprehensive set of tools for growing sales and improving customer loyalty. The customizable discount system allows you to give specific discounts to customers that meet certain requirements. For example, a buy one, get one free promotion, or free shipping after a specific order value. Coupons are included in every BigCommerce plan. A promo code is a popular way to entice customers to subscribe to a newsletter or create a member account. You can also use Discount codes to determine the performance of your marketing campaign by pairing a unique coupon code with a certain advertisement.
Videos, like product photos, assist clients in gaining a better understanding or vision of the product. The ability to add videos to items is provided by BigCommerce. You can upload videos using a simple YouTube link, which will appear on the product page. An in-depth demonstration or sizzle reel can be used to promote your items.
If you're in the business of selling to other businesses, this functionality is critical. You may use this feature to encourage clients to buy in bulk by offering discounts if they buy a particular amount.
Bulk discounts can be obtained in a variety of ways. You can, for example, apply a percentage discount to a quantity tier or specify a fixed price per tier for a product. Bulk discounts can also be implemented by applying them at the category level. Discounts for large purchases can be implemented for specific client groups under the "Plus" scheme. BigCommerce is an appealing option for B2B stores because of this.
Customer reviews and ratings are simple to use in BigCommerce. It is available on any e-commerce product page and can be activated with a single click. The reviews can be set up to be approved manually or automatically, and administration can be set up to avoid spamming.
You'll also find customizable templates in BigCommerce for sending emails to customers asking for feedback on recently acquired products.
Product listings in any BigCommerce edition allow for many product variants for size, color, or pattern options. These options can be formatted using checkboxes, size selectors, or dropdowns. You can swatch photos or colors of the goods to obtain a brief glimpse of each variant if the products have visual variants.
Customer Groups & Segmentation
You can build client groups, often known as customer segmentation, in BigCommerce "Plus" and higher editions. This feature can be used by any store type; however, it is most commonly used by B2B online retailers.
You can provide special rewards or offers to a specific consumer group, such as a membership group for discounts, a wholesale group for lower rates, and so on.
BigCommerce "Plus" and higher editions include the Abandoned Cart Saver plan. It enables you to send automated emails to consumers who have abandoned their carts. For example, if a consumer abandons their basket without completing a purchase, you can send an email as a reminder to complete checkout after one hour. If the purchase is still not finished after 24 hours, send another email with or without a discount code to encourage completion.
This functionality ensures that the consumer cart is maintained even if the users switch devices. For example, if a consumer adds products to his cart while browsing on his smartphone and then returns to the site via desktop, the cart contents should be preserved.
This functionality also assures that if users add products to their cart before logging in, the cart will remain the same when they log in. Persistent Cart supports the smooth and flexible convenience customers expect from current eCommerce experiences since the product is associated with a customer's account rather than a browser-specific cookie.
BigCommerce offers a complete package for B2B sellers, allowing them to streamline operations and improve user experience thereby herding in profit in their accounts by boosting their business and sales.
This article has gone over all of BigCommerce's key features that make it the finest platform for creating an e-commerce business. The features are outstanding, and they are native to other platforms in higher versions. You can go along to our "Big E-commerce development service index to know what we have in a box for turning your E-commerce dream into reality."
We inspire you to create the best product with our top-notch e-commerce developers who are raising the bar of E-commerce development every day and making our consumers catch in, in-figuring profit in their accounts and raising their business standards to a premium level.