How can Adobe Commerce change your importance in the market?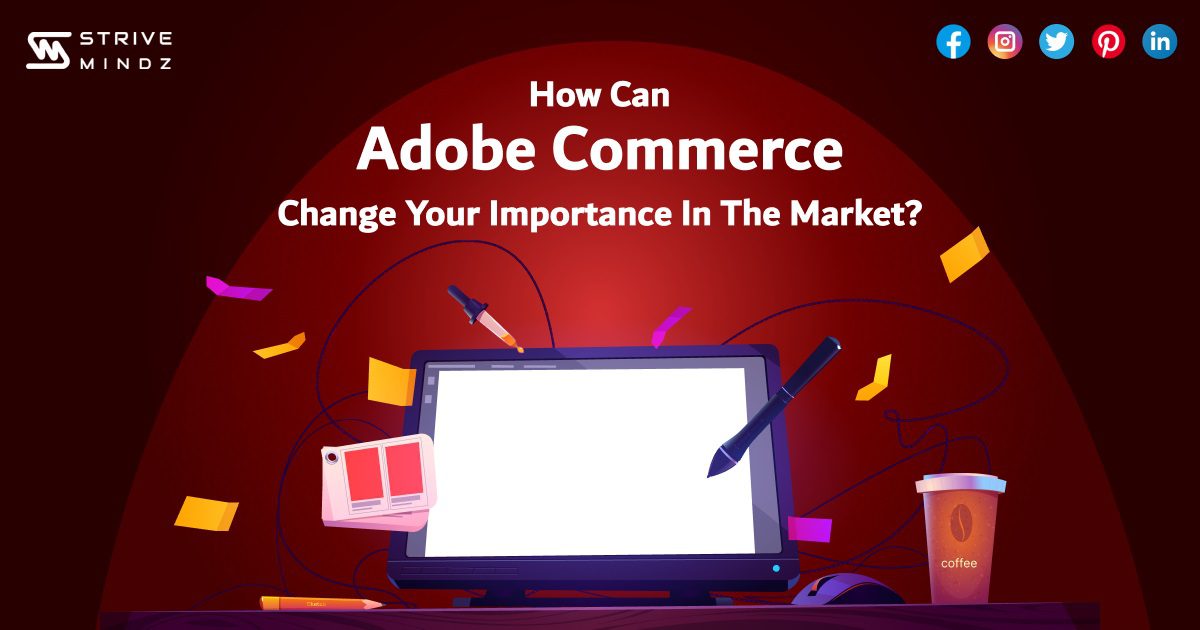 You can't ignore the fact, that B2B business is expanding online just like a B2C business. By 2023, B2B business is anticipated to reach an estimation of $1.8 billion. It would be establishing 17% of all US transactions, and will only increase in numerals but the moderate age of B2B buyers continues to down. At present, approximately 75% of the 20-35-year-old employees decide what products or services the companies should buy and are fast-paced to take more critical decision-making parts.
what is adobe commerce?
Magento Commerce is now called Adobe Commerce since Adobe has acquitted the company and is now its parent company. Magento Commerce is still referred to by developers and merchants who have used it for years.
With this highly advanced, feature-rich platform, online businesses can expand their growth and deliver an unforgettable customer experience. A seamless customer experience is provided by this set of features. In addition to B2C and B2B merchants looking for enterprise editions, it is owned by Adobe.
By choosing Adobe Commerce Cloud, you will have a faster website for your target audience as well as improved security features. Their customer support team is available 24 x 7 if anything goes wrong.
Adobe Commerce supports B2B companies advances in the e-market
To succeed in this advancing digital marketplace, you need to provide purchasing experience more than a traditional B2B business. Customers demand a versatile digital experience, which can be expensive and difficult to provide with Magento open-source. After the covid pandemic, even the beginners started employing the Magento enterprise-version, such as Adobe Commerce, for both B2B and B2C online business. They could bring out the most sales online than actual physical store businesses.
10 Factors for which you have to use Adobe Commerce for Your Online B2B eCommerce Business.
Adobe Commerce unleashes you from several responsibilities and has many in-built features specially selected for B2B commerce. Using this source, you can quickly incorporate the future generation B2B eCommerce features when spending low cost to support your platform. Let's look into 10 top reasons that drive us to use Adobe Commerce for online B2B eCommerce business.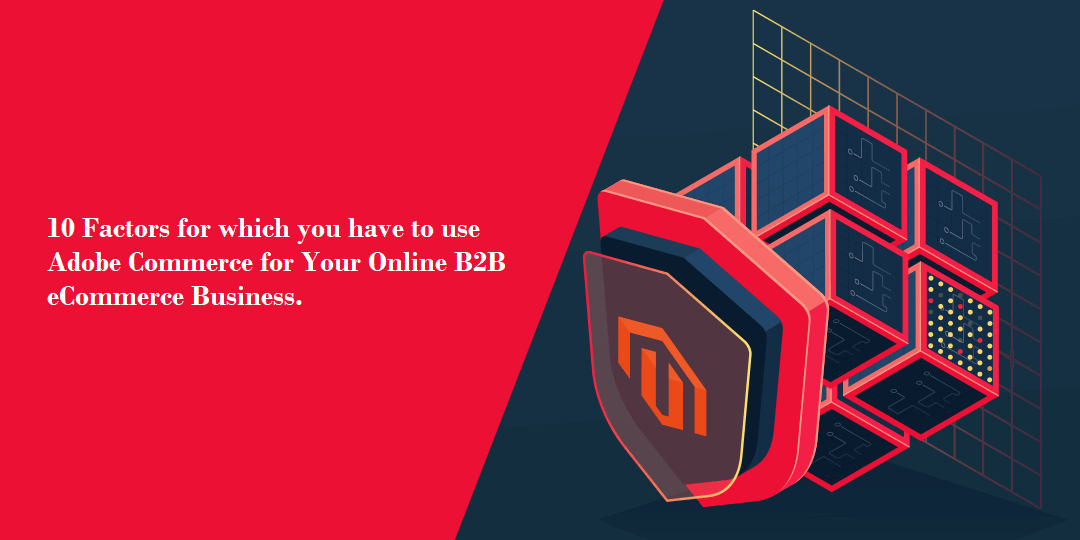 1. Inherited B2B Functionality
For your business to succeed in this expanding digital globe, you need to transform the purchasing experience beyond tradition. B2B commerce is extremely hard against B2C for many reasons. Initially, you need to sell products to a small degree of customers who are more comprehensive and often distinctive than thousands of anticipated individual customers.
There will be several circumstances, where you have to provide custom price and product catalogs for each customer and other purchase deals. As well, customers have control over purchases up to a certain extent. Then, permission will be required from the person in charge before submitting the request, which results in a complex process.
Using Magento open-source, you need to enable a lot of staff for custom enhancement and to provide a well-functional e-commerce experience for your B2B customers. But Adobe Commerce will pre-build all the features of the B2B commerce, such as:
Customized product configurations and price calculators
Customized product catalogs and price rating
Assistance for approval processes and purchase orders
Multichannel sales and order administration
2. Conclave for Hybrid Business Modelling
Modifying business models increases the load. Most B2B business owners have started providing D2C sales. Approximately 33% of the US buyers decide to make 40% of their shopping from D2C companies in the next coming 5 years. Some of the exclusive benefits of using hybrid business models like:
In-depth insights into customer product choices and purchasing induction
Enhances the standard of your brand in the market
Increases the returns, especially on the peak time
Both B2B and B2C storefronts can't be run simultaneously, due to the use of a platform that doesn't support both models. Accomplishing this with Magento open-source will be comprehensive and expensive. On the contrary, Adobe Commerce is great for hybrid businesses, because it can:
Facilitates the technology stack with easy maintenance approaches
A single person can administrate multiple stores and products
Quick delivery of new B2B and B2C products into the trade
Stable brand experience for both B2B and B2C
Integrate data across your commerce operations to develop business methodologies
3. Advance and Secure Infrastructure
Currently, technologies are evolving fast, so businesses need to hold progress simultaneously by advancing their e-commerce stores. Several people are even employing Magneto open source without knowing the fact that it is built on 10-year-old technology, which is easily prone to security threats and breaches than its equivalent Adobe Commerce modernized technology.
In case you are using the version of Magento 1, then now it is a lethal eCommerce site to use. As almost 1.5 years ago, its security patches were declined over. If you still use the same version and have not upgraded the store to Magneto 2 or Adobe Commerce, it will be complicated.
Upgrading your site using Adobe Commerce, which is well-built with advanced technology and secure infrastructure, can enhance your reputation, security, and brand standard.
4. Best for Amazon Business
Amazon, the world's gigantic e-commerce store, makes shares about 40% of online retail sales in the United States. Amazon's business increased from $1 billion to $10 billion in sales in just three years of course. According to a recent survey among B2B buyers, nearly 75% of B2B buyers research Amazon business, as well, 25% among them will expand their costs on Amazon later year.
However, marketing on Amazon is not an easy task, because many traders encounter multiple operating issues such as system integrations, off-the-shelf connectors, which are so expensive and need to be customized.
Using Adobe Commerce, the workload can be deducted and managed. The Amazon sales provided by Adobe Commerce are an efficient, convenient, and affordable way to sell on Amazon. There are several ways, you can sell on Amazon through the Amazon sales channel on Adobe Commerce:
Removes time-intensive manual work
No system integration and maintenance
Listing and fulfillment data synchronization
Provides quicker and better completion decisions
Rapid and optimized pricing decisions
5. Develop a Marketplace like Amazon
Now, it's the right time to develop your marketplace, just like Amazon's e-store. At present, B2B marketplaces have continually shopping B2B buyers of about 87% and almost 70% of enterprise marketplaces will serve B2B dealings, by 2023.
Many B2B businesses have started this trading path, and also it will be more convenient for your business than you think. So, to provide a great user experience, your marketplace needs a customized and specialized platform.
Adobe Commerce is a great platform for a marketplace, as it has high adaptability, security, and well-functioning feature and works seamlessly with other marketplace software packages. Unlike Adobe Commerce, developing a market with free and open-source platforms does not provide the security infrastructure and features.
6. Provides Higher Return of Investment
Although most people initially believe that raising the e-store from Magento open-source to Adobe Commerce needs a certain investment, they don't know that may be worth it or not. According to the statistics, within just three years, companies that have shifted had reached the moderate ROI to 165.3%. Since some benefits are behind in the improvement of ROI:
16% high in conversion rates
Growth of one-fourths in platform traffic
29% increase in the mobile revenues
5% improve in moderate order value
Approximately two-thirds drop in costs of content creation
93% downtime dropping
7. Convenient Integration with ERP Software
To provide the best customer experience from your e-store, you need to integrate your e-commerce store with ERP Software solutions. Once integrated, ERP software access your store data and collects customers & sales, then you can see the overall performance of your business.
Why ERP connection is necessary?
When ERP and platform are integrated, the platform access the important information stored in the ERP software. This enables users to obtain all their brand interactions from a centralized account management portal. These are things that users need and this reduces the query of inbound functions. Moreover, the store will disclose the latest product stock and price information, so that users don't order out-of-stock items or receive incorrect pricing.
How does Adobe Commerce assist?
Adobe Commerce easily makes the popular ERP systems like Microsoft Dynamics, NetSuite, SAP One, and several other in-built ERP connectors are obtainable in Adobe Commerce.
8. Uninterrupted Mobile Experience
The number of B2B businesses and buyers is increasing, simultaneously. Nearly two-thirds of B2B customers explore online stores using mobile devices. As well, most B2B buyers prefer to purchase at a convenient time with easy gadgets like mobile. This in turn creates the essentiality of a mobile presence for the eCommerce store.
Adobe Commerce offers mobile-first design and includes Progressive Web Application (PWA) studio. PWAs are enhanced websites, which are built on website technologies, that provide uninterrupted service on all mobile devices just like a native mobile app. They can enable push notifications and other mobile features in a web browser.
In B2B business, many applications of PWA are available. For example, using a barcode, customers can scan it on their device to reorder a product. Also, they receive push notifications of the ordered product and current status, and other reminders.
9. Engage with Different types of Extensions
Using Magento open-source is not enough for your e-commerce, so you need to use several unique extensions. Moreover, using the extensions is not always convenient with every version of Magento open source. Thus, it raises the vulnerability for the defective operation of the store.
Most features in Adobe Commerce are pre-configured, which actually eliminates the need for intermediate extensions, minimizing investment and improving performance.
10. Expandability
According to today's technology, expandability is necessary for the e-commerce business, to hold the visitors. Magento open-source lacks in many ways parallel to an advanced site like Adobe Commerce. As, you have to hire more staff to monitor, maintain, protect, network infrastructure and so on, which is very expensive and you have to track numerous things. But if you're using Adobe Commerce, it liberates you from a lot of works and has additional benefits such as improving traffic, capacity requirement, and outcome-based cost.
In this article, we looked at 10 reasons to adopt Adobe Commerce to your eCommerce store. At Strivemindz, we have experienced eCommerce developers with extraordinary potential in furnishing the trendy, customer-friendly, eye-catchy B2B and B2C eCommerce web portals and with some versatile features to draw the attention of customers, as per your expectations. Leave a message or e-mail to get in touch with you further.