Before getting started with our detailed article, we begin with the basics that leaves us with the question what exactly is a marketplace apps?
The simplest description of a marketplace is that it is an online platform for selling goods at reasonable prices by the sellers. Modern developing world relies on different advanced and modern techniques to do manage and complete their work easily as well as efficiently. One of the most common examples for this is online shopping. Almost everyone who have access to internet rely more or less on online shopping.
Online shopping is an easy and handy method that can be opted if you want to save your time and sometimes it also provides efficient deals on certain products.
On moving ahead, we would be witnessing how marketplace apps can easily help you to set in up your business, by boosting it sales to entirely new level. Moreover, we want to ensure you the ways which app development services follow in helping you while developing this application.
Need of Marketplace Apps
You can surf and find the best product amongst the thousands of options and choose the product that appeals you the most. Based on the time of the year several marketplace apps offer certain deals for appealing their customers, you can take benefit of the offers and deals and find the suitable product at reasonable rates.
A large number of products are sold online such as clothes, electronics, accessories, furniture, cookery items, etc. The online platform offers various types of products that are sold as well as delivered at your doorstep, thus taking 100% care of your convenience. Some products also have return policy that allows you return the product just in case there is any defect or you any mistake from the end of the company. The return policy comprises of certain rules that you must look into before buying any product.
Due to the growing demands and consumptions of products, various small business franchises have created their own place on different marketplace apps that helps them to sell their products. In addition to that they have the opportunity to work with different marketplace apps including product oriented or apps that sell every product. The users are able to surf and choose through their collections.
Such apps essentially bridge the gap between buyers and customers as the products are directlysold by the buyers, thus avoiding the middle man.
Apps such as Amazon, Flipkart, Uber and Myntra are ruling the market today. These apps provide a platform to different small and established businesses which in turn provides them with high profits through their e- commerce sector which in turn encourage the investors to increase their investments.
Look at some e-commerce market statistics
    In 2017, the online shopping market generated approximately $ 2.3 billion in sales.
    As a result of continued growth, it is expected to reach $ 4.5 trillion by 2021.
    The United States accounts for around 10% of retail sales through e-commerce, which is expected to grow by around 15% per year.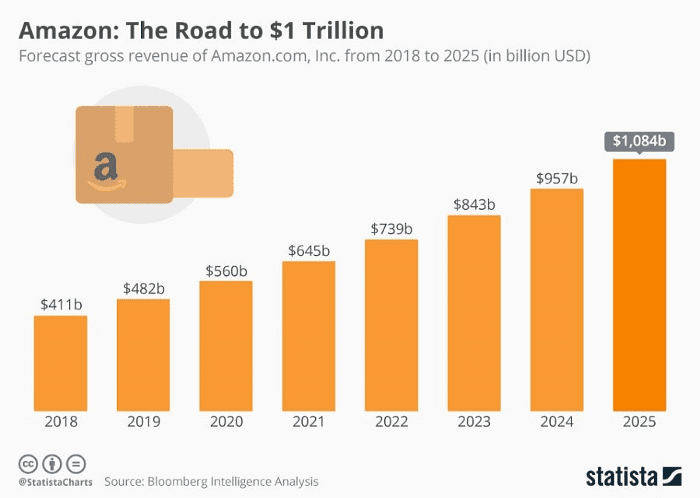 Source: Statista
The online marketplace has reached its peak in recent years. As the demand for online marketplaces grows, many startups or retailers are considering building their own marketplace apps.
How to create a marketplace app?
To create one such marketplace app you should be able to determine how it will operate and which type of offers it will provide to its users.
You should have a dedicated and experienced developing team that keep a keen eye on all the ups and downs of developing process while creating the app. You should do proper research and then choose proper concept, performance and design that you will be moving forward with. You should choose the major features you need and it requires a lot of time, resources and patience.
Monitor the user activity
Monitoring the user activity helps to set targets and work towards achieving them. Different market places differ in their user activities. Such as product, service, hybrid marketplace.
Setting up structure
It is an important part for building up a marketplace app and is linked with the strategy you form. There are different ways to achieve it:
Determining the potential users and their expectations to know what they offer
Determine which services will be offered by studying the demand at present in the market
Carry out different tasks in well managed manner
Choosing a money-making option
Subscription fee- it is the fee paid by users to avail the membership offers
Advertising- They get paid for displaying the advertisements at their site and thus earning revenue.
Commissions- It charges money for each transaction carried out on the same platform.
Presence of mandatory panels
Administration panel- It has control over the invention, payments, registration of users and works mostly at the backside
Seller panel- It has connection socially, management options, promotions, transactions and reports
Buyer panel- It includes registration, management, connection with sellers, shopping, reviews and payments
These features might differ according to your goals. You must opt for plans and features that work the best for your business and customers.
Development a software on any existing platform might reduce the time and resources that will be required.On the other hand, building it from scratch takes time and skilled professionals as it has to undergo all types of testing before a perfect launch.
 How much will it cost to create a marketplace app in 2022?
The development of a mobile app for an online marketplace is a complicated process. It's hard to find an exact estimate of the cost of developing this type of app. Basically, the cost of marketplace mobile app development depends on three factors: the platform on which the application is created, the size and complexity of the application, and the country where the custom
mobile app development company
is located. There are different rates per hour in different countries, such as:
 Middle East/UAE/Dubai based app development company: $15 to $25/hour
 United States based app development company: $70–140/hour
 East-European based app development company: $50–140/hour
 Mobile app development companies in India: $12–60/hour
In addition to overhead charges, the cost of developing a custom marketplace mobile app will be between $10,000 and $20,000 for a single development platform. Additionally, if you choose to hire an app development company located in Dubai, UAE, USA, Europe, India, etc., the cost goes up to $25,000 and $30,000 if you would like more advanced features added to your marketplace app.
However, creating an online marketplace is more reliable than developing one from an existing platform as this will be completely yours to command and manipulate as per your requirement.
Frequently asked questions
Are online payment options available and will it be safe using them?
Yes. Online payment options are available and it perfectly safe to opt for these methods. Mostly, such marketplace apps have online options through credit cards, debit cards or even Google Pay accounts. This information is completely safe on the app and requires an additional password before using it.
Is there any guarantee, warranty for the products?
Yes. Almost every brand and company offer certain kind of guarantee or warranty on the products that suitable for it. However, it depends from seller to seller in their choice of options.
Are the products sold reliable?
The main aim of marketplace apps is to urge the users to come back to their app again. This can only be possible if the goods delivered are of proper quality and in proper condition as specified by the seller on the app.
Online marketplace apps industry is rapidly growing. eCommerce sector is expected to achieve a high growth in the near future and that has encouraged various companies to move their business online.  And now, the online medium has become one of the biggest sources for exchange of goods from businesses to marketplace and from marketplace to the customers.
If you want to raise, your market standards, and want to grow yourself in the market, then we at Strivemindz can help you in building such a application at affordable prices. Do let us know your views in a comment section, below.