Always wondered about what is up with all the fuss about Trivia games?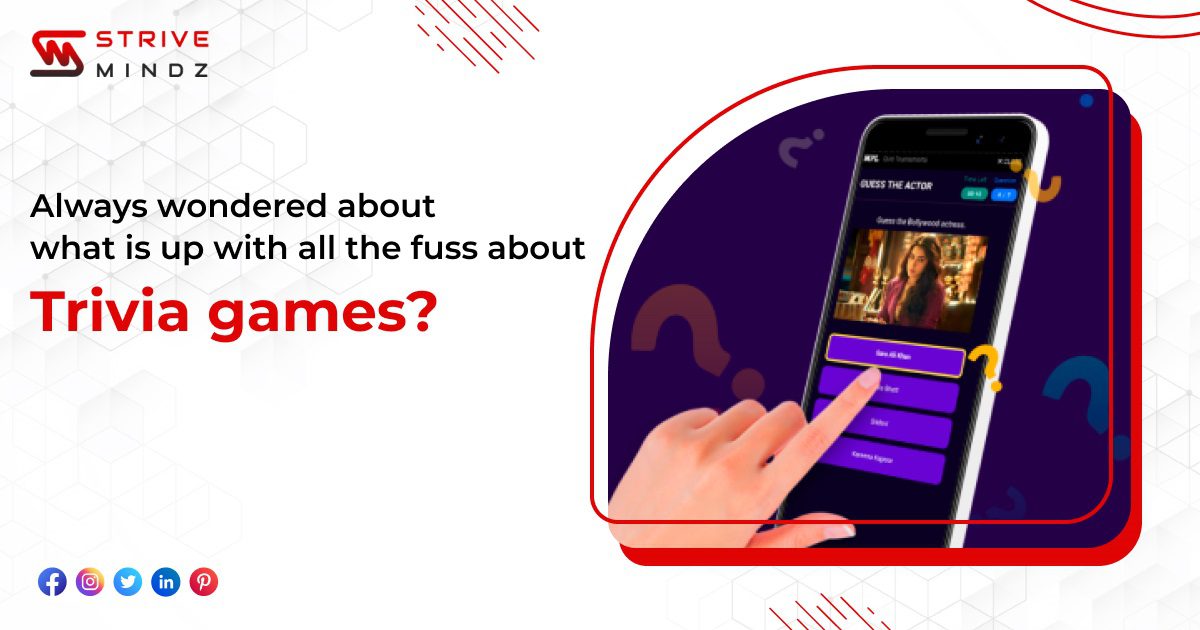 So, apparently to answer this question I had to install one such app myself, yes that's right, and I ended up spending straight 2 hours in exploring my knowledge about F.R.I.E.N.D.S while competing with total strangers. Now that I think of it does sound like I wasted a huge amount of time but back when I was playing it felt pretty good, so I guess now you understand how it works and why is it so hyped up.
After doing a bit of research I found out QuizUp, one of the finest trivial games in the market, and it has more than 10 Million downloads on Google play store alone and by the year 2015, this sober-looking app had more than 31 Million registered users with 13 million active users. Five years later, we have entered 2020 and literally, everything around us has changed but the popularity of trivial games like QuizUp doesn't seem to go away. This is why I think it's high time for you to learn and develop your own trivia game like QuizUp and we are here right by your side to walk you through all those hurdles you might come face-to-face with while incorporating a gaming app like QuizUp.
What Exactly is a Trivia Game or QuizUp?
For all those who still don't know what is QuizUp even after I mentioned it a few times already, well, QuizUp is a fun trivia app with quizzes related to public interests. These "Public Interests" comprises of thousands of categories ranging from politics to pop culture. I am personally a fan of Movies and Web Series so I went with these two, you can find your sector of interest as well.
Now that was one way to put it and I can do it for you in a few more ways but let's cut to the point, so there is this another surprise element that comes along with QuizUp and it is none other than its Social Media persona. Yes, you read it right, this app is as much social as any other social media app in the market. QuizUp allows you to challenge anyone online, be it a complete stranger, from anywhere across the globe, you can add them, chat with them, and share memes also (I know it's crucial these days).
Concluding the final verdict, it is a super fun, engaging, social, and instantly rewarding game. Even though we can only wish it gave real cash rewards, QuizUp offers Badges or Medals to showcase your achievements as you grow while playing. I think it's pretty right to say that makers of QuizUp did a great job in developing this application but when are you going to take the driver's seat and make your own trivia game?
They have already paved the path for us, all we need to do is follow their lead and as soon as we reach near them we can move onto our separate path.
What is The Secret Behind a Successful Trivia Game?
Let's discover the secret ingredients in the recipe of QuizUp, and get on to our process of developing a successful trivia game.
Quizzes covering a spectrum of categories.
Hundred thousands of topics to choose from.
Getting to know people from all over the world.
Daily Tournaments.
Topic Communities.
Memes.
Rewards.
Attractive and engaging user interface.
Just a look at all these properties makes you believe that they are meant to attract the audience and engage them in a splendid gaming experience. QuizUp has several elements to support the optimum experience and so many features to offer that you will never be able to get bored.
But while developing your own trivia game, remember there is always a scope for improvement, you can always add more elements and features to make it even better than QuizUp.
Brief Market Statistics
We are in the year 2020 and market and capitalism is no joke, so before investing your resources in a venture you need to be well aware of its outcomes and be absolutely sure about its potential. Even though the market has been very promising and growing when it comes to mobile gaming but taking a look at statistics will only give you a dose of encouragement. It is believed that by the end of the year there will be more than 2.4 Billion gamers all across the globe and the number is only expected to grow with each year, thus, indicating a wider scope of opportunities.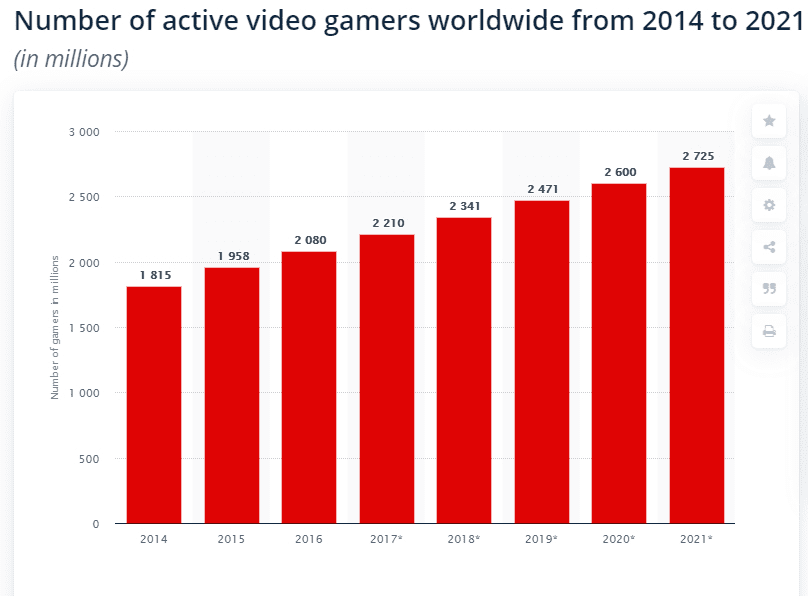 Jumping to the revenue, the global gaming market is intended to reach $180 Billion by the end of 2021 and the surprising thing is 51% of its revenues will be contributed by Mobile Games and it is expected to increase. This clearly shows how many people are into mobile gaming applications and because of their fun and engaging properties people are spending money on these games, now more than ever.
Without any debates and arguments, we can all collectively agree on the fact that mobile games are widely popular and this popularity will only proliferate with time.
However mobile games itself is a category with a wide range of dynamics, so out of all those why would you develop a quiz mobile game? Well, the answer is pretty simple, these games are enjoyed by people of all age groups, so automatically attracts a large number of audiences, and they are also easy to follow along, stop, and pick up from right where you left.
Also, just to make you feel better about it, the popularity of quiz or puzzle games comes among the top 3 places, and clearly one of the reasons behind it is these games do not demand any sort of commitment.
Must-Have Features of Trivia Games
As we all know features and functionalities are the most important aspects when talking about any mobile app or game. It is what we present to the user and therefore it is the part that matters the most, hence, the more interesting features your app has the more audience will be attracted. So we will discuss the features that matter the most and will make a difference.
Social Media Sign Up
This might not look like a crucial feature but it holds a great convenience. It will prevent users from burdening up with yet another login credentials, they can just connect their Facebook/Google or any other social media account with the game.
Personal Profile
This feature makes a huge difference, from keeping a record of your accomplishments to getting yourself a cool, funky, and unique username. The user can easily access their data whenever they wish to without any hassles.
Add/Follow Friends
There might be a few occasions when you will get along with your opponent, this feature is for those few occasions. You can add them as a friend to get to know them better just like any other social media platform.
Message Friends
You might be wondering what's so special about this feature, and you are right it is indeed a very common feature that comes along with every social media application but what you are forgetting is it is not that common when it comes to gaming applications. That is why being capable of texting among their friends can improve the user experience.
Challenge Friends
Since it is a gaming app, it has its own special kind of features and this is one of them. Making your experience a whole lot of better, this feature will enable you to challenge your friends and play along with them.
Play Solo or Play with a Stranger
This feature comes in action once you decide the category you are interested in, all you got to do now is make your choice if you want to play solo or play with strangers. Playing solo gets you the score and challenging someone gives you a chance to be the winner.
Choose your Favorite Topic
User-centric game is one of the most thoughtful strategies, so giving your users a personalized and interactive interface is a must-do. Therefore, there should be a wide range of categories and topics for users to choose their favorite one.
Push Notifications
We already live among the applications with push notifications and we all know why they should be a part of any application and how helpful and important they are. Showing alerts, updates, and new information via pop-ups they serve us an intuitive and interactive environment.
Create your own Quiz
The main reason behind the increased customer retention for the QuizUp game is its ability to put users in charge by letting them create their own quizzes and thus giving them a sense of freedom.
With this fun, engaging, and attractive feature, users can create their own personalized quizzes and it doesn't even have to be category-specific.
Share Memes
If you are a social media person in the 21st Century you'd know you cannot breathe social media without coming across memes. It is said 'humor connects people' and nothing connects modern people as much as memes do. Therefore, this feature allows users to share memes about their favorite topics effectively and succinctly.
Rematch
While playing with a stranger, you might click with them and would want to have a rematch but if the algorithm forces you on playing every game with a different person it might be a deal-breaker. Hence, this feature will give users an option at the end of each game where they can request their opponent to have a rematch.
Badges
Badges are a remark of your achievements and accomplishments in the game and anyone who goes through your profile will be able to see them. These badges are unique and relevant to the category you've won them for. Like I played a trivia quiz for F.R.I.E.N.D.S and the badge I won was called "Unagi" which was funny and exciting.
Refer a Friend
Coming to the last but not the least feature, in fact, it is one of those important features which is beneficial for developers as well as users, so yes, it is a win-win feature. When users love the game they wish to play it with their friends, because everything is better with friends and thus, giving referral points will work as charming mouth publicity.
So, if you're planning on building one of these trivia quiz mobile apps do keep these features in your mind to win the race because these are the features that make a difference between those games in the market.
Ideal Team for Developing a Trivia Game
When developing a trivia game your priority should be having a dream team that is having team members specialized in different dynamics and not just game developers. It takes the right team and the collective effort of each individual team member to turn a pile of code into a beautiful and attractive experience.
To make your game ready for the market competition here is the team structure you should be focusing on:
Business Analyst
Project Manager
iOS Developers
Android Developers
UX/UI Designers
Graphic Designers
QA Professionals
Delivery Managers
Cost Projection and Investment Strategies
Developing an application involves several steps that go into defining the actual cost so giving a fixed cost is not practically possible. The initial cost projection for an application might not be the final one because the actual development can affect the overall cost. After all, the projection may vary over time concerning the requirements.
Besides, there are a couple of major factors that are responsible for defining the cost of a mobile game application. The prime factors among them are the platform you choose for developing your application i.e. Apple, Android, or Hybrid and the region of the development because in different regions of the world the per hour cost for developing is different regardless of the quality. Asian countries have the lowest development cost and therefore people prefer countries like India to serve their purpose.
However, just to give you a rough idea, developing a mobile application game might cost up to $50,000 but don't worry you can always reduce or expand the cost according to your requirements.
I guess we've covered up pretty much everything that needs to be done in order to develop an attractive and engaging trivia game application like QuizUp. Although if you still have some queries and doubts, feel free to contact us. We are always here to accommodate you with the required assistance and guidance.