Strivemindz Is Soon to Take the Centre Stage at GoodFirms' List of Top Mobile App Development Companies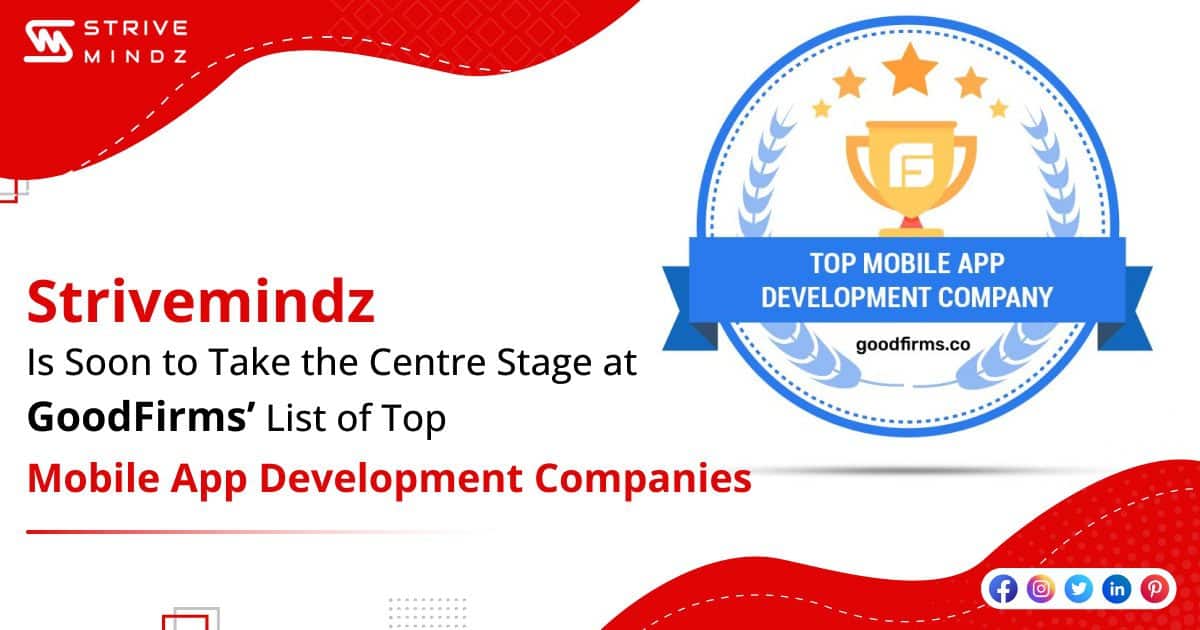 Due to the ever-evolving customer expectations and market conditions, the need for IT solutions is crucial. Therefore, with commitment and diligence, Strivemindz is soon to carve a niche at GoodFirms as a top mobile app development company.
About the Strivemindz Company
Founded in 2016, Strivemindz is located in Jaipur, India, UK and USA. The team has enormous expertise in building more than 1000 digital products that include solutions such as mobile app development, software development, cloud computing, IoT development, and other services. The experienced professional team is acquainted with every expertise required to fulfill the clients' business objective. The team deploys their skills and talents to support clients with their strong command of technical languages and frameworks.
The company has positioned itself as a one-stop destination for all IT solutions. With a team of seasoned 50+ seasoned professionals, they offer innovative solutions with high-quality results. The team is highly talented at leveraging their potential and providing budgeted solutions. The team has catered to different industries as well as startups to help them flourish and grow.
About GoodFirms' Analysis
GoodFirms is an online B2B research and review platform that aims to connect IT, service providers, and service seekers, on a single platform. The enrolled companies undergo a detailed evaluation and analysis of the services they provide. The companies are ranked based on three vital parameters, which is Quality, Reliability, and Ability. The best among them are then enlisted in a ranking list prepared by a team of experienced and well-learned researchers and analysts at the firm.
Similarly, GoodiFirms evaluated Strivemindz and inferred the firm is doing a commendable job in delivering extraordinary services. Have a look at the profile description of Strivemindz.
Mobile App Development
The knowledgeable and talented strivemindz builds custom mobile app development solutions for their clients across different verticals. The team is dedicated to delivering innovative custom mobile app development solutions that can help clients achieve a new level of success. The team has great ideas for developing an app by implementing robust technologies and adopting methodologies to help clients achieve excellence.
Aviral Mathus, Project Manager at Dotsquares Technologies also affirms strivemindz as top mobile app development services by giving them a 5-star rating.
By developing apps with appropriate functionalities for Android, Apple, Android wear, ARVR applications, and more, today the team has worked in all dimensions. The development team explores market needs and captures the market essence to help enterprises, both large and start-ups. Thus, working with such knowledge and versatility, the company is soon expected to rank as the top mobile app development companies in the world at GoodFirms.
Web Development
The creative designers and developers of strivemindz are skilled and highly talented in building functional and flawless websites. They have developed fully functional web development, ecommerce development, web portals, business applications, CMS development, PHP web development, Java development. Also, they have hands-on experience with Node.JS, Angualr.JS, Laravel, and many others to offer clients rich website experiences.
As a leading web development company, they can deal with any challenges faced in the market. Therefore, they don't just develop an essential business website but also focus on developing their core functionalities. The company can soon be expected to rank as the top web development companies in Jaipur at GoodFirms.
Cloud Computing
The experienced team of cloud computing experts is ready to help clients with any type of cloud service. The team offers cloud-based solutions depending on the client's requirements. With this, they try to provide them with a customer-centric, practical, user-friendly experience that creates business value for clients. At strivemindz, the team's focus is on quality rich, efficient, and cost-effectiveness, making them deliver optimized and outstanding solutions.
The services offered are cloud app development, cloud configuration, migration to cloud, integration, consolidation, cloud server solutions, and cloud security. With this, they work collaboratively with clients' ideas and visions to streamline business operations with cloud computing solutions. Their exceptional services and expertise can make them grab a spot as the top cloud computing companies in India at GoodFirms.
About GoodFirms
Washington, D.C.-based GoodFirms is an innovative B2B Research and Reviews Company that extensively combs the market to find top Mobile app development, Web development, and Cloud computing Services firms that offer the best services to its customers. GoodFirms' extensive research processes help rank the companies, boost their online reputation, and helps service seekers pick the right technology partner that meets their business needs.
About the Author
Anna Stark is a staff writer with GoodFirms – a Washington D.C. based B2B Research Company that bridges the gap between service seekers and service providers. Anna's current role includes gauging companies' performances and their key attributes and putting them into words.
She firmly believes in the magic of words and is always on the lookout for new strategies and ideas that companies have gladly embraced, and then helps them shine a light on those to make their identities shine brighter.