Why to just wish, but to start something of your own with strivemindz this summer!!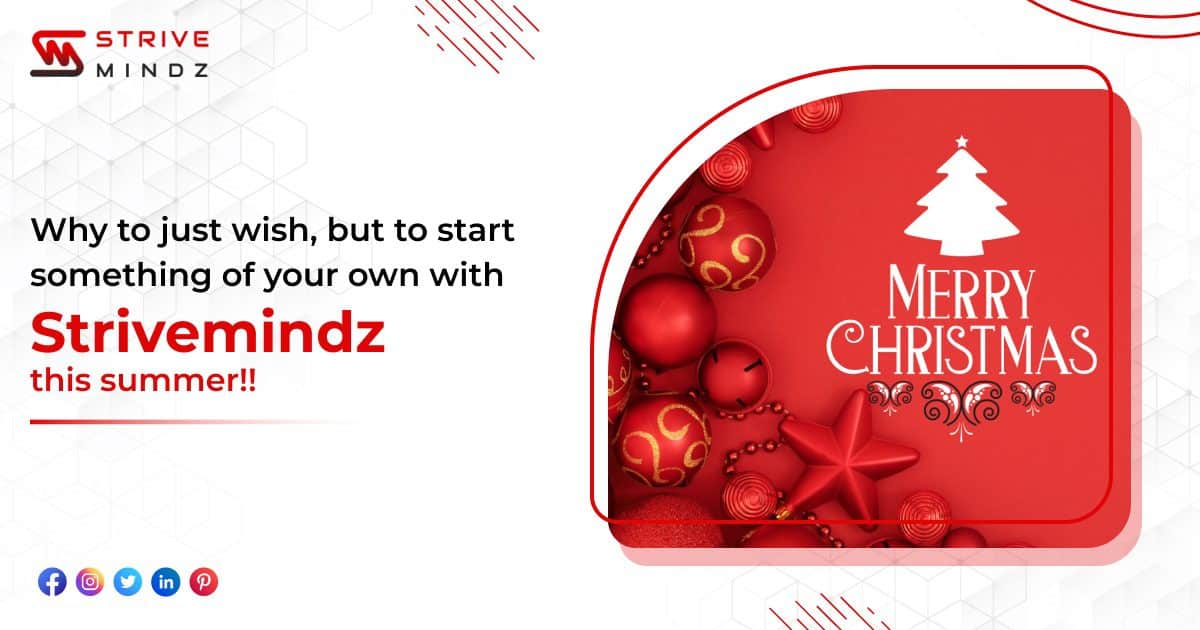 "Grab a chance to create a website for your startup,
Connect with your customers with your very own application"
Christmas is the warmth of the past, enthusiasm for the present, and aspiration for the future.
Why is Christmas Celebrated on the 25th December?
Christmas is celebrated on December 25th and is both a holy devotional holiday and a global cultural and commercial eventuality. For two millennia, people all over the world have been commemorating it with traditions and customs that are both ethnic and sacred.
Christmas Day is celebrated as the birth anniversary of Jesus Christ, a spiritual leader whose teachings formed the fundamentals of Christianity. Popular practices and conventions include exchanging gifts, decorating Christmas trees, praying at the church, offering meals to family and friends, and, of course, waiting for Santa Claus to visit and start the merrymaking.
The Christmas tree is evergreen merged with lights, falling decorations, and hanging sparkling ornaments. Breathe in the newly cut Christmas trees scenting stars, snow, and pine resin which engulf your soul with pleasure and delight. Christmas is the day that freezes time for everyone. It is not necessarily about materialistic things. It's about being kind and generous to one another. This day is to spend with family and loved ones.
This day is quite famous for its phenomenal and scrumptious feasts. The fiesta is started with drinks and music, followed by a cavalcade of the food. People are seated with their family and loved ones, enjoying the dance desert, drinks, and music.
Christmas Songs are of the particular importance of holiday music. The impressive collection of Christmas songs encourage a lot of lovers of Christmas music to fall madly in love with it. Christmas carols are one of the greatest charms of this season as they inspire people to get into the Christmas spirit. It exudes warmth, generosity, and goodwill that always enlightens the environment.
Above all these celebrations and fun, one must never forget to keep going on with their life. One must make up the most out of these Christmas holidays. Being productive and helpful is something that everyone should inculcate in themselves. Christmas can also be about learning new things such as designing a website or coding in various languages. People can start a new business or implement their hobbies into great ideas. One must make a pledge or a new year resolution to commence a freshly new beginning with a fresh new outlook. One must promise to help, learn, execute, and be more and more humane.
Is it necessary for you to wait till Christmas for your Santa Claus to arrive and grant your wishes for successful business and great jobs? Of course not. Make use of our Strivemindz team to get your first business website deployed. Hunt down our website in search of the most suitable service that can make your career plans easily executable. We offer proficient and compliant facilities for all our clients to assist you in your present as well as future endeavors.
Christmas can be celebrated in its true form only by giving the light of love to those who need it the most. It gives us a chance to take a moment and reflect on the important things that surround us. Christmas may be a day of feasting or a day of praying to God, but it will always be a day of reminiscence —a day to remember all those lovely things that we truly love from the bottom of our hearts.
Merry Christmas and Happy Holidays.