A Complete Manual for Outsourcing Software development in 2023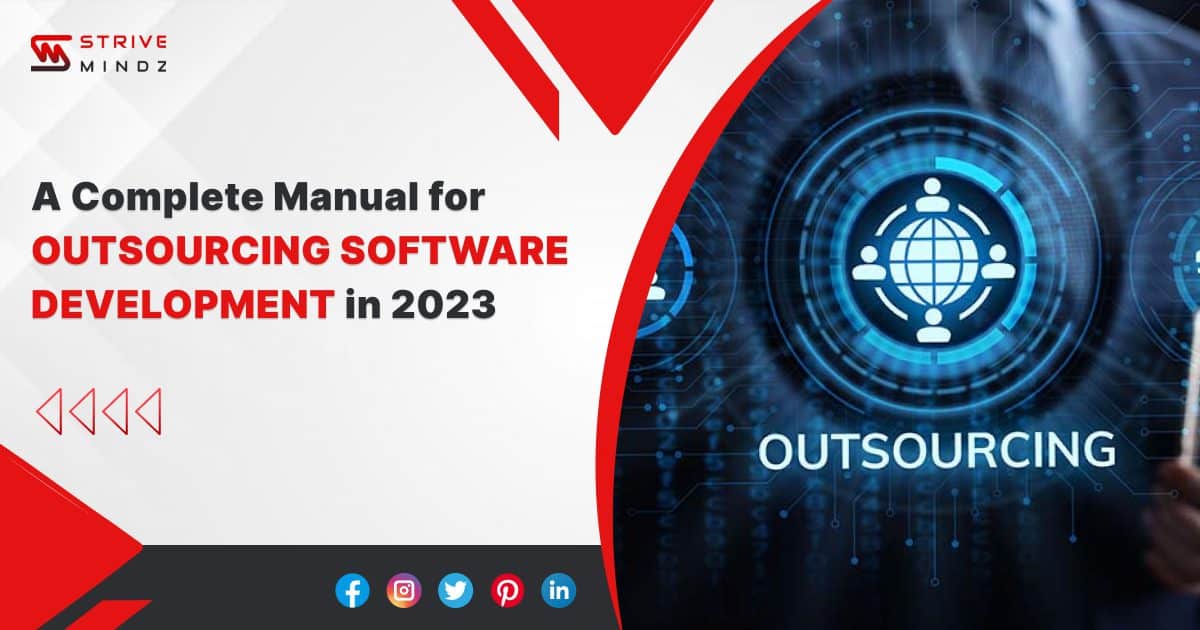 Today, software outsourcing is a widely used method. In simpler terms, the software development industry is always changing due to quickening technological growth.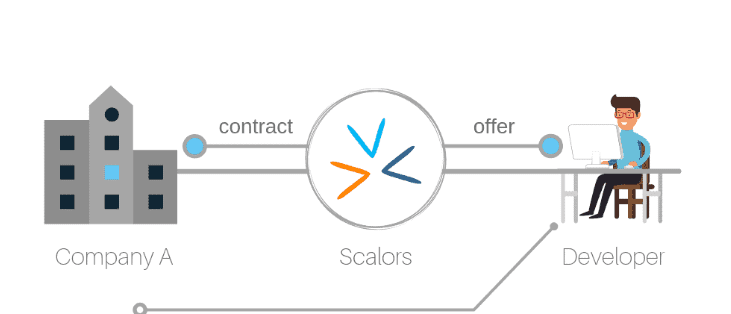 Software outsourcing is currently seen as being in high demand as key business partners who can significantly contribute to growth.
As per today's market scenario – the development of IoT, blockchain, cloud computing are no longer hurdle for SMEs.
Hiring an outsourcing development company is the practice of a company hiring a third party to develop a specific piece of software.
Outsourcing software development has various advantages, including cheaper costs, more efficacy, reduced risk, and increased security.
Companies now have access to the best software engineers from across the world. Thanks to a business environment that is highly digitalized. Both established companies and startups use software outsourcing to produce their goods.
Statistics for Software Outsourcing Worldwide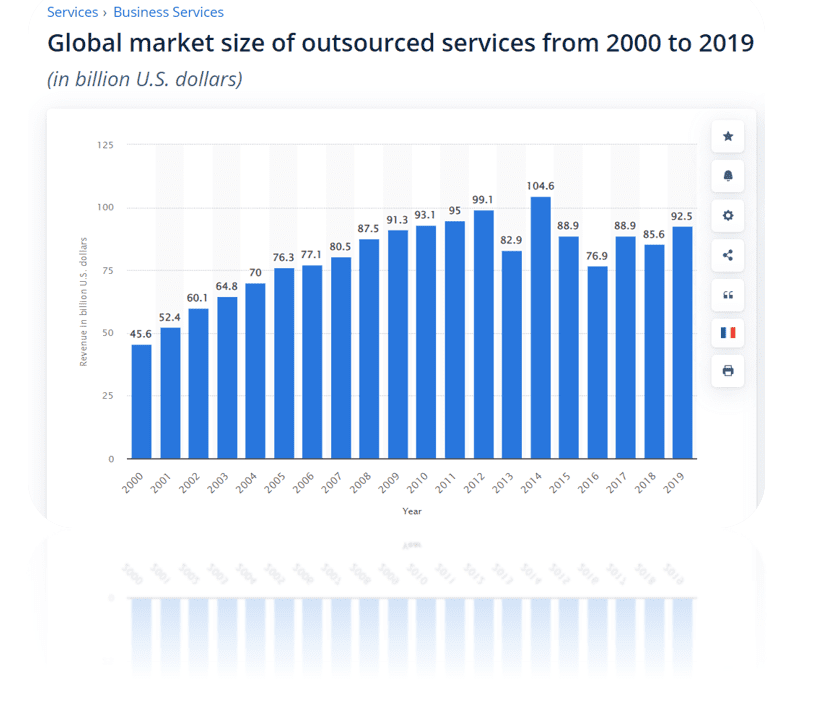 Software application development was cited as the most frequently outsourced IT function by 64% of interviewees in a Statista report on "IT functions outsourced worldwide 2017," which polled CIOs globally.
The outsourcing of software significantly influences the ongoing growth of the global IT outsourcing market. Global outsourcing revenues reached 92.5 billion US dollars in 2019, according to a new Statista study.
Why Should Software Development Be Outsourced?
#1: Significantly decrease the cost of software development
You must accept that the prices are substantial, regardless of whether you have an in-house software development staff. You are responsible for paying their salary as well as their perks, holidays, and other expenses.
A new in-house developer for a company may have a trust cost that is 2.7x the base salary when all incentives, taxes, meetings, etc.
Therefore, if you are now paying your developer $100, this amount can quickly increase to $270. Scary, huh? But what if you could transfer most of those expenses to another business?
Why not allow someone else to cover the cost of the bundle and bring it closer to the initial sum? If you outsource your development, you can attract a lot more individuals for a lot less money.
That's because they'll be recruited temporarily, and the business you hire will handle benefits, taxes, and vacation time.
#2: Bring an external or 3rd party subject-matter expertise:
We are not implying that your internal team is unqualified for the job. However, there is a high probability that their skill sets won't be as good as a group of highly skilled developers from a software outsourcing company.
Fresh perspectives can encourage innovation, leading to a better project in general. This may apply to the original developers themselves, the way their team functions, and the technology stack they pick.
When employing new workers, a professional software development company will aim to put together a team with a varied range of skills. They will not want to recruit the same person twice because a new team member will probably offer something novel and intriguing to the table in some way.
These new faces may be subject matter specialists who may assist you in comprehending the market from the viewpoint of the customer, and this knowledge may prove to be priceless.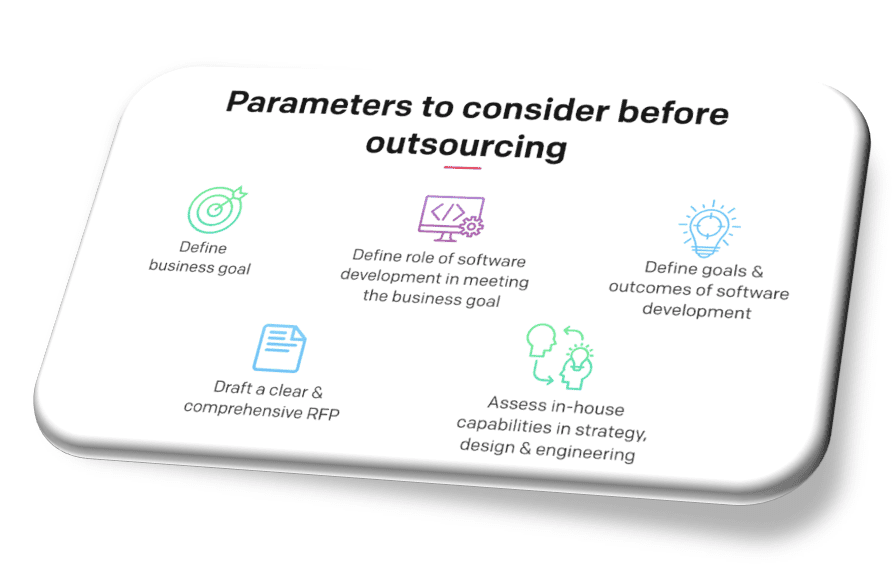 #3: Spend less time hiring experts
Since time truly is money, you can reduce expenses even more by hiring pre-approved professionals. Developers in outsourced teams have already completed the hiring and research processes.
Now, you only need to spend a short period there to swoop in and take advantage of all the triumphs. Consider the time spent browsing CVs or finding them in the first place via an online CV library. The next step is to contact potential prospects, set up interviews, and ultimately, hopefully, bring the best candidate to the table.
No one wants to go through such a stressful situation, which happens to be quite often. In addition to all of that, you'll need to make sure you're employing developers with a variety of abilities to assemble a diverse and productive team.
After that, you'll need to train them to ensure that they adhere to your company's values and are knowledgeable about the tech stack you've chosen.
A firm, however, has already completed all of this for you and is located someplace out there.
It's possible that hiring a single developer for your internal team will take less time than hiring a full team of software outsourcing developers. Consider how much time—and subsequently money—you may potentially save by doing this.
#4: Access to top talent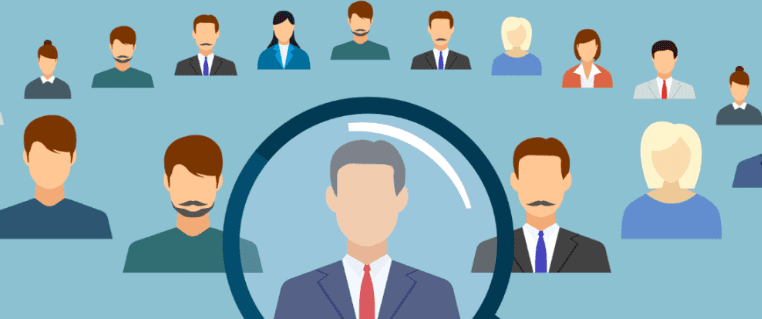 A benefit of using an outsourcing network is that businesses have a much better probability of hiring new employees on a contract basis. If they are a company worth its salt, it will be able to find you the best candidates for the job from anywhere in the globe on a one-time basis with no future commitment.
Even if the company's goal is outside the IT area, businesses worldwide are hiring outsourced software developers to help the company grow.
Without a doubt, outsourced software engineers are among the most sought-after professionals in the world, whether they are needed for a marketing campaign that requires stunning visuals or for a more specialized project like the in-car entertainment system in a new sports car.
As a result, there are additional advantages. Top talent can not only get you where you need to go but can also improve your project by pointing out any potential weaknesses or by generating fresh, original ideas that benefit the project as a whole.
#5: Increase your project's scaling flexibility
Can you recall a time when a project didn't take as long or cost as much as you expected? There are always so many unanticipated factors that can cause a project to be more expensive, take longer, cost less, or be completed sooner than you anticipated.
The best course of action in these circumstances is to scale the project. When you realize you don't need a large in-house team, having one will cost you money instead of saving it. For obvious reasons, not having enough workers for the job makes things worse.
Software development outsourcing firms, give you the simple option of adding or removing team members from the project.
One of the greatest benefits that any CEO or CTO can derive from the entire outsourcing experience is this increased level of scalability, but it is also something that is sometimes overlooked when the decision to outsource is made.
The ability to receive "on-demand" service is a fantastic benefit of outsourcing software development.
However, this is a hazy idea, picture a scale between cost and skill. This can help you visualize the flexibility you have with this chance.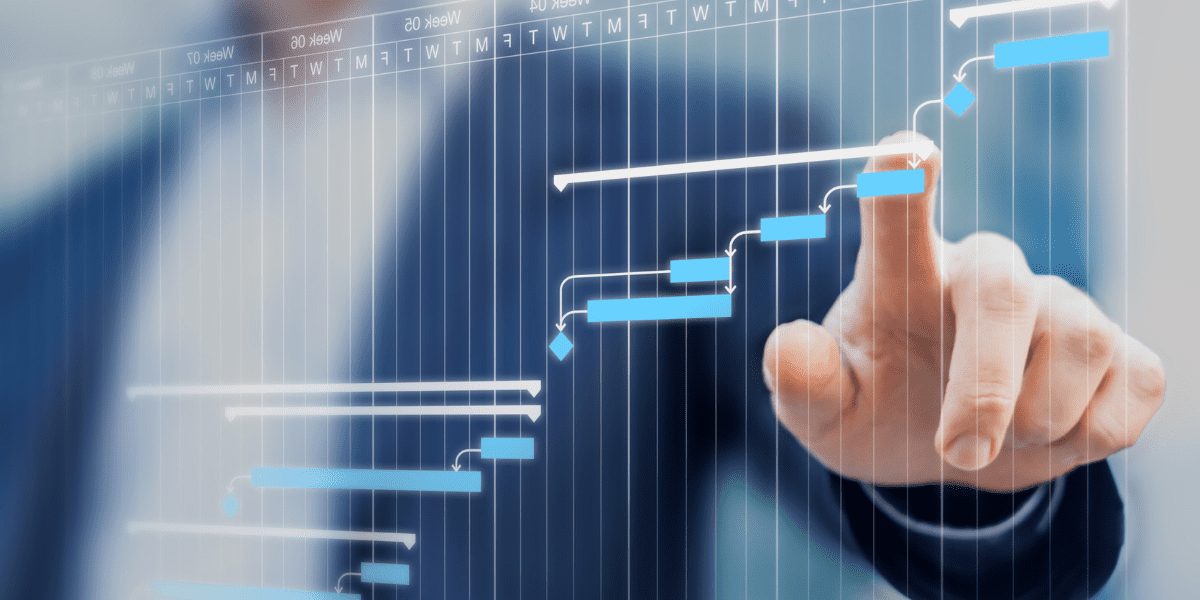 Software development outsourcing companies can create custom plans depending on your company's size, budget, technology availability, and, of course, the project's overall goal.
#6: Engage in coordinated teamwork
You can save time, money, and labor by using a team of developers rather than just a single one. A significant component of this is management. It's one of the most challenging tasks you'll ever undertake for your business to find the ideal manager for an internal team.
But if you outsource, you won't have to stress about it as much because every team will already be run. You'll undoubtedly need management to steer the project, but a lot of the responsibility for management can be transferred outside of your own business.
It also relieves you of some of your burdens. You will have more time to concentrate on the overall direction as you won't need to swoop in and ask for updates.
#7: Put your main business first
The last advantage of working with an outsourced software development company is effectively brought home by this. As there won't be anything to divert your attention and cause you to lose sight of your initial idea, being able to concentrate on your primary business will surely enable you to get a better overall outcome. This may be the main area to pay attention to overall.
To gain all these benefits you need to search for the best staff augmentation company.
Drawbacks of Contracting Out Software Development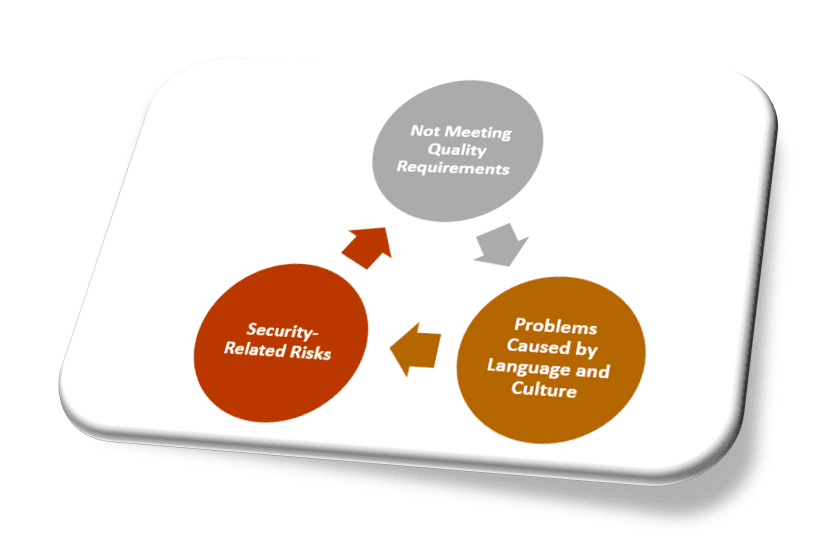 #1: Not Meeting Quality Requirements
The attractiveness of low labor costs when using offshore software outsourcing companies is usually negated by poor quality standards. When corporate organizations hire an outside firm to work on their software projects for a price that is far lower than the going rate, there is a risk involved.
#2: Problems Caused by Language and Culture
It may occasionally be challenging to collaborate with IT experts in a remote location due to linguistic and cultural barriers. Moreover, customers may have difficulty arranging contacts and comments due to time zone differences because of the difficulty in getting timely project progress updates.
#3: Security-Related Risks
Without any doubt –  data is becoming a valuable asset, businesses may have issues if they hand over their data to a third-party software outsourcing provider. Data breaches are a major risk because many software development projects involve sensitive and confidential customer information, including intellectual property.
The risks to data security must therefore be carefully considered by businesses considering outsourcing, and they must select a software vendor who understands and values security.
Myths about Software Outsourcing
There are several myths about outsourcing that need to be debunked. Nowadays, outsourcing software development is a big business since it provides high ROI when done correctly. According to a poll by Accelerance, companies are expected to spend USD 133.3 billion on outsourced development by 2025.
The sobering truth about outsourcing software development is that not every project will be a success.
These failures might be mostly caused by a subpar outsourcing strategy, selecting the wrong outsourcing partner, or failing to communicate needs.

Models for Outsourcing Software Development
The concept of outsourcing has experienced a lot of changes during the years that it has been a service in the information technology industry, resulting in the development of many outsourcing models:
#1: Offshore Outsourcing
The term offshore outsourcing refers to having a crew work on your project from another country. The question of offshore vs onshore software development is critical for organizations adopting an outsourcing strategy.
There are several notable benefits to outsourcing software development to foreign nations. For instance, because the talent pool has expanded from one country to all of them, it is frequently simpler to hire talented engineers.
Like dealing with any remote developer, outsourcing to offshore carries the risk of poor communication. Particularly when there is a communication barrier in addition to a time zone difference, this is true.
It could be challenging for CEOs with little experience managing remote employees to put up with this style of cooperation.
#2: Dedicated Development Team
A continuing partnership between a client and a team of professionals who have been carefully selected to accomplish specific business objectives is known as a dedicated development team.
In a nutshell, you have a cohesive team instead of a dispersed group of developers. You can include developers entirely in your team, but it's also common to include UI/UX designers, Quality Assurance, a Project Manager, and others as well.
This method is typically more expensive and unsuitable for small enterprises because you get a full team of engineers. The creation of a team might take more time and effort, and managing the team through the project might take more time.
#3: Staff Augmentation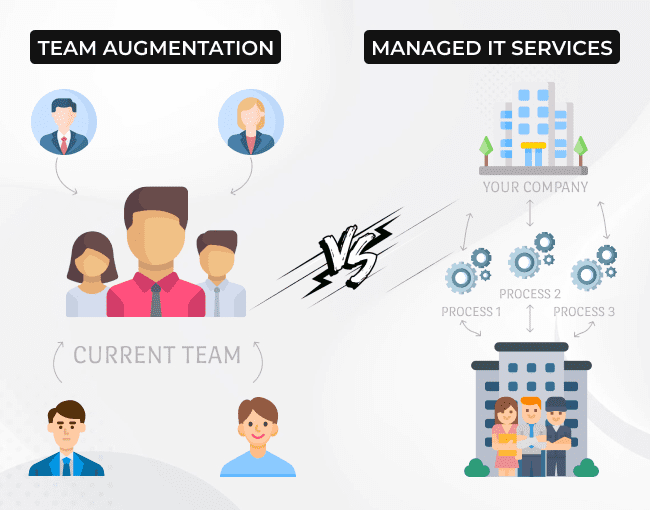 Staff augmentation services are the outsourcing model that makes the most intuitive sense. For the duration of the project, it means hiring developers as employees.
Its main advantages include complete control over the work being done by the developers without having to pay the additional costs involved with hiring a true in-house employee because the company pays for their sick days, equipment, and other expenses.
You'll need to adjust to the reality that the majority of programmers telecommute once more.
Even while finding the right developer with the necessary skills could take some time, this process is much faster than seeking a professional on your own.
#4: Fixed-price Contracts
Fixed-price contracts do what they claim to do: you pay a predetermined sum to a business that outsources software development to produce a product. They offer a very clear model in terms of price and deadline, FP contracts are popular among businesses.
However, it is not flexible, and major project modifications are not allowed because the expense does not justify them. In other words, this approach is less efficient for large projects, particularly complicated ones.
#5: Time and Material
T&M contracts are different from other models in that it is simple to calculate compensation rates based on the time needed to finish the project. Initiatives without a set end date or deadline should use this method.
The final pricing is relatively flexible because duration—and not other factors—determines it. The primary flaw in this strategy is that there is no guarantee that you will work with the same developer team throughout the project if it is not clearly stated in the contract. It demands constant oversight, much like FP contracts do.
#6: Hybrid Outsourcing Model
A team with both offshore and onshore skills is referred to as a hybrid outsourcing method. Since it utilizes one main IT software outsourcing business (known as the control room).
Variety of locations depending on the specific needs and capabilities of the organization, many experts consider this choice to be the best because it combines the advantages of affordability and location.
A hybrid business strategy cannot compete with the offshore since doing business overseas is always less expensive. Second, it can be difficult to find a company that employs this strategy and even harder to find one where onshore and offshore specialists have complementary skill sets.
Simple Advice for Software Development Outsourcing Success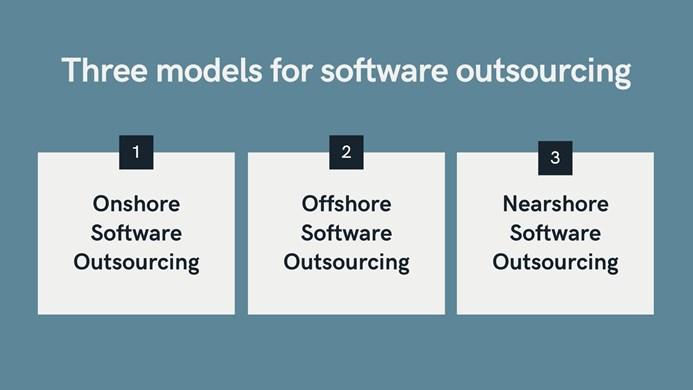 #1: Pick the outsourcing company wisely:
The caliber of your outsourcing supplier has a significant impact on the caliber of your software.
A top-notch software development company can produce excellent software that increases productivity for your business.
Hiring a software development firm with a poor reputation, though, could wreck your business. Reading customer ratings and testimonials about potential software outsourcing service providers isn't always sufficient.
The best course of action would be for you to review some of their earlier works. Their output reflects their abilities and caliber. It also demonstrates their technological prowess. Visit the websites, applications, and other software that they have worked on first.
#2: Construct a test project first.
You must be confident in the capabilities of a software development outsourcing company before hiring it.
Asking their team to embark on a test software development project should be your first step. Your decision regarding whether you wish to collaborate with them in the future will depend on how well they do on this job.
It could be necessary to invest some time and money into carrying out a test project. It does, however, guarantee that you won't experience any major issues in the future.

#3: Define Goals
The objectives you have for your outsourced project must be spelled out. But keep in mind that they should be attainable, reasonable and well-balanced.
Early-on expectations can have a significant impact on growth and progress, regardless of the objectives of the software development project.
Additionally, it is essential for determining outsourcing success. You should also conduct timely evaluations as your project develops. This might assist you in making the essential adjustments before expending an excessive amount of cash.
#4: Use Performance Monitoring Tools
The difficulty of tracking the performance of your remote tech staff is one of the drawbacks of outsourcing software development.
What Is the Price of Outsourcing Software Development?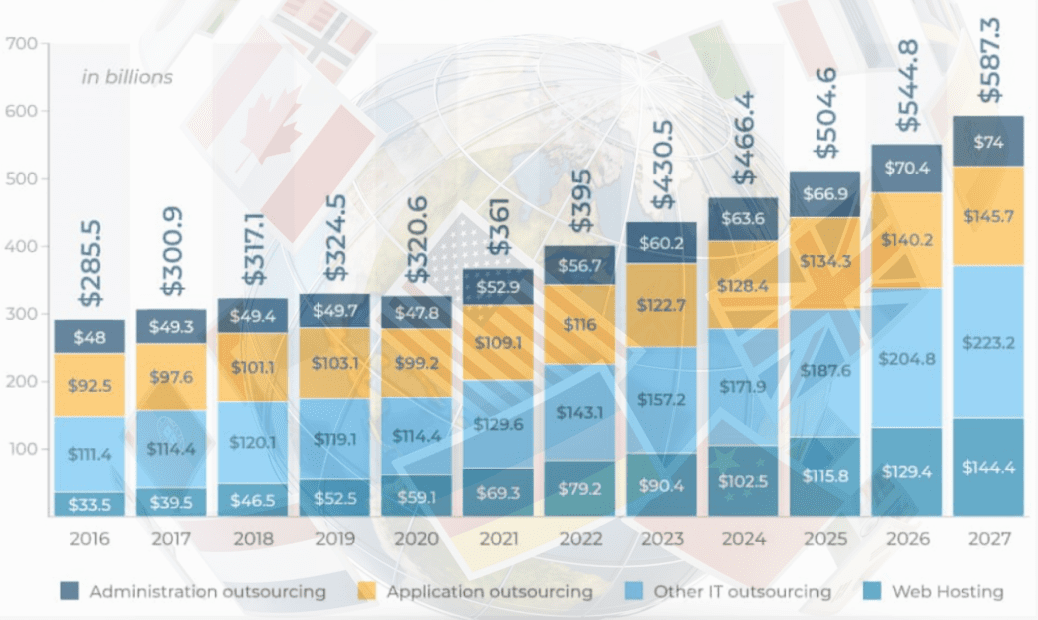 It is impossible to predict the cost of outsourcing with complete confidence because it depends on several variables and is subject to wide market fluctuations.
The least expensive outsourcing strategy is offshoring; onshoring and hybrid are usually more expensive, especially if the source nation is the EU or the US.
Consider how the salary for React Native developers varies depending on where the developers are in different parts of the world. The average yearly salary for engineers with React Native training is $117,000 in the USA, $93,000 in the UK and $70,000 in Ukraine.
Nevertheless, the price of outsourcing software development varies according to the:
Living expenses: It seems to sense that countries with lower living expenses would be less expensive than the US, the UK, Germany, or other EU countries with greater living expenses.
Team size: The cost of your project will surely be impacted by the number of developers working on it since outsourcing is best known for its scalability.
Developer experience and technology stack: These factors influence how much it costs to add them to a project. The cost of hiring a developer increases with the level of expertise and sophistication of the portfolio. Additionally, the choice of tech stack has a significant impact on prices.
Project difficulty: This component combines time and expertise, two different components. You will pay more for a long-term relationship than a short-term one, especially for a T&M (time and material).
The Final Words
You might be interested in working with the best offshore development firm or learning how it can assist you with offshore software development after looking over all aspects of offshore software development.
IT companies have several options to save time, money, and effort thanks to offshore software outsourcing. Strivemindz's 100+ subject matter specialists provide you with specialized software development solutions thanks to their command of cutting-edge technologies, tech stack, and technological know-how.
The obstacles and problems that are likely to leave software outsourcing organizations dissatisfied can all be handled by software engineers. The business values all facets professionally, from commercial connections to cost control, quality assurance, and on-time delivery of software products.
By meeting their business needs and carving out a niche in the cutthroat market- Strivemindz, an offshore software development firm has been assisting its global customers across several industries. The business has provided software development services to businesses in the financial, insurance, lifestyle, real estate, banking, payment, eCommerce, utility and energy sectors.
FAQs
You need to analyze these five foremost factors, such as:
Analyze reviews and ratings.
Check the credibility of the company.
Interview the developers.
Check the skills of developers.
If possible, then connect with the previous clients of the company.
On average, your cost can be reduced by 25% to 30% if you will hand over your project to any outsourcing company.
Below are the listed benefits of outsourcing:
Improved focus on core business activities.
It helps in controlling costs.
It can offer a greater competitive advantage to your business.
Pressure for handling in-house teams can be shifted.
You can focus on the other core business activities.
Customer service outsourcing.
IT resources outsourcing.
Catalog management-based outsourcing.
Back office functions outsourcing.
and, many more.
Post-COVID-19, all the major operations of any organization can be outsourced. However, it is important that you should make sure to maintain proper cyber security and compliance. In reality, there is a high probability that your data security can be compromised if you fail to adopt proper security measures during project outsourcing.
Project outsourcing not only decreases the cost of your project but it also helps give you more time in managing your projects. Apart from this, after giving the project on outsourcing you can focus on many core business functions. However, the workload of your human resource team members also reduced in an effective way.
Without any doubt, the project outsourcing model incorporates different key advantages. However, there are a few underlining disadvantages of project outsourcing – such as it can create communication challenges, you can face difficulty in quality control metrics, if you fail to follow proper compliance then it can also cause data breaches, etc.